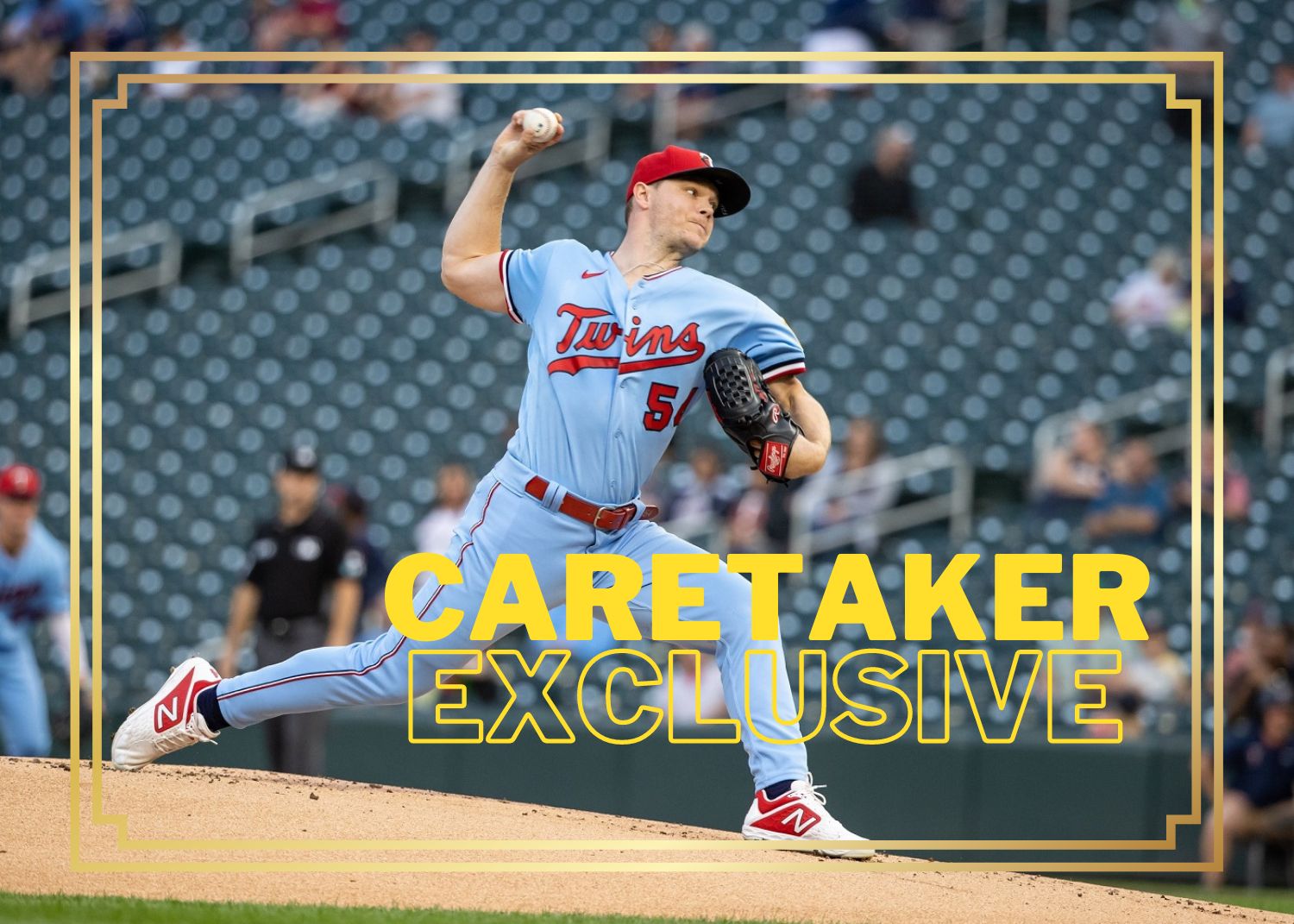 Image courtesy of © Jordan Johnson-USA TODAY Sports
The Twins' ace not only had reverse splits, but was a true ace against lefties, and more of a fourth starter against righties. Since he saw more righties than ever before, the latter was a real problem. 
This is an underrated aspect of the massive challenge that is succeeding as a starting pitcher in the major leagues. Years ago, I wrote about the fact that a switch-hitter is a strange creature, because they must maintain competence at two distinct tasks throughout the season: hitting left-handed, and hitting right-handed. For hitters who don't thus burden themselves, though, hitting is really just one job. Hitting opposite-handed pitchers is easier than hitting same-handed ones, but the essential movements and cues aren't so different that it qualifies as two different things.
The more we learn about the craft and the science of pitching, however, the more clear it becomes that even for a pitcher who only throws with one hand, what we think of as pitching really is two distinct and disparate tasks: pitching to lefties, and pitching to righties.
Gray came to Minnesota with all the tools to dominate in both of those tasks. He throws both a four-seam fastball, and a sinker. He has an excellent, high-spin curveball, and he has a slider that helped him take his career to a new level upon his arrival in Cincinnati in 2019. Talking about it that way, though, might be treating Gray too much as one pitcher. Let's consider him as two, instead.
Sonny Blue only faces left-handed batters. He's the one who continued ace-caliber work in 2022. He doesn't really have that slider, or at least, he rarely deploys it. That's ok, though, because he has excellent command of his cutting, riding fastball. Of the 169 pitchers who threw at least 500 four-seamers last year, his had the 12th-most movement to the glove side–that is, in his case, toward the first-base side of home plate. 
Sonny Blue, Pitch Usage
With that pitch, Blue can hammer the inside corner, because that's where the pitch wants to move anyway. He can stop lefties from extending their arms against him, and limit the authority of their contact. His big-breaking curve is the second weapon in his arsenal, and the pairing is all Blue really needs. No right-handed pitcher who threw at least 750 pitches against lefties in 2022 got called strikes at as high a rate as Sonny Blue did. Hitters just couldn't cope with his unusual movement and good control, given the angles from which he was working.
Cloudy Gray, on the other hand, only faces right-handers. He struggled, because Cloudy doesn't usually make all that much use of his four-seamer or his curve. Rather, he's a sinker-slider guy. When Gray was dealt to the Reds after 2018, he was reunited with his collegiate pitching coach, Derek Johnson, and the two of them went to work. Sonny Gray griped about the way the Yankees forced him to throw a slider in which he had no conviction, but with better communication and a source he trusted, he reinvented the pitch, and turned it into one of the league's best. 
Cloudy Gray, Pitch Usage
While everything was sunshine for Sonny Blue in 2022, Cloudy Gray ran into two different problems. Firstly, his slider lost some of its sweep. 
Cloudy Gray, Horizontal Slider Movement, 2019-2022
| | |
| --- | --- |
| Season | HMov (in.) |
| 2019 | 8.9 |
| 2020 | 9.8 |
| 2021 | 10.1 |
| 2022 | 7.5 |
That compromised Gray badly. Even at his worst, with the Yankees, hitters chased his slider outside the zone roughly 35 percent of the time. In his best years, it was closer to 40 percent. As he struggled to sweep the pitch out of the zone at all, and as he began to exaggerate those efforts and miss the zone by wider margins in the process, righties only chased the pitch 25 percent of the time in 2022. When they did decide to swing, it was usually because the ball hadn't moved as much as Gray wanted it to move, and they made better and more frequent contact than in the past.
All of those issues were only exacerbated by the fact that Cloudy couldn't control his sinker. He couldn't steer it in on righties' hands, the way Sonny Blue could with the cutting four-seamer to lefties. Like all his offerings, the sinker lost a tick of velocity in 2022, as he moved toward his mid-30s, but unlike the others, it was neutered by that diminution. It too often found the heart of the zone, wouldn't stay down for him, and got hit harder and higher than in previous campaigns. 
One problem is that whereas Sonny Blue fit perfectly into what the Twins like their pitchers to do, Cloudy Gray was a bit off script. The Twins threw four-seam fastballs at the second-highest rate in MLB last year, and sinkers at the second-lowest. They prefer higher-riding heat to facilitate greater perceived depth on breaking stuff, rather than the tilted, east-west contrast of Gray's best and most natural sinker-slider combination. They got Cloudy to throw the four-seamer more against righties, but the pitch didn't effectively set up the slider, and trying it interfered with the command of his sinker.
Let's reunite the split personalities, now, because it's important to understand how these half-problems have trickle-up effects on the holistic effort to win ball games. Sonny Gray–the indivisible, corporeal man–has been known to attempt a reset during tough starts by walking back into the clubhouse and stripping down to his, er, indivisible corporeality. "Starting over," he calls it. But how do you reset just half of yourself? When the twin tasks of getting out righties and lefties are considered as individual ones, it becomes an important question. 
His overall numbers suggest that Gray had a good season, splits be damned. His 3.08 ERA and 1.9 WARP in 120 innings would tell you that his only deficiency was in durability. That's not quite true, though. Because he couldn't get righties as well as a pitcher of his talent usually can, Gray had too many short starts. The inability to put a hitter away because the slider isn't sliding enough costs extra pitches. Furthermore, a vulnerability to same-handed batters can leave you just as open to things snowballing or opponents outmaneuvering you as can a weakness against opposite-handed ones.
An ideal starter has two pitches they can command to each side of home plate. There can be overlap between the two (a fastball you can dot on either corner, for instance), but that's increasingly rare. 
You also want two pitches for each type of hitter. Opposite-handed guys will struggle more with vertical movement and changes of speeds, whereas same-handed ones are weak against good lateral movement and pure velocity. Only a few starters have that whole suite of weapons for each of their tasks, though. 
The rest have to grapple with their own incompleteness, and try to thrive anyway. In 2022, Gray only averaged five innings per start. He only meaningfully improved the Twins' chances of winning (with a 0.10 or greater Win Probability Added) in 11 of 24 outings, because he wasn't able to manage or correct that compartmental failure.
This isn't primarily a Sonny Gray problem. The Twins have to be better at making the platoon advantage an actual advantage. They had reverse splits as a team last year, for both left- and right-handed pitchers. The same was true in 2020, and in 2019 for righties. Dylan Bundy, Chris Archer, Joe Ryan, Josh Winder, and Emilio Pagan all ran reverse splits last season, just like Gray. 
That's not always a bad thing, but it's not as though these teams have been loaded with stellar changeup artists. On the contrary, they look for breaking stuff, and shape it as discussed above, on the theory that vertical disparities between the fastball and breakers will generate whiffs against batters from either side.
That's not universally true, though, and the team mismanaged its idiosyncratic cases for the second straight season in 2022. When you ask some pitchers to streamline their repertoire, you get monsters capable of mowing down opponents. When you ask others to do it, though, or when you try to conform their style to your organizational one, you hamstring guys. 
This is why modern big-league teams carry multiple pitching coaches, and it certainly underscores the way Wes Johnson's departure in the middle of 2022 hurt. In 2023, the Twins could benefit by starting to think of their pitchers as containing multitudes, and by finding creative solutions to problems for each of their hurlers' halves.