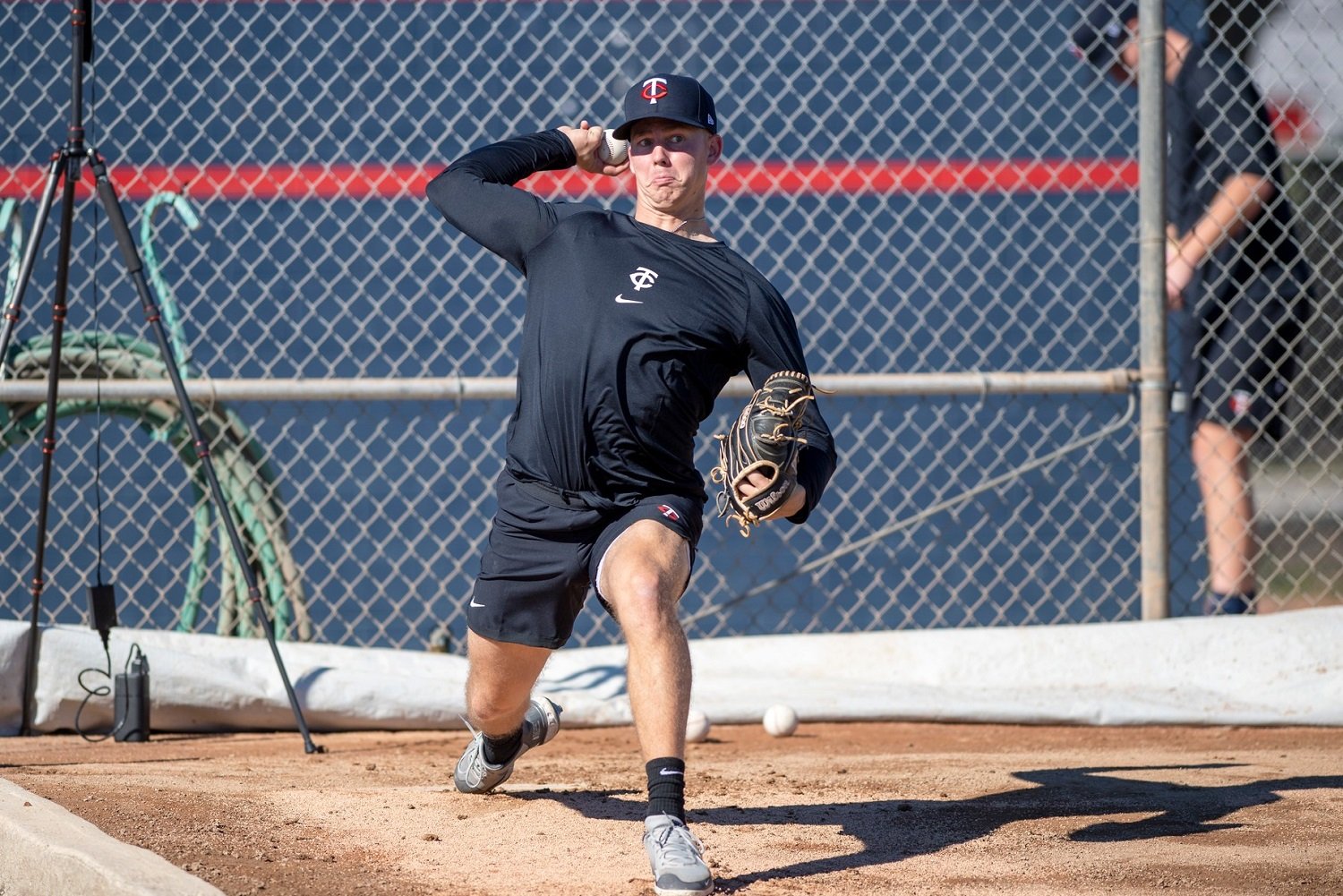 Image courtesy of William Parmeter (photo of Pierson Ohl)
At the major-league level the Twins don't have a single starter in the top-50 for average fastball velocity, yet find themselves with a 9.4 K/9. Pablo Lopez and Louie Varland have matching 94.9 mph averages, which is good for 54th out of 258 total starters in Major League Baseball this year. After Lopez and Varland, the next closest is Sonny Gray at 92.6 mph which is a significant dip. So, as a whole staff, how are the Twins able to throw guys the chair so effectively? The answer may not be what you expect.
A lot is made of Joe Ryan's deception behind his 92.5 mph "heater" as it tends to sneak up on hitters. His three-quarters delivery fools hitters into anticipating the speed and movement behind the pitch. Gray and Lopez are two more pitchers who have pitches in their arsenal with significant movement that can make hitters look foolish at the dish. All that said, you may be surprised to learn that, as a staff, the Twins are exactly league average in their Stuff+ ratings. So how do they do it?

Command.
The Twins are the best in baseball when it comes to commanding their pitches. Command isn't just the ability to throw strikes, we call that "control", but command is being able to "hit your spots". If the catcher calls a fastball low and away? The pitcher throws it low and a away. The catcher calls for a back door slider? The pitcher throws a back door slider. As effective as velo can be, commanding the zone is arguably the most important skill a pitcher can have. But this isn't just seen at the Major League level, it can be found throughout the entire organization.

In St. Paul, the Twins have Brent Headrick, Cedar Rapids has Marco Raya, Fort Myers has C.J. Culpepper, and now Wichita has Pierson Ohl. When you look up the word "command" in MLB's glossary, they now just show a GIF of Ohl's fastball. The 2021 14th-round pick has 143 strikeouts to just 18 (!!!!) walks in 133 2/3 minor league innings to start his career. The otherworldly 7.94 K:BB recently earned him a promotion to AA-Wichita after just 25 starts in single-A. In fact, he's making his AA debut tonight (June 9) against the San Antonio Missions who have the third most wins in the Texas League.
You won't find Ohl on any top prospect lists, because pitchers who don't throw hard face an uphill battle making it to the Majors and typically are underrated. But pitchers who don't throw hard also don't typically strikeout more than one batter per inning while walking just one better every seven innings. Without a question, Minor League hitters are the ones facing an uphill battle when they stand in the box against the 6' 1" righty.

For years and years, the Twins were known for soft throwing pitchers who pitch to contact. Now, Derek Falvey and Thad Levine are proving that soft throwing doesn't have to mean pitch to contact if you can command the zone.

Be sure to check out my recent (June 8) interview with Pierson Ohl embedded at the top of this article.