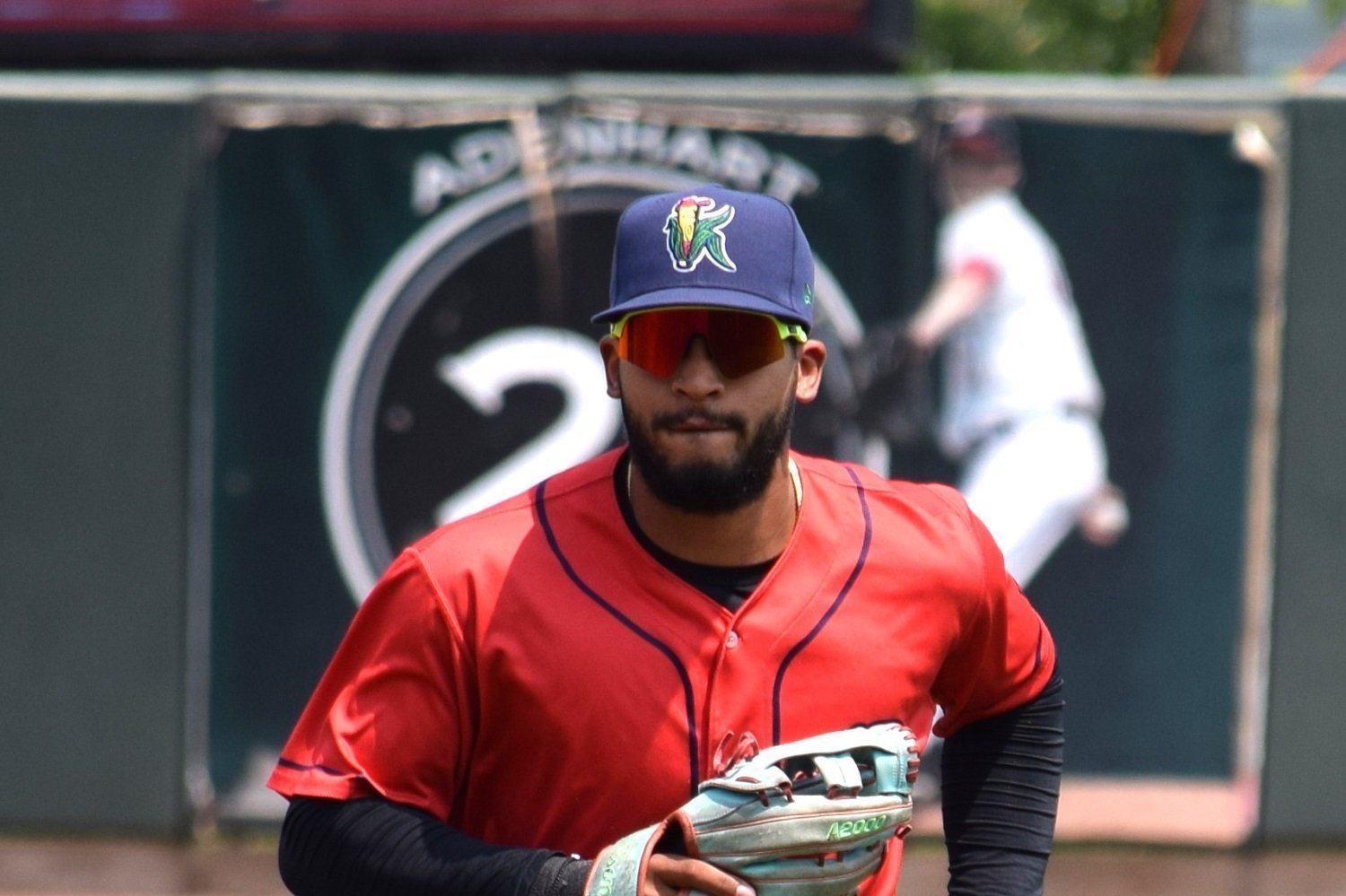 Image courtesy of Steve Buhr, Twins Daily
SAINTS SENTINEL 
Iowa 1, St. Paul 0
Box Score
Having been eliminated from postseason contention on Saturday night, the Saints took the field for their final road game on Sunday. David Festa was on the mound, and rehabbing Twins utility man Nick Gordon was in left field. A shorter outing, Festa went 2 2/3 innings, allowing one run on three hits and a pair of walks. He struck out two.

Iowa scored the game's first run in the second inning, but Festa escaped with the bases loaded before letting the inning become problematic. Shortening Festa's workload with the year ending, Brent Headrick took over in the third inning. He worked 3 1/3 innings of perfect baseball while striking out four.

The Saints couldn't find a run in the ninth inning either, and they dropped Sunday's action, going scoreless on six hits. Brooks Lee was the only St. Paul batter to record a pair. They'll return home for a final series against Toledo.
WIND SURGE WISDOM
Midland 6, Wichita 4
Box Score
Needing a victory and then a loss from Springfield to make the playoffs, Wichita turned to Jordan Carr for their final regular season game on Sunday. Carr went three innings while allowing four runs (three earned) on four hits and a walk. He struck out one.
After a scoreless first frame, Midland grabbed the first lead with a three-run homer in the top of the second inning. Midland added again in the third inning with an RBI single, and the Wind Surge were staring at a 4-0 deficit. The RockHounds added another pair of runs in the seventh inning, and things looked bleak for Wichita.
Facing a six-run deficit with just three outs left, the Wind Surge needed a miracle. Alex Isola doubled home Will Holland before Jake Rucker traded places with him. Tanner Schobel stepped in with the bases loaded and just one out and singled home Patrick Wikel. With one out and down 6-3, Ben Ross had the opportunity to walk it off on a home run. The ball didn't leave the yard, but he continued the singles parade and brought home Rucker, leaving the bases still packed. Willie Joe Garry Jr. initially looked like he brought Aaron Sabato home on a fielder's choice, but Midland made the out. Holland flew out to left, and the comeback came just short.
Schobel, Rucker, and Isola all grabbed a pair of hits in what ends up being Wichita's final game of the year.
KERNELS NUGGETS
Cedar Rapids 10, Great Lakes 6
Box Score
Kicking off the Midwest League Championship Series, the Kernels turned to Christian MacLeod on Sunday. It was a rough outing as he was lifted after getting four outs and giving up four runs. MacLeod gave up three hits and three walks while striking out three. Zebby Matthews then came on in relief.
After getting behind 1-0 in the bottom of the first inning, Cedar Rapids answered and took their first lead in the second inning. With the bases loaded, Noah Cardenas walked and allowed Andrew Cossetti to cross the plate. Jose Salas then grounded into a double play, but Jorel Ortega scored in the process. Carson McCusker then brought Luke Keaschall home from third base and it was a 3-1 game.
A Dalton Rushing home run in the bottom of the second inning sent MacLeod to the showers and put the Loons back up 4-3. In the bottom of the fourth inning, Rushing went deep for the second time Sunday and put the Loons up 6-3. Emmanuel Rodriguez answered for the Kernels in the top of the fifth inning, launching a solo shot to bring them back within two.
The Loons threatened to add again in the fifth inning with runners on the corners and two outs. Matthews worked a necessary strikeout to get out of the inning, though. Jose Salas got into the box score when he launched a dinger and brought Cedar Rapids within one during the seventh inning.
Looking for a tying run in the ninth inning, the Kernels were down to their final three outs. After Keaschall flew out to start the inning, Cardenas drew a walk. Jefferson Morales came on as a pinch hitter, then jogged to second base after Salas filled first following a hit by pitch. McCusker stepped in and launched a three-run blast to center, putting the Kernels on top. Their first lead since the second inning couldn't have come at a better time.
Not done with the inning yet, Rodriguez stepped in following a Noah Miller single and launched his second home run. The two-run shot made it a 10-6 ballgame, giving the Kernels some well-deserved breathing room.
Malik Barrington finished his 1 2/3 innings of relief scoreless, and Gabriel Yanez came on to get the final out. Rodriguez and McCusker recorded a pair of hits on Sunday, with their home runs being the difference.
Cedar Rapids returns home with a chance to win the title on Tuesday night.
TWINS DAILY MINOR LEAGUE PLAYERS OF THE DAY
Pitcher of the Day – Brent Headrick (St. Paul) - 3.1 IP, 0 H, 0 R, 0 ER, 0 BB, 4 K
Hitter of the Day – Emmanuel Rodriguez (Cedar Rapids) - 2-5, 2 R, 3 RBI, 2 HR, 2 K
PROSPECT SUMMARY
We will again keep tabs on the Twins top prospects. You'll probably read about them in the team sections, but if they aren't there, you'll see how they did here. 
Here's a look at how the current Twins Daily Top 20 performed:
#1 - Brooks Lee (St. Paul) - 2-4
#3 - Emmanuel Rodriguez (Cedar Rapids) - 2-5, 2 R, 3 RBI, 2 HR, 2 K
#6 - David Festa (St. Paul) - 2.2 IP, 3 H, 1 R, 1 ER, 2 BB, 2 K
#8 - Tanner Schobel (Wichita) - 2-4, RBI
#10 - Luke Keaschall (Cedar Rapids) - 0-3, R, BB, K
#13 - Kala'i Rosario (Cedar Rapids) - 0-3, 2 BB, 2 K
#14 - Yunior Severino (St. Paul) - 1-4, 3 K
#20 - Brent Headrick (St. Paul) - 3.1 IP, 0 H, 0 R, 0 ER, 0 BB, 4 K
TUESDAY'S PROBABLE STARTERS
Toledo @ St. Paul (6:37PM CST) - TBD
Great Lakes @ Cedar Rapids (6:35PM CST) - RHP Andrew Morris
Please feel free to ask questions and discuss Sunday's games!