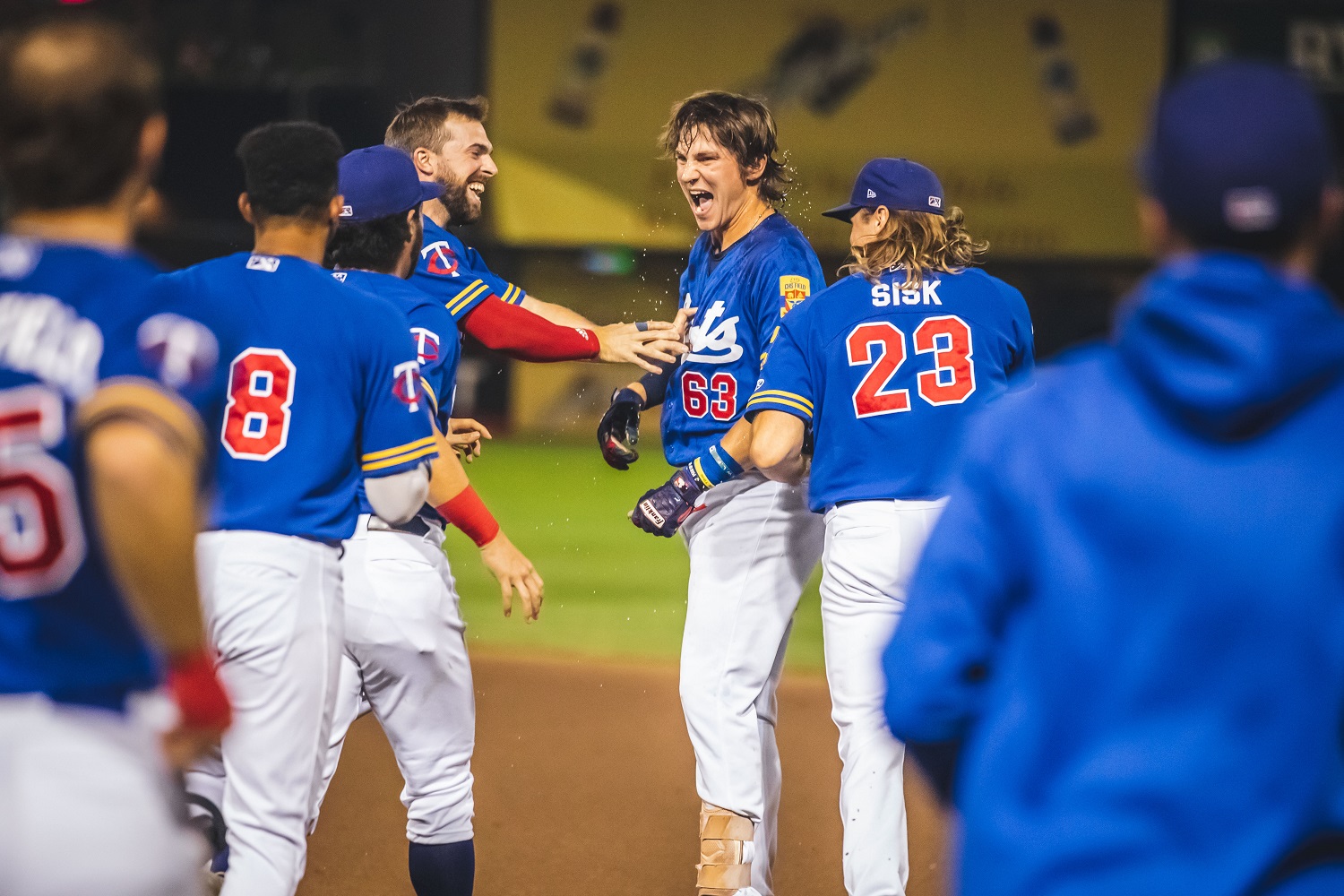 Image courtesy of Rob Thompson, St. Paul Saints
TRANSACTIONS
INF Brooks Lee promoted to Wichita 
C Dillon Datum placed on development list (Wichita)
INF Wander Javier promoted to St. Paul
INF Jake Rucker promoted to St. Paul
C Roy Morales activated from IL (St. Paul)
OF Matt Wallner contract selected by Minnesota 
RHP Louie Varland recalled by Minnesota (29th man)
RHP Drew Strotman designated for assignment 
RHP Trevor Megill placed on COVID-IL list
RHP Dereck Rodriguez contract selected from St. Paul. 
Saints Sentinel 
St. Paul 4, Louisville 3
Box Score
Randy Dobnak: 4 IP, 1 H, 0 ER, 3 BB, 4 K
HR: Jake Rucker (1)
Multi-hit games: Jake Rucker (2-for-3, HR, 2 R, 3 RBI), Dalton Shuffield (2-for-3)
St. Paul won on a walk-off Saturday.
The new guys made bold impressions; Jake Rucker announced his presence with a two-run homer, while Wander Javier singled in a run in the 5th inning. With a runner on third in the 9th, Rucker connected with a fly-ball sent deep enough to score the winning run.
Randy Dobnak—making his first start since his recent DFA—was erratic, walking three batters in a rust-filled outing. The sinkerballer still struck out four and didn't allow a run—perhaps proving he still has something in the tank—but the Twins will likely desire to see more command in future starts.
Trevor Larnach started in left field and played seven innings.
Mike Siani—the Bats' centerfielder and lead-off man—is the team's best prospect; he homered and singled in five at-bats. Longtime major-leaguer, Stephen Piscotty, hit 6th for the Bats and DH'd. 
Wind Surge Wisdom
Game One: Wichita 3, Midland 4
Box Score
Cody Laweryson: 5 IP, 5 H, 2 ER, 2 BB, 5 K
HR: Alex Isola (10)
Multi-hit games: Alex Isola (2-for-4, HR, 2 R, RBI)
Wichita lost the first game of their doubleheader on Saturday.
Cody Laweryson pitched effectively—although not dominantly—in his five innings of work, striking out five batters while allowing two runs. His Wichita ERA sits at 1.06.
Alex Isola spearheaded the offensive performance; the catcher homered and singled, netting two runs in an otherwise dry day for Wind Surge batters. Anthony Prato's 2nd inning double was the only other extra-base hit in the game.
The issue? Wichita grounded into three double plays in the game; Yunior Severino accounted for two of them.
Tyler Soderstrom is Midland's top prospect according to MLB.com. The first baseman singled twice in three at-bats.
Game Two: Wichita 1, Midland 9
Box Score
Osiris German: 2 IP, 0 H, 0 ER, 0 BB, 1 K
HR: None
Multi-hit games: None
Wichita lost a clunker in game two on Saturday.
Midland sandwiched a one-run 4th inning with four-run frames before and afterward, ensuring that Wichita would face an uphill battle in their attempt to win; Hunter McMahon and Michael Boyle walked away with battered ERAs. 
The lone offensive bright spot came when Austin Martin doubled home a run in the 6th inning, but—fitting for a game like this—Midland threw him out trying to stretch the play to a triple.
Brooks Lee went hitless with a strikeout in three at-bats during his AA debut.
Soderstrom improved off his first game, homering and driving in three to cement his prospect status.
Mussel Matters
Fort Myers 1, Dunedin 3
Box Score
Jordan Carr: 2 IP, 3 H, 2 ER, 2 BB, 1 K
HR: None
Multi-hit games: Tanner Schobel (2-for-4, RBI)
Fort Myers lost on Saturday, ending their playoff run in the opening round.
All arms were on deck; Fort Myers called upon four pitchers to help lead them, and their combined effort was impressive. Andrew Morris—a 2022 draft pick—lead the way with a trio of scoreless innings, holding the Blue Jays at bay during the crucial switch from the middle innings to the late frames. The staff allowed a high hit total—11, to be precise—but only three runs.
The Achilles heel proved to be the offense, as the bats mustered just four hits in the match; Tanner Schobel alone accounted for half of them. Without an extra-base hit, the team could plate only a single run, forcing the pitchers to be perfect, which they were not.
The Mighty Mussels' season is now over.
Josh Kasevich and Cade Doughty are Dunedin's top prospects according to MLB.com; Doughty singled twice and both hitters nabbed an RBI.
TWINS DAILY PLAYERS OF THE DAY
Twins Daily Minor League Pitcher of the Day – Randy Dobnak
Twins Daily Minor League Hitter of the Day – Jake Rucker
PROSPECT SUMMARY
Here's a look at how the Twins Daily Top 20 Twins Prospects performed:
#2 - Brooks Lee (Wichita) - 0-3, K
#4 - Austin Martin (Wichita) - 1-6, 2B, RBI
#7 - Noah Miller (Ft. Myers) - 0-4
#9 - Matt Wallner (Minnesota) - 1-3, HR, R, RBI, K (Major League debut)
#12 - Louie Varland (Minnesota) - 5 IP, 9 H, 4 ER, 2 BB, 3 K
#14 - Edouard Julien (Wichita) - 1-5, BB, K
#15 - Blayne Enlow (Wichita) - 1 IP, 4 H, 2 ER, 0 BB, 0 K
#17 - Cole Sands (St. Paul) - 2 ⅔ IP, 6 H, 3 ER, 2 BB, 2 K
#18 - Tanner Schobel (Ft. Myers) - 2-for-4, RBI
#20 - Kala'i Rosario (Ft. Myers) - 1-4, K
SUNDAY'S PROBABLE STARTERS
Louisville @ St. Paul (12:07 PM) - RHP Ronny Henriquez
Wichita @ Midland (2:00 PM) - LHP Kody Funderburk