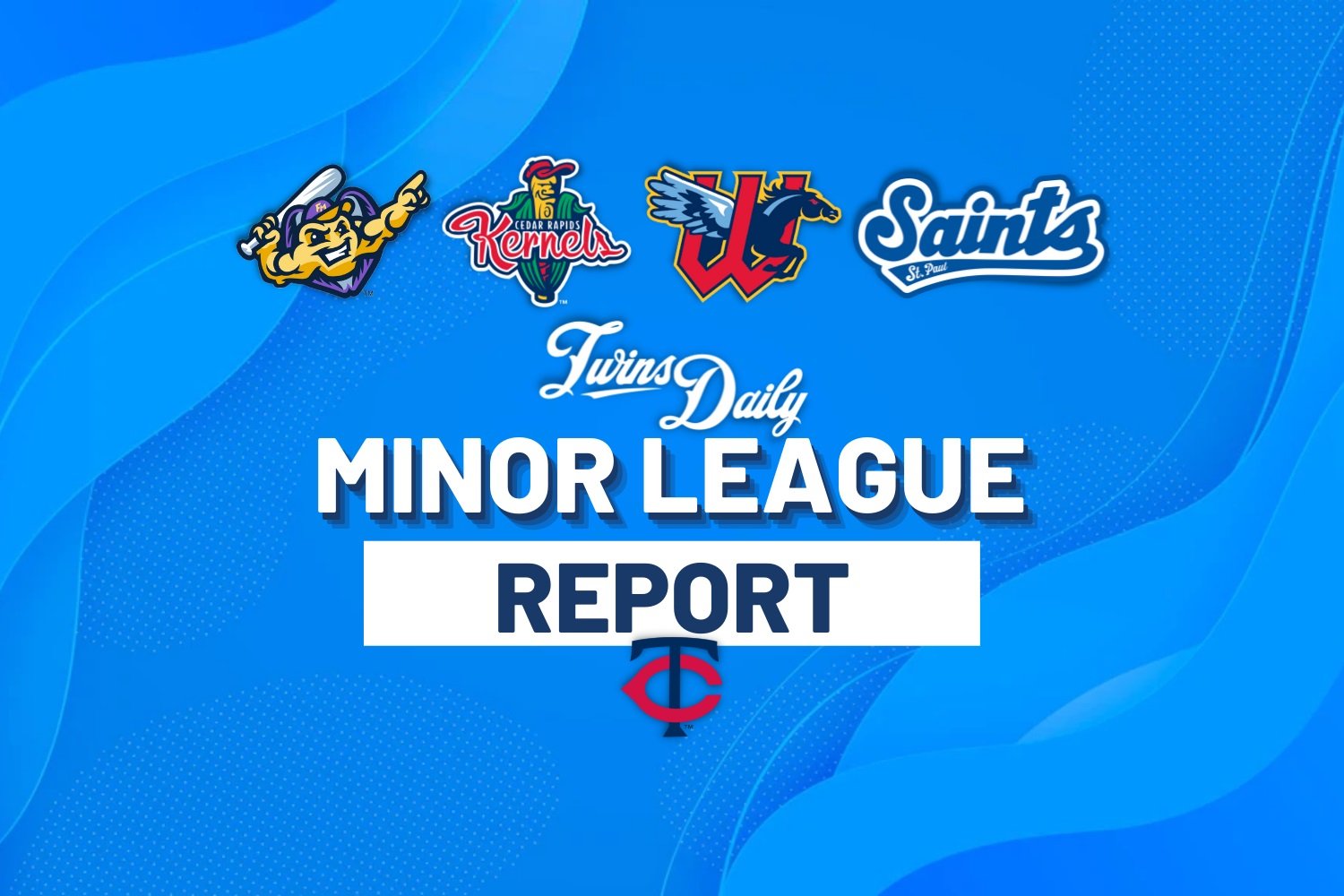 TRANSACTIONS
OF Kyle Garlick recalled by Minnesota. Joey Gallo went on the Injured List. 
Saints Sentinel
St. Paul 8, Buffalo 3
Box Score
Simeon Woods Richardson: 4 1/3 IP, 2 H, 2 ER, 5 BB, 5 K
HR: Trevor Larnach (3)
Multi-hit games: Edouard Julien (2-for-5, 2B, 3 RBI)
The Saints won easily on Saturday.
You don't see too many eight-run outbursts fueled by only one multi-hit effort; that was just the kind of democratic, balanced offensive attack the Saints elected to employ; every batter reached base except for Andrew Stevenson, the lead-off man. The innings of note were the 5th and 8th when Edouard Julien emptied the bases with a wind-aided double, and Alex De Gotti and Trevor Larnach slugged their way to three bonus runs. 
Simeon Woods Richardson was off again. The 22-year-old couldn't figure out his mechanics, frantically spraying balls around the plate to the tune of five walks—the most free passes he's handed out in one game since joining the Twins. We all hope Woods Richardson's turned corner appears soon, but tonight was not it.
The Saints' bullpen was nails, though, working 4 2/3 innings of one-run ball to bring the game to a quiet close. Oliver Ortega struck out four, Patrick Murphy earned six clean outs, and Josh Winder wrapped business up with a relatively boring 9th frame. Both Ortega and Murphy have ERAs under 2.00 on the season.
Technically old friend Luke Bard allowed five hits and three earned runs out of Buffalo's bullpen. 
The Bisons' best prospect, Hayden Juenger—ranked 10th in the system by MLB.com—pitched an excellent inning of work, punching out two in a scoreless frame.
Wind Surge Wisdom
Wichita 1, Tulsa 8
Box Score
Chad Donato: 5 IP, 7 H, 6 ER, 5 BB, K
HR: None
Multi-hit games: None
The Wind Surge fell down early and never recovered against Tulsa on Saturday.
It's never ideal to spot the other team five runs in the first; it's even less ideal to do so against the pitching force known as Emmet Sheehan. The next man in the Dodgers' Great Pitching Machine, Sheehan entered the day third in all of MiLB in strikeouts, aided by a carrying fastball that seems to elevate into eternity, always slipping above hitters' bats. 
Sheehan and the rest of Tulsa's pitching staff turned Wichita's bats dull. All the Wind Surge could offer was three singles and just as many walks; amazingly, they strung two of those knocks together in the sixth to plate their first—and only—run of the night. Brooks Lee was the RBI earner.
Chad Donato suffered no such fortune. His evening began single, single, walk, grand slam, effectively ending any chance he had at a normal start before an out could even be had. Eddys Leonard followed up with a solo homer to drown Donato's wound in sodium.
Curtis Taylor—an arm signed a month ago by the Twins—was the only pitcher to escape with an unperturbed ERA; he tossed a pair of scoreless innings with two strikeouts.
The Drillers are loaded with prospect talent, and the current king of the system, catcher Diego Cartaya, singled once in five trips to the plate. 
Kernels Nuggets
Cedar Rapids 6, Lansing 3
Box Score
Christian MacLeod: 4 IP, 4 H, 1 ER, 4 BB, 2 K
HR: Kala'i Rosario (8), Ben Ross (7)
Multi-hit games: Tanner Schobel (4-for-5, R, 3 RBI)
Cedar Rapids came from behind to win on Saturday.
It was an unusual offensive method utilized by the Kernels; the six runs appear flashy, but dissecting the lineup reveals the soul of scoring stemming from an absurd four-hit day by Tanner Schobel and homers from Kala'i Rosario and Ben Ross. Hardly an even approach, but it was an effective one. 
Speaking of effective—this one of the "-ly wild" variety—Christian MacLeod claims an atypical pitching line for the day. The lefty walked four batters, but Lansing could only swing cement when those batters reached base, allowing MacLeod to escape with a single earned run and nothing else.
Regi Grace continued his tremendous start to the season with two scoreless frames and four punchouts.
In more irregular baseball, Lugnuts outfielder Brayan Buelvas stole four bases on Saturday; he entered the day with just one in 45 games. It's somewhat shocking that Noah Cardenas didn't rip out his hair.
Catcher Daniel Susac—Oakland's 4th best prospect, according to MLB.com—earned three hits, including a double on Saturday.
Mussel Matters
Fort Myers 8, St. Lucie 10
Box Score
Jose Olivares: 3 1/3 IP, 7 H, 5 ER, 4 BB, 5 K
HR: Dylan Neuse (2)
Multi-hit games: Rafael Cruz (2-for-5, 2 RBI), Dylan Neuse (2-for-4, HR, 2 R, 2 RBI, BB), Alec Sayre (2-for-4, 2 R, RBI, BB), Dillon Tatum (3-for-4, 2B, R, RBI)
Fort Myers lost a high-scoring affair on Saturday.
With 23 hits and 13 walks combined between the two teams, pitching was at a premium? Non-existent? Whichever you prefer, remember to say a quick prayer for any arm who had the unfortunate task of finding normality on the mound.
Jose Olivares was one such casualty. The righty earned a pair of scoreless frames before unwinding in the third, allowing a trio of two-out runs to flip the lead. Fort Myers handed him a fresh advantage, but the fourth proved painful like the inning before it, and following an RBI knock to bring the game within one, Olivares mercifully exited the game.
That only placed the pain of handling this match onto someone else. Samuel Perez was a phenomenal stopper, acquiring seven outs while somehow avoiding an earned run, but Ben Ethridge was caught with the ticking time bomb hitting 0:00; he allowed five runs to put the game out of reach.
Fort Myers' bats nearly saved their arms, though, as the back end of their lineup harassed Mets' pitchers to the tune of eight hits from the 6-9 batters. Every hitter in the lineup reached base at least once. 
MLB.com sees shortstop Jett Williams as the Mets' third-best prospect, and he played like it, walking three times and singling while scoring a trio of runs. 
TWINS DAILY PLAYERS OF THE DAY
Twins Daily Minor League Pitcher of the Day – Christian MacLeod
Twins Daily Minor League Hitter of the Day – Tanner Schobel
PROSPECT SUMMARY
Here's a look at how the Twins Daily Top 20 Twins Prospects performed:
#1 - Brooks Lee (Wichita) - 1-3, RBI, BB, 2 K
#2 - Royce Lewis (Minnesota) - 1-4, K
#3 - Emmanuel Rodriguez (Cedar Rapids) - 0-4, BB, 2 K
#4 - Edouard Julien (St. Paul) - 2-5, 2B, 3 RBI, 2 K
#7 - Simeon Woods Richardson (St. Paul) - 4 ⅓ IP, 2 H, 2 ER, 5 BB, 5 K
#9 - Matt Wallner (St. Paul) - 1-3, 2B, 2 R, BB
#13 - Noah Miller (Cedar Rapids) - 0-4, R
SUNDAY'S PROBABLE STARTERS
St. Paul @ Buffalo (12:05 PM) - RHP Kenta Maeda (0-0, 0.00 ERA)
Tulsa @ Wichita (1:05 PM) - RHP Blayne Enlow (2-1, 3.13 ERA)
Cedar Rapids @ Lansing (12:05 PM) - RHP Zebby Matthews (0-0, -.-- ERA)
St. Lucie @ Fort Myers (11:00 AM) - LHP Wilker Reyes (1-0, 5.74 ERA)