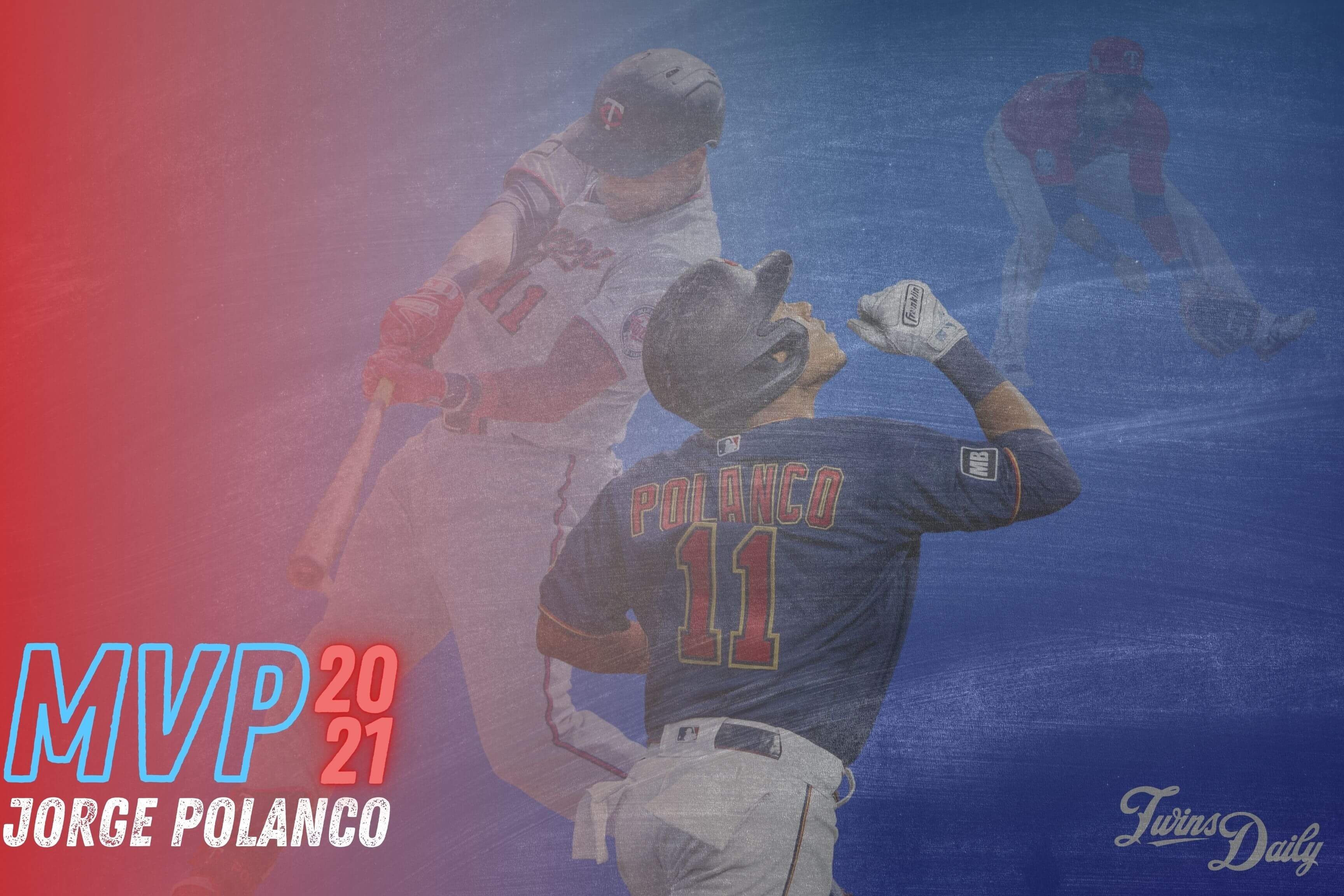 Image courtesy of David Youngs, Twins Daily
Other Twins Daily 2021 Award Winners
Twins Daily 2021 Awards: Most Improved
Twins Daily 2021 Awards: Pitcher of the Year
Twins Daily 2021 Awards: Rookie of the Year
Even the gleaming optimist would struggle to tally a fruitful list of positives from the Twins rocky 2021 season. Let's face it, 2021 was a wash. Players underperformed, a cesspool of injuries plagued, and the team as a whole fell mountains short of preseason expectations. 
There's plenty of content out there about the ladder issues. Yet as an optimist myself, it would be cruel not to highlight some of brilliant performances that took place in a deeply-needed 'normal' year of Major League Baseball for the Minnesota Twins. 
Losing sucks, but at the end of the day there are reasons for Twins fans to be optimistic. The players below prove why.
Honorable Mention for Twins Daily 2021 Most Valuable Player (listed in reverse order of votes received)
3B Josh Donaldson (18 Votes)
After a less-than-ideal first season with the Twins, Donaldson was stellar this season. The Bringer of Rain posted a 3.2 Offensive WAR and was an extra-base hit machine, tallying 26 homers and 26 doubles. Donaldson's .247 batting average doesn't do justice for how impactful he was in the Twins lineup. On top of that, his defense was rock-solid, as demonstrated by his 2.2 Defensive War. 
Will Donaldson remain a Twin for the final two years of his four-ear contract? Given his impact this year, I sure hope he does, When healthy, the man is a force on both sides of the ball. 
CF Byron Buxton (33 Votes)
If it weren't for the injury-crutch there's a good chance that Buxton would be atop this list...and atop standings for league-wide awards. In just 61 games Buxton slashed .306/.358/.647 (1.005) with 72 hits (23 doubles), 19 homers, and 32 RBI. Arguably the fastest player in baseball, Buxton stole nine bases on 10 attempts and was as Buxton-esque as ever patrolling center field at Target Field.
There's a lot of speculation regarding Buxton's future in Minnesota. Yes, health is an issue but my goodness, if you can't see that Buxton is a generational player, please open your eyes.
Also Receiving Votes: Baily Ober (13), Luis Arraez (12), Jose Berrios (8), Michael Pineda (6), Nelson Cruz (4), Taylor Rogers (4), Max Kepler (1), Caleb Thielbar (2)
Twins Daily 2021 MVP: 2B Jorge Polanco (50)
 Mention Jorge Polanco's name to Twins fans a year ago and one would likely be met with discouragement and vitriol. My oh my have the tables turned. 
While the whole Andrelton Simmons project at shortstop didn't exactly work out, Polanco's shift to second base rejuvenated the former all-star with the caliber of elite performance that we all knew he was capable of. Polanco finished the 2021 season with a .269/.323/.503 (.826) slash line, knocking 158 hits, 97 runs, 33 home runs, and 98 RBI. The speedy infielder also stole 11 bases in 17 attempts and touted a team-leading 4.8 offensive WAR. 
Polanco was a beacon of light all season for the Twins offense. After a slow April, Polanco's batting average hovered in excellency each month as the season progressed.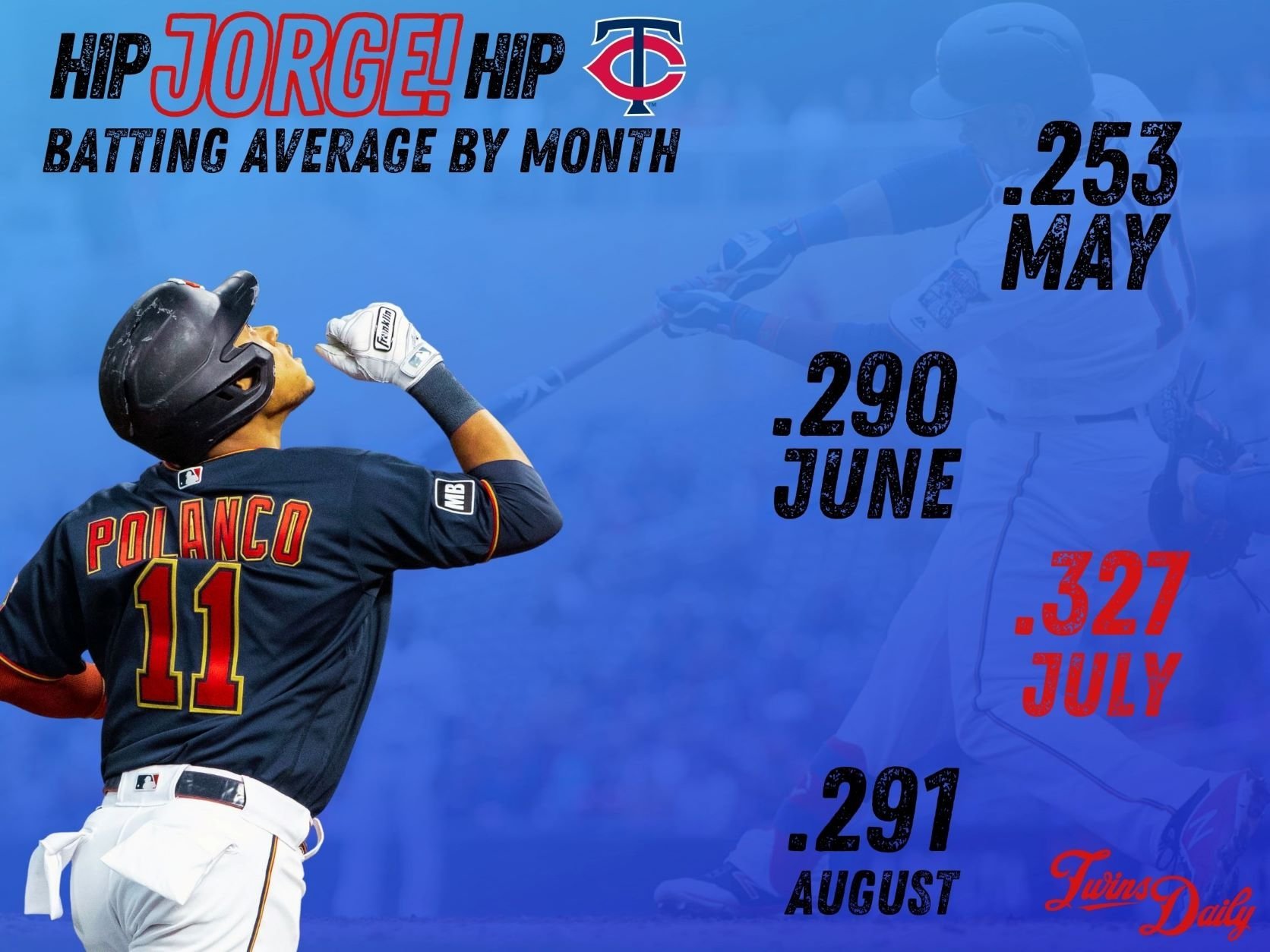 And despite a subpar September (.245/.273/.547), Polanco still managed to knock eight homers (only second to his nine HR in August) and compile 58 total bases (26 H, 8 2B, 4 BB). 
Polanco's 33 homers put him fourth on the list amongst all MLB second basemen. The 28-year-old also ranks fourth at the position for RBI (98), and fifth for slugging percentage (.503). 
Coming off of his eighth season with the organization it's clear that Polanco is a player that the Twins are comfortable investing in. If that wasn't the case they would have taken advantage of numerous opportunities to trade him away. The investment has paid off, yet there's still work to be done. 
Polanco posted a defensive WAR of 0.7 this season and totaled a .961 Fielding Percentage with 17 errors (15 at 2B). Those numbers are solid but aren't going to win any Gold Gloves. Yet that misses the point of the greater picture. Polanco looked infinitely more confident at second base compared to his days at shortstop. There's a great chance that the confidence in the field correlated directly to his enormous year at the plate. Baseball is an incredibly difficult sport on the mental side of the game and Polanco's newfound confidence is a huge win for the future of the Twins organization. 
At the end of the day Polanco truly was the most valued player on this season's roster. He stayed healthy (in comparison to others), was a staple in the field, and hit for power and consistency from both sides of the plate. Hopefully the Twins can wrangle up a high-quality shortstop to complement Polanco up the middle. If so, the Twins could have one of the stronger infields in all of MLB. 
How do you feel about the choice of Jorge Polanco as the teams Most Valuable Player in 2021?