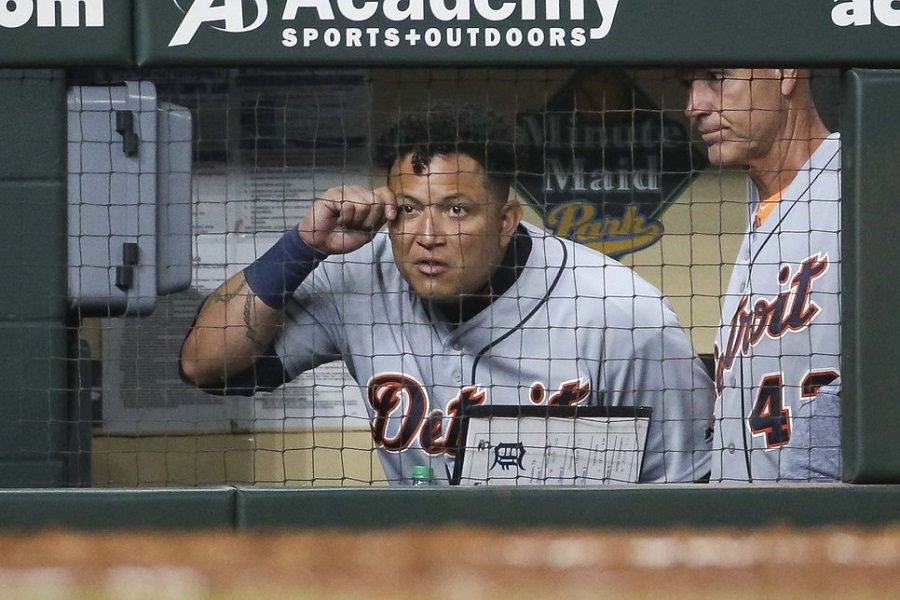 Image courtesy of © Troy Taormina-USA TODAY Sports
Brief Overview:
Let's not mince words here, Detroit is a poor team who has somehow even played below the level of the lowly Orioles this year. Their talent is few and far between and even harder to spot after Nick Castellanos and Shane Greene were dealt at the deadline. They currently have no qualified hitters with a wRC+ over 100 and just a small handful of pitchers who would be considered useful on any good team. I'm being harsh here but it really is hard to compliment a team that is 38-87 on the year and has already been eliminated from AL Central contention.
What They Do Well:
Oh lord, well, I'll really be stretching what it means to "do well" in something, and liberties will have to be taken given the context of their baseball-reference page. The Tigers do actually have some solid starting pitching as they rank 13th in baseball by fWAR for starters. Most of this is carried by the efforts of Matt Boyd, Spencer Turnbull, and Daniel Norris who have all been able to soak innings with peripherals that range from "good" to "passable" which is truly something to note for a team in this situation.
Usually I have more here but honest to God I cannot find anything worth writing about.
What They Do Not Do Well:
OOOH BABY, how much time do I have? Well, let's start with the offense that's about as offensive as Mister Rogers. They have the worst team wRC+ in baseball with a 76 mark which is just one point ahead of Nick Punto's Twins wRC+. It gets even worse when looking at just the last seven days in which they've held a mark of 50 and have struck out an incredible 36.6% of the time. I mentioned before that they currently have no qualified hitters with a mark that is at or above average (100) and the only player above that line is Travis Demeritte and his 109 mark in just 77 plate appearances.
"Does it get worse?" My sweet summer child, it always can. Their bullpen FIP is the third highest in baseball at 5.11. You want a comparison for that? Addison Reed had a FIP of 5.11 with the Twins... that's the most horrific statement I've probably ever written. After trading Greene, they're left with just a single reliever with a FIP under 4.00 who has thrown more than 10 innings. You want to guess who it is? Surprisingly, it isn't Joe Jiménez but actually the wonderfully named Buck Farmer. But after him, there's a bunch of sketch and not a lot of experience.
Individuals Of Note:
Matt Boyd has been a good starting pitcher this year with peripherals that suggests an even better pitcher is deep down within him, but the home run problem that has nagged him for months now remains one of the biggest reasons why there is such a difference between his ERA and xFIP. Only 5 qualified starters in the AL have a higher HR/FB % than Boyd's 17.6% mark. A guy with a homer problem going up against the 2019 Twins? What could go wrong. Although, Boyd was placed on the paternity list recently so his status for this series is up in the air.
One of the other starters I mentioned was Spencer Turnbull who can pitch as well as someone named "Spencer Turnbull" should be able to. His FIP of 4.18 is solid but his real talent is the Rick Anderson special-the ground ball, and his GB% of 48.8% would be the seventh highest among qualified AL starters if he were qualified.
Ex-Twins' farmhand (and major leaguer for all of like 5 minutes), Niko Goodrum, is having the only real noteworthy season from a Tigers' position player as he's the only one still with the team who is above .3 fWAR (he's at 1.9) and he also looks to be the only position player on the Tigers to eclipse the 2.0 mark set for "average" major leaguers. Goodrum is currently BABIP-ing his way to a solid year as a multi-positional-weapon as he has logged innings at every position except for catcher and as this article is being written he sits with a respectable wRC+ of 94. As snarkily mentioned before, his BABIP on the year is an above average .341 so he may be due for some regression but even if he is, he remains one of the few bright spots on the Tigers.
Recent History:
The Twins and Tigers have played a few times this year and the Twins are 6-3 against them but the last series against them came all the way back in the second week of June which might as well be an eternity ago.
Recent Trajectories:
The Twins are 8-8 over their last 5 series while the Tigers are 6-11 over their last 5 series.
Pitching Match-ups:
Friday: Berríos vs VerHagen
Saturday: Gibson vs Jackson (holy crap it's Edwin Jackson)
Sunday: Pérez vs Boyd
(The Tigers rotation is in limbo so this may change)
Ending Thoughts:
The Tigers are bad, like, really bad. Potentially some weird "baseball-like" thing will occur like it did the other day when they were able to beat Justin Verlander and the Astros at Houston, but there should really be no reason or excuse that the Twins can't take the series or sweep. In my eyes, a series win is the very least they can do and a sweep should be expected given the difference between the two teams, but I would still lead with some caution given how tricky baseball can be sometimes. Anyway, I will call a sweep despite the fact that I am now on a two-series wrong streak. Hopefully I'll get back on track.