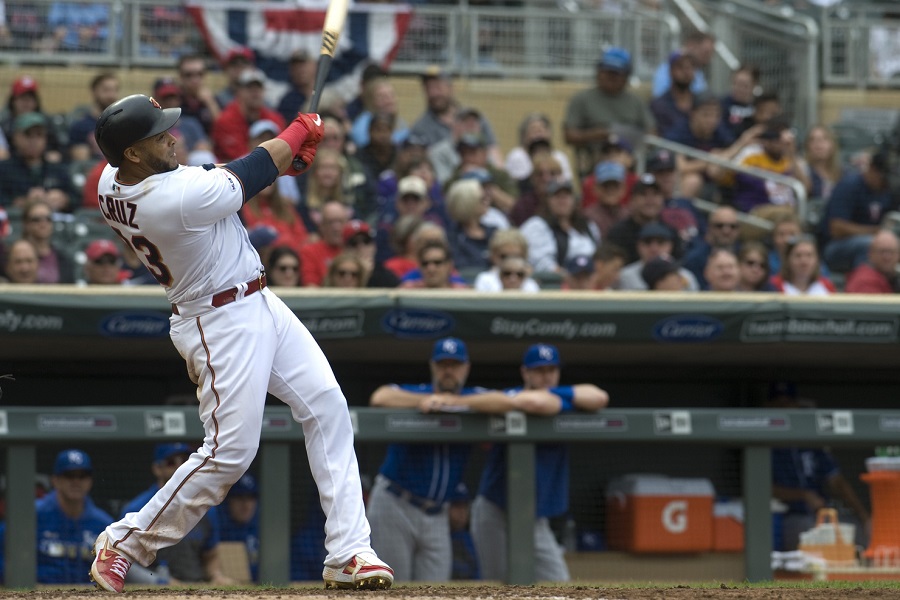 Image courtesy of © Marilyn Indahl-USA TODAY Sports
Minnesota Over the Last Decade
Ervin Santana's four-year, $55 million contract represents the biggest free agent contract in franchise history. Over the life of the contract, Santana compiled a 3.68 ERA with a 1.22 WHIP in 525 1/3 innings. He was named an All-Star in 2017 as he finished the year with a 16-8 record and a 3.28 ERA with a league leading five complete games and three shutouts. The 2018 season saw him limited to five starts as he dealt with injuries and had a falling out with the club.
Minnesota's best free agent signing of the last decade was signed last off-season as the club took a chance on 38-year old Nelson Cruz, He went on to lead the Bomba Squad with 41 home runs while being named the DH on the inaugural All-MLB Team and being awarded a Silver Slugger. According to ESPN, Cruz has been responsible for three organization's best free agent contracts in the last decade.
Before Cruz, Jim Thome might have represented the organization's best free agent signing of the decade. Prior to the 2010 season, he signed for $1.5 million and hit .283/.412/.627 (1.039) with 25 home runs. Minnesota would bring him back for 2011 on a $3 million deal on his way to crossing the 600-home run plateau. He'd be limited in his final big-league season, so his last productive season came in a Twins uniform.
Not all of Minnesota's deal have worked out in the team's favor. Prior to Santana's deal, Minnesota handed Ricky Nolasco a four-year, $49 million deal. He struggled to the tune of a 5.44 ERA with a 1.47 WHIP in parts of three seasons. The deal was so bad, the Twins wound up dealing him to the Angels in 2016 and he hasn't pitched at the big-league level since 2017.
Major Free Agent Teams
When it comes to free agency, there are some of the usual suspects at the top of the spending list, but there are some other surprising teams. The Red Sox (1st), Yankees (2nd) and Cubs (4th) have all found success in the last decade and some of that success can be attributed to spending millions on the open market. Boston won multiple titles and the Cubs were able to end their own curse.
Philadelphia and Detroit are the other top five teams. Detroit had strong teams near the beginning of the decade, and they spent money to help them to multiple AL Central titles. Philadelphia spent a third of all their free agent money last offseason on one player, Bryce Harper. Detroit currently seems to be a mess, but Philadelphia might be trending in the right direction.
Result
Free agency is a tough gamble for every team. Players are paid based on their previous performance when most of these players are in the prime of their careers. Prime years for a player are usually associated with their mid- to late-20s. When a player hits their 30s, there is usually a decline in performance and that is when they are getting paid the most money. Players like Albert Pujols, Jacoby Ellsbury, and Prince Fielder were paid a lot of money for some poor seasons.
There are some ageless players that seem to find success into their 30s. Nelson Cruz has fit that mold for multiple clubs as he entered the 2010s at age 29 and hit a decade-leading 346 home runs. MLB.com just named him to the all-decade team as the club's designated hitter. Cruz is more of the exception to the rule than the standard, but Minnesota certainly benefitted from his signing last year.
How do you feel about Minnesota's free agent choices over the last decade? Leave a COMMENT and start the discussion.
MORE FROM TWINS DAILY
— Latest Twins coverage from our writers
— Recent Twins discussion in our forums