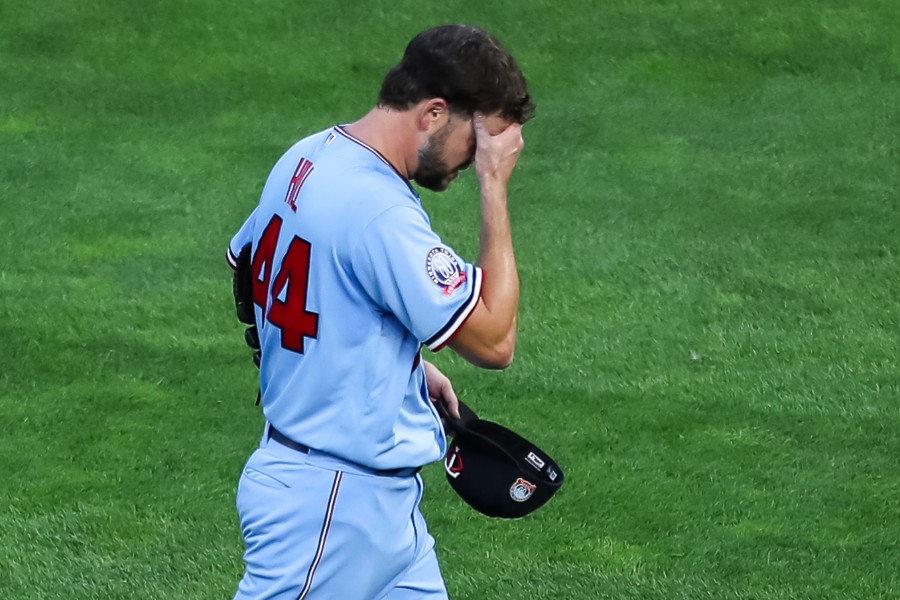 Image courtesy of © David Berding-USA TODAY Sports
Hill: 2.2 IP, 4 H, 4 ER, 3 BB, 1 K
Home Runs: Gonzalez (3)
Bottom 3 WPA: Hill -.287, Thorpe -.137, Cruz -.048
Win Probability Chart (via FanGraphs):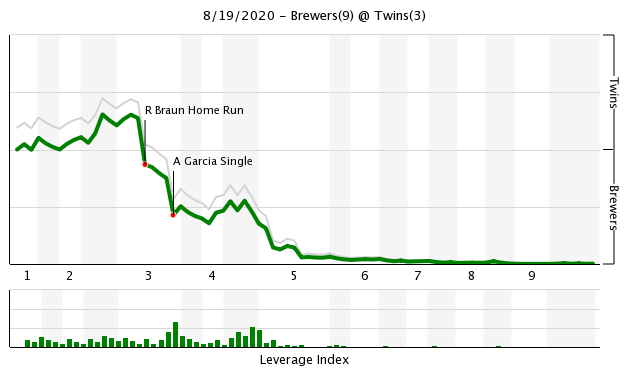 Facing off against the left-handed Brett Anderson, the Twins lineup had a different look with Marwin González replacing Max Kepler in right field and Ildemaro Vargas getting his first start as a Twin filling in for Luis Arráez and his achy knees at second base. Vargas made his presence felt immediately as he noticed Keston Hiura not running out of the box on an infield fly ball with Christian Yelich at first. Vargas alertly let the ball drop and turned a quick double play to get Hill through the first on just seven pitches.
https://twitter.com/Twins/status/1296243137904627712
After getting the first two batters of the second inning out on two pitches Hill managed to get through the inning on eight pitches. Doubles-machine Miguel Sanó got the Twins first hit in the bottom of the second with a one-out two-bagger and Minnesota's only left-handed batter, Eddie Rosario, put the Twins on the board first with an RBI single to bring in Sanó.
Hill quickly got the first two outs in the bottom of the third before unraveling. He walked the number nine hitter, Orlando Arcia, and Ryan Braun made Hill pay by hitting a two-run home run to put the Brewers up 2-1. In the Arcia plate appearance, it appeared as if Hill got a 3-2 breaking ball over for strike three which would have ended the inning, but he didn't get the call. The Brewers went on to load the bases and Avisail Garcia put an early end to Hill's night (Hill threw 36 pitches in the inning) with a two-RBI single to put Milwaukee up 4-1. Caleb Thielbar, another lefty with a loopy curve ball, came in and struck out Manny Pina to finally put an end to the inning.
Minnesota stuck with the lefty theme, bringing in Lewis Thorpe to follow Thielbar in the fifth. It didn't go well, as Thorpe struggled to throw strikes and got crushed when he did throw it over the plate. Christian Yelich followed a Ryan Braun single with a two-run dinger to put Milwaukee up 6-1. Avisail Garcia hit another two-run homer (it would have been three runs if Hiura hadn't made his second base-running mistake by getting gunned out on a delayed steal) to essentially put the game out of reach. It took Thorpe 35 pitches to get through the inning, with three walks, a single, a double, and two two-run homers allowed. Thorpe was left out there to take one for the team, and he did get through three additional innings unscathed, helping to bridge the gap to the only righty Milwaukee would face…Ehire Adrianza.
As far as crafty lefties go, it was the Brewer's Brett Anderson who played the role to perfection. Although Minnesota hit 11 hard hit balls off of Anderson (according to Baseball Savant), not many of them fell for hits, and he was able to finesse his way through six innings of one-run ball. He was followed by Drew Rasmussen, whose 99-mph heater from the right side proved a potent counterpunch in his scoreless MLB debut.
Marwin Gonzalez was able to take Corey Knebel deep in the bottom of the 9th and Vargas singled in Sanó for his second hit off the game, but it was too little, too late, and the Twins fell to Milwaukee by a score of 9-3.
Garver Exits the Game
In the bottom of the 6th, Mitch Garver dropped to his knee after swinging through a third strike and immediately grabbed his right side. He exited the game and Alex Avilla took his place. With Avilla also catching all 12 innings of last night's game, could Willians Astudillo be making his way over from St. Paul?
https://twitter.com/TFTwins/status/1296267882997981185
With Cleveland beating Pittsburgh, Minnesota's divisional lead is cut to a half game. The Twins and José Berríos will look to get back on track against Brandon Woodruff and take the series in tomorrow's rubber match.
Bullpen Usage Spreadsheet

Postgame Pint
You can check out our nightly discussion of the game below:
https://www.youtube.com/watch?v=A-zCswfiUoM&feature=youtu.be
We do these immediately after the last out of most Twins' games, and you can join us by checking out PostgamePint.com.
Download The Postgame Pint Podcast
You can also listen to the Postgame Pint and never miss another one. Just head over to our iTunes page and subscribe. Every morning you'll have a new episode waiting for you. Or listen wherever you download your favorite podcasts.