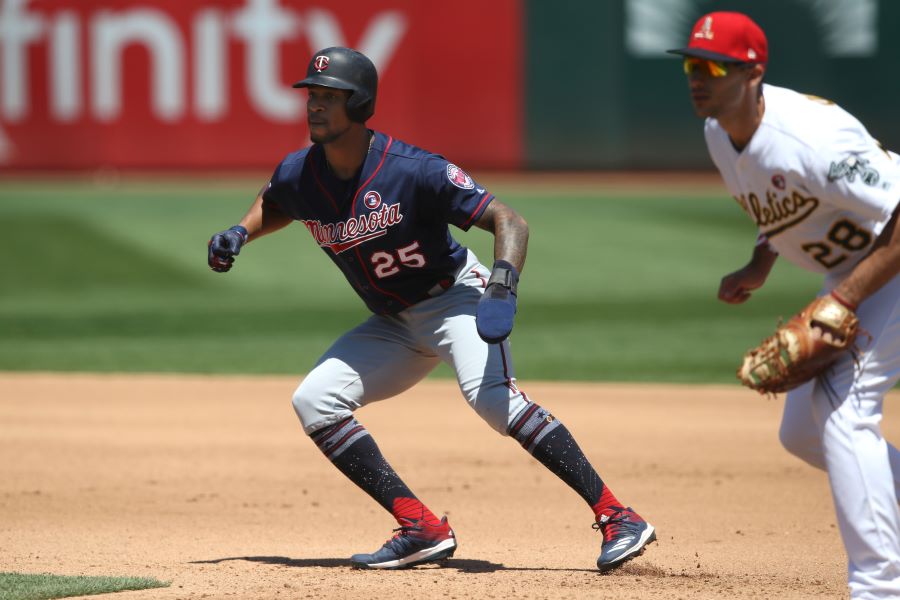 Image courtesy of Darren Yamashita-USA TODAY Sports
With the magnitude of each game heightened, teams will be less likely to throw in the towel on any given day, and more teams in contention will mean more competitive games. Minnesota went to extra innings in twelve games last season (and didn't fare well at 5-and-7), but could very well see an increase in the percentage of extra inning games due to more teams being in it to win it and fighting through all nine innings.
With the MLB adopting the MiLB rule of starting off every extra inning with a runner at second base, speed could become even more significant. The runner who is placed at second will be the batter who made the last out of the previous inning, so unless Byron Buxton made the last out, the Twins will probably end up with a less than ideal base runner.
It's not only extra-inning affairs in which a speedy runner would come in handy. In any close game having a burner who can steal a bag or take an extra base is extremely valuable. A fast base runner also gives the pitcher one extra thing to worry about, and every little advantage will matter in 2020.
Teams do have the opportunity to pinch run, and with a 30-man bench to start the season, filling in a roster spot with a speedster who could be a pinch run specialist makes some sense. Teams such as the Dodgers (Terrance Gore), Giants (Billy Hamilton), and Astros (Myles Straw) have done just that, but does Minnesota have anyone who fits the bill?
One player with a bit of speed who is likely to make the team due to the roster expansion is OF LaMonte Wade Jr. According to Baseball Savant, Wade Jr. trails only Buxton (30.3 ft./sec.) and Jorge Polanco (28.2 ft./sec.) with a Sprint Speed of 28.1 ft./sec. While that's better than average, Wade Jr.'s not exactly a burner.
The next fastest bench option would be Jake Cave, who comes in just behind Max Kepler (27.7 ft./sec.) at 27.6 ft./sec. That's still above average and would make sense for replacing someone like Nelson Cruz or Miguel Sano on the bases, but it's hardly the late inning speed that would strike fear into opposing hurlers.
Minnesota will also have the remainder of the 60-man roster nearby in St. Paul and ready to be called upon. There are at least a few names who could provide some value for the big league team, if only as a speed option. Interestingly, Minnesota recently invited OF Aaron Whitefield to join the group.
Whitefield spent the majority of 2019 in high-A Fort Myers where he didn't exactly set the world on fire with just a .607 OPS. He finished the year at AA Pensacola and his numbers were even worse, but he has elite speed and managed to steal 30 bases on the year. While his bat doesn't warrant being on the 40-man, the Twins might consider utilizing his speed or possibly his defense as he plays a really good center field.
Two other possibilities would be Gilberto Celestino and Royce Lewis. Like Whitefield, Celestino is a center fielder who would be capable of filling in for Buxton defensively, but has only played eight games above low-A, and while speedy isn't quite the base stealing threat that Whitefield is. Lewis, who is widely considered the Twins top prospect, has yet to be added to the 40-man roster but does offer elite speed.
If Minnesota doesn't want to mess around with calling up a prospect primarily to be a pinch runner, it's also likely that someone like Billy Hamilton would be available when teams begin to fall out of contention (which shouldn't take long for the Giants) and might even be available on the waiver wire.
All in all, the Twins are in great shape and there's rightfully a lot of excitement for the season that's about to get underway. Not having elite speed on the bench isn't a reason to damper this excitement, but winning the margins is ever imperative in a 60-game sprint, and a little extra speed could be crucial in crossing the finish line first.
MORE FROM TWINS DAILY
— Latest Twins coverage from our writers
— Recent Twins discussion in our forums