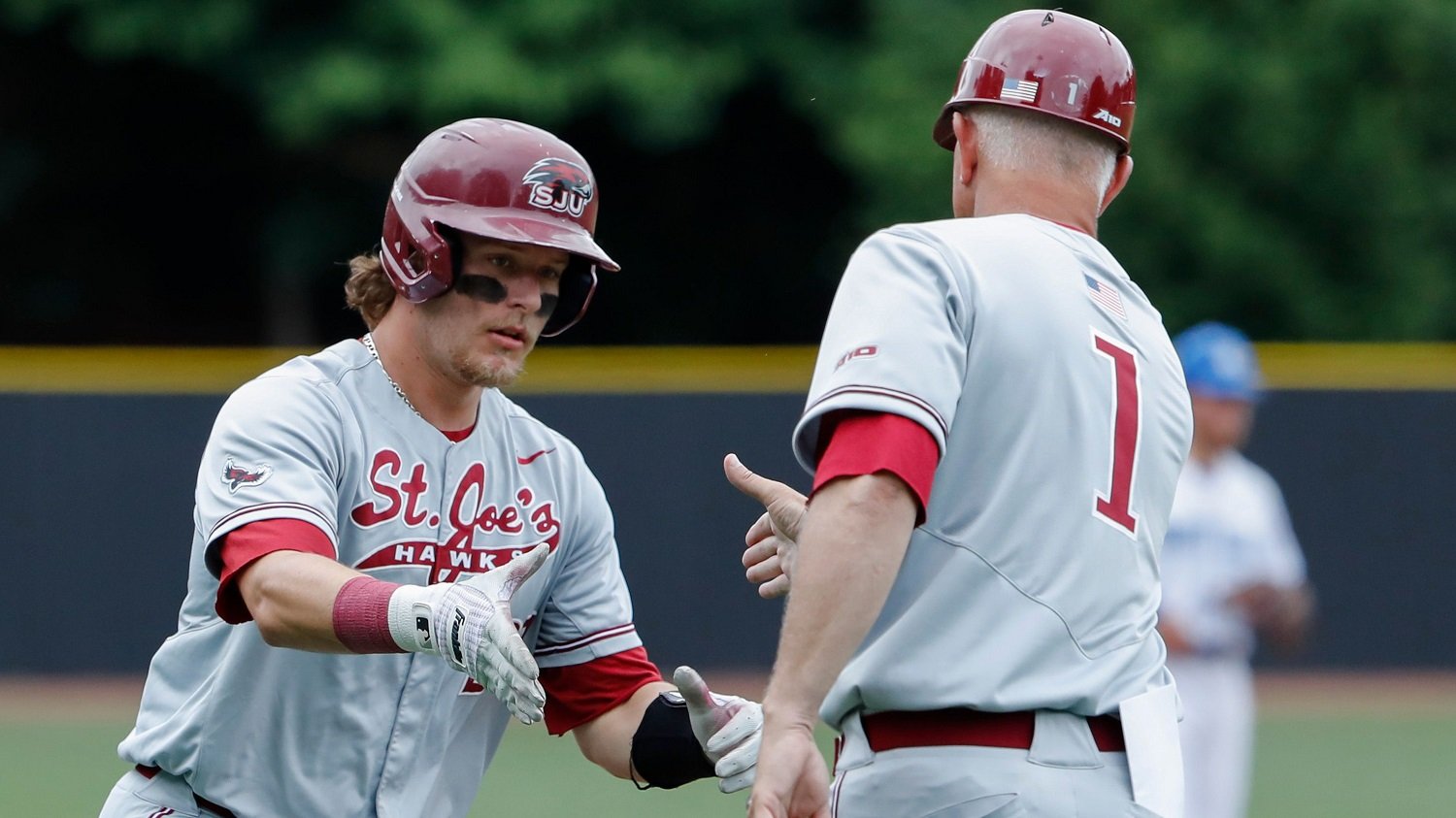 Image courtesy of Jeff Sochko, Atlantic 10 Conference
As a backstop, Andrew Cossetti became a pillar of health in his final two collegiate years. He started 92 games and drew starts in 149 of the 150 he played in for St. Joseph's. Last season Cossetti put up the best power production of his career with 19 bombs translating to a .714 slugging percentage. Not a traditional slugger, Cossetti also drew more walks than he tallied strikeouts.
Minnesota needs an influx of catching talent in the system, and Cossetti is eyeing an opportunity to be among that. First I caught up with him for a few questions.
Twins Daily: As a hitter, it seems like the power production really broke through for you the past two seasons. What led to that and what is your approach at the plate?
Andrew Cossetti: I have always been a hitter with some power, but in the past two years, I really turned myself into a power hitter.  It was the result of getting stronger in the weight room and refining my swing mechanics to make me a more consistent hitter and allow my newfound strength to carry the ball over the fence.  A combination of this and growing maturity as a player in the game brought my abilities to new heights.  As a hitter, my approach at the plate became more mature as well.  I used to swing hard every pitch hoping for something to happen.  I have since learned to trust my mechanics and my preparation so the only thing I'm focused on at the plate is seeing the ball and making solid contact.  I have found the simpler you make your approach, the more you will trust your abilities and the more success you will find.  Baseball can be a complicated game so when in doubt just simply everything. 
TD: Even while hitting for power, you're a big on-base hitter. How much does what you do behind the dish translate to how you attack a pitcher when up to bat?
AC: The most important thing in baseball is runs because runs win games.  As a hitter, I am not always going to be the one putting the ball over the fence to score the runs which is why it is just as important to get on base and allow the guys behind you in the lineup to hit you in.  I definitely have an advantage as a catcher because my mind is constantly thinking about how to get hitters out.  Seeing this from a pitch-calling standpoint and knowing what the umpire is calling balls and strikes allows me to understand how the opposing pitcher will try to get me out. 
TD: As a catcher, tell us about your style defensively? Are you an adept framer and solid receiver or is blocking something you see yourself better at?
AC: As a catcher, I have recently adopted the knee-down approach the past two years, and it has transformed my game. The Twins have been advocates of this style and were one of the first teams to allow their catchers to do this consistently which excites me because I can see myself improving even more with the coaching of the organization. I first got put behind the plate because I had a good arm and I would say that continues to be my best trait as a catcher.
TD: When transitioning to pro ball, what is the thing that you think can most be advanced about your game?
AC: I think the biggest advancement I can make in my game is becoming an all-around great defensive catcher.  I am confident that I can hit and hit for power but what I am most excited about is being part of an organization that does a phenomenal job at developing catchers.  I think it is the perfect scenario for me and cannot wait to get started on this journey. 
TD: What do you know about the Minnesota Twins? Have you ever been to Target Field?
AC: Being from the Philadelphia area, I cannot say that I've gotten to watch a lot of Twins baseball, but I know that it will not be easy to fill the shoes of Joe Mauer who is one of the greatest catchers of all time.  He was one of my favorite catchers to watch growing up because he was so consistent with the bat and defensively, he did everything right and played the game the way it should be played.  I have never been to Target Field, but I remember watching the Homerun Derby there in 2014 and thinking to myself that this would be a great place to hit bombs in. The Twins have a lineup with a lot of power now and they're only getting better.  It'll be exciting to see what the organization has in store this season and in the coming years and I'm hoping I can be a part of their future success.
TD: If there's something you want Twins Territory to know about you as a person or as a player, what is it?
AC: I want Twins Territory to know that they're getting a player who will play every game like his hair is on fire and do whatever it takes to win a ballgame.  My dad taught me to play baseball hard because you never know when your last time stepping on the field will be and when it is all said and done you want to be able to look back and know that you gave it everything you had.  So that's what you'll get in me as a player and a person.  Someone who gives it everything he has and just wants to win.