2017 Minnesota Twins Opening Day Roster - Where to, Park?
---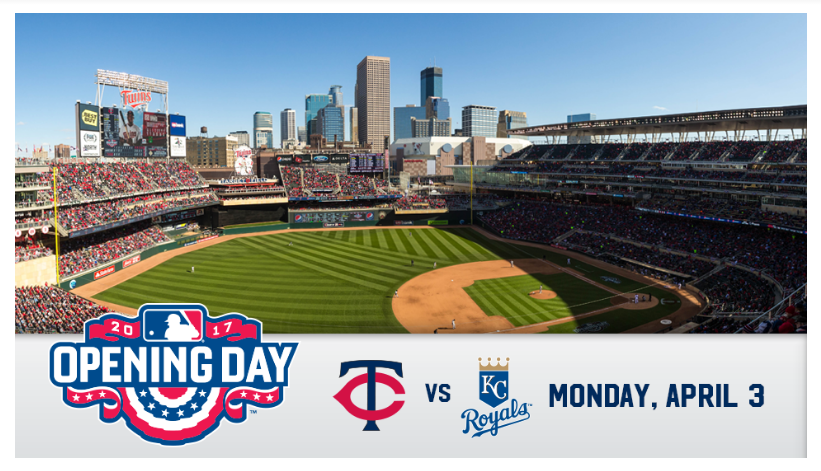 Byungho Park reassigned to the minors? 13 pitchers?
The Minnesota Twins have made their final roster decisions for Opening Day 2017, which is on April 3rd and only 3 days away. They:
assigned 1B/DH Byungho Park to minor-league camp

along with OF JB Shuck, 3B Matt Hague, INF Benji Gonzalez, 1B/DH Ben Paulsen, and C Eddy Rodriguez


[*]named LHP Adalberto Mejia their 5th starter

[*]RHP Tyler Duffey will join the bullpen

[*]will add C Chris Gimenez to the 40-man roster

[*]optioned C John Ryan Murphy to AAA Rochester
So that means the 25-man Opening Day roster, for now, is:
Hitters/Fielders – 12
C – Jason Castro
1B – Joe Mauer
2B – Brian Dozier
3B – Miguel Sano
SS – Jorge Polanco
LF – Eddie Rosario
CF – Byron Buxton
RF – Max Kepler
DH – Robbie Grossman
Bench – C Chris Gimenez, INF Eduardo Escobar, UTIL Danny Santana
Starting Pitchers – 5
RHP Ervin Santana
LHP Hector Santiago
RHP Kyle Gibson
RHP Phil Hughes
LHP Adalberto Mejia
Relief Pitchers – 8
RHP Brandon Kintzler
RHP Matt Belisle
RHP Ryan Pressly
LHP Taylor Rogers
LHP Craig Breslow
RHP Michael Tonkin
RHP Justin Haley
RHP Tyler Duffey
On Disabled List
LHP Glen Perkins (?), LHP Ryan O'Rourke, INF Ehire Adrianza, 1B/DH Kennys Vargas (?)
Because, obviously, everyone is most likely wondering how Byungho Park did not make the team after a great Spring Training where he hit 2 doubles, 6 HRs and had 13 RBIs among 19 hits with 6 walks and 15 strikeouts in 51 at-bats for a .353 average and a .414 on-base percentage. He showed that he's worked on his swing and is taking better at-bats.There might be a few reasons.
First off, he's not on the 40-man roster and the Twins already have to add backup catcher Chris Gimenez to the 40-man roster. Assuming they're taking Buddy Boshers off the roster for that spot, who else can you take off of it to find a spot for Byungho Park? Ryan O'Rourke? He's on the 10-Day DL so he can't be removed unless they move him to the 60-Day DL and he won't be out that long. They could move Glen Perkins to the 60-Day DL and they still might but I believe he has to agree to that and he probably doesn't want to be out until near the end of May if he can get back before that. There may be other players you could take off the 40-man roster but, obviously, the front office and the coaches like those players or they wouldn't be on the roster.
Second, yes, Park's stats are impressive but, they're also from Spring Training, which is hard to take seriously so, maybe the front office would like to see him continue that same type of consistent hitting and good at-bats in AAA. If he keeps mashing the ball like he did in Spring Training, he'll most likely get called up to the big club. Or if Robbie Grossman or a reliever or someone else struggles early, they could make a move to recall him?
Third, and this might be the biggest one, maybe Derek Falvey and Thad Levine are looking to acquire and/or move a player to make room for Mr. Park. By reassigning him to minor-league camp, some other teams might show some interest. We expect them to be looking for every possible way to improve this team.
That seems unusual but, again, that doesn't mean they'll stay with 13 pitchers for the whole season or even a month of the season. The Minnesota Twins biggest problem (and need) has been pitching since the losing started 6 seasons ago. So, having 13 pitchers shows how bad it's been. They might need that many to get through a week. If the starters are pitching bad, that bullpen can get overworked quickly.
So, they might want to get a look at these guys in real games when it counts rather than just evaluate them in spring training. Some, if not all, pitchers are working on new mechanics, new pitches, and/or new grips on pitches, trying to get used to those new tweaks to their deliveries or adding a new pitch. They aren't that concerned if they get hit hard during a game.
Plus, having 13 pitchers could mean they are going to go with this starting lineup for awhile and let them play. They're going to let Jorge Polanco and Miguel Sano figure out if they can stay at shortstop and 3rd base. The bench of Eduardo Escobar, Chris Gimenez, and Danny Santana gives them the flexibility to replace every position as Gimenez has played some 1st base, Escobar and Santana can play 2nd, 3rd or short and Santana can play in the outfield, too. Sano could play some 1st base and in the outfiel…uhh…no, let's not go back to that. Anyways, this lineup does have some flexibility even if there are only 12 players.
So, basically, let's wait and see how it goes for the next 3 days before Opening Day. If they're still the same after that, let's give them some time to play it out for awhile and see what happens. It might not be as bad as you think.
Thanks for reading our TwinsTakes. We'd love to hear your TwinsTakes. That's why it's…
Our 'Takes, Your 'Takes, TwinsTakes.com!!!