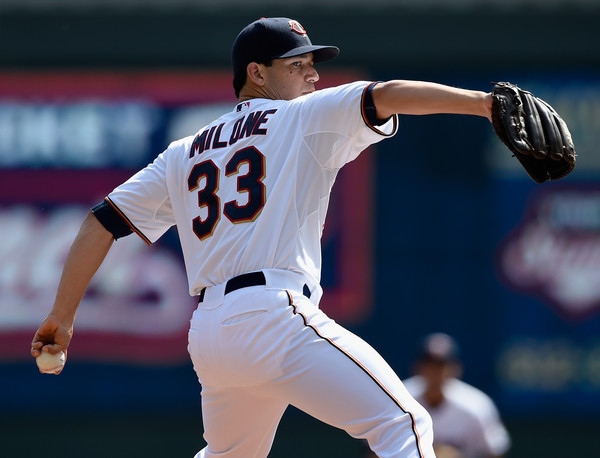 Earlier this week, it was announced that the Mets would start using a six-man rotation. Their plan is to stick with having an extra starter in the rotation through early-to-mid-August. New York's reasoning behind the move is to shave innings totals without the need to shut down pitchers before the end of the season.
The Mets have three young pitchers in their rotation who need to be watched closely. Matt Harvey is in his first season back from Tommy John surgery while fellow starters Jacob deGrom and Noah Syndergaard both threw under 180 innings last year.
This isn't the first time an organization has tried shifting to a six-man rotation. In 2012, the Colorado Rockies, the Atlanta Braves, and the Chicago White Sox all toyed with using an extra starter. The results were mixed at best but it's certainly a trend to watch as injuries continue to plague baseball starters.
So far this season, the Minnesota Twins starting rotation has performed surprisingly well. Kyle Gibson and Mike Pelfrey both have ERA's under 2.80, Ricky Nolasco has five wins, and Phil Hughes and Trevor May have been showing signs of improvement. That being said, there is an argument that could be made for Minnesota switching to a six-man rotation.
Besides the pitchers mentioned above, Tommy Milone is the only other Twins pitcher to start a game this season. In four starts, he posted a 4.76 ERA and a 1.46 WHIP. He has since been demoted to Rochester where he has been putting on a pitching clinic. In four Triple-A starts, he's allowed one earned run and struck out 41 in 31.2 innings.
Minnesota's top brass is keeping an eye on Milone in fact Twins general manager Terry Ryan called a call-up "inevitable." Both manager Paul Molitor and Ryan are pleased with what the current rotation has been able to do. Molitor said, "The guys we have up here are holding their own."
The other looming pitching situation is the fact the team is a handful of weeks away from Ervin Santana making his debut. Santana is suspended for the first 80 games this season after failing a drug test this spring. This puts him on track to rejoin Minnesota near the beginning of August. The Twins will have to make room for him in the rotation or be creative with how they use their starters.
If Minnesota's current starting pitching crop continues to pitch well, it would be interesting to see if the team would consider switching to a six-man rotation. Hughes, Nolasco, and Santana are likely locked into rotation spots. Gibson and Pelfrey have been performing well so it seems unlikely for their spots to be in jeopardy at this point. This could leave May on the fringe with Milone breathing down his neck.
An injury or poor performance could plague the staff in the coming weeks so it seems unlikely for a six-man rotation to pop up in Minnesota in the near future. Starting pitching has been a problem in Minnesota during the last four years so it's nice to finally have a pitching surplus to worry about.
For more from Cody Christie make sure to follow him on Twitter @NoDakTwinsFan and to read his other work at http://www.NoDakTwinsFan.com