The Glendale Desert Dogs had several representatives from the Twins' farm system.  Denny Bentley, Francis Peguero, Jon Olsen and Ryan Shreve were the pitchers, and the position players were Alex Isola, Austin Martin and Edouard Julien.  Here's a few photos from my trip in late October.  For two of the three games I was joined by the illustrious USAFChief.
Driving there meant going through some dusty desert miles.  Here is one of the denizens of the town of Beatty NV where I quartered for the night at the picturesque Atomic Inn.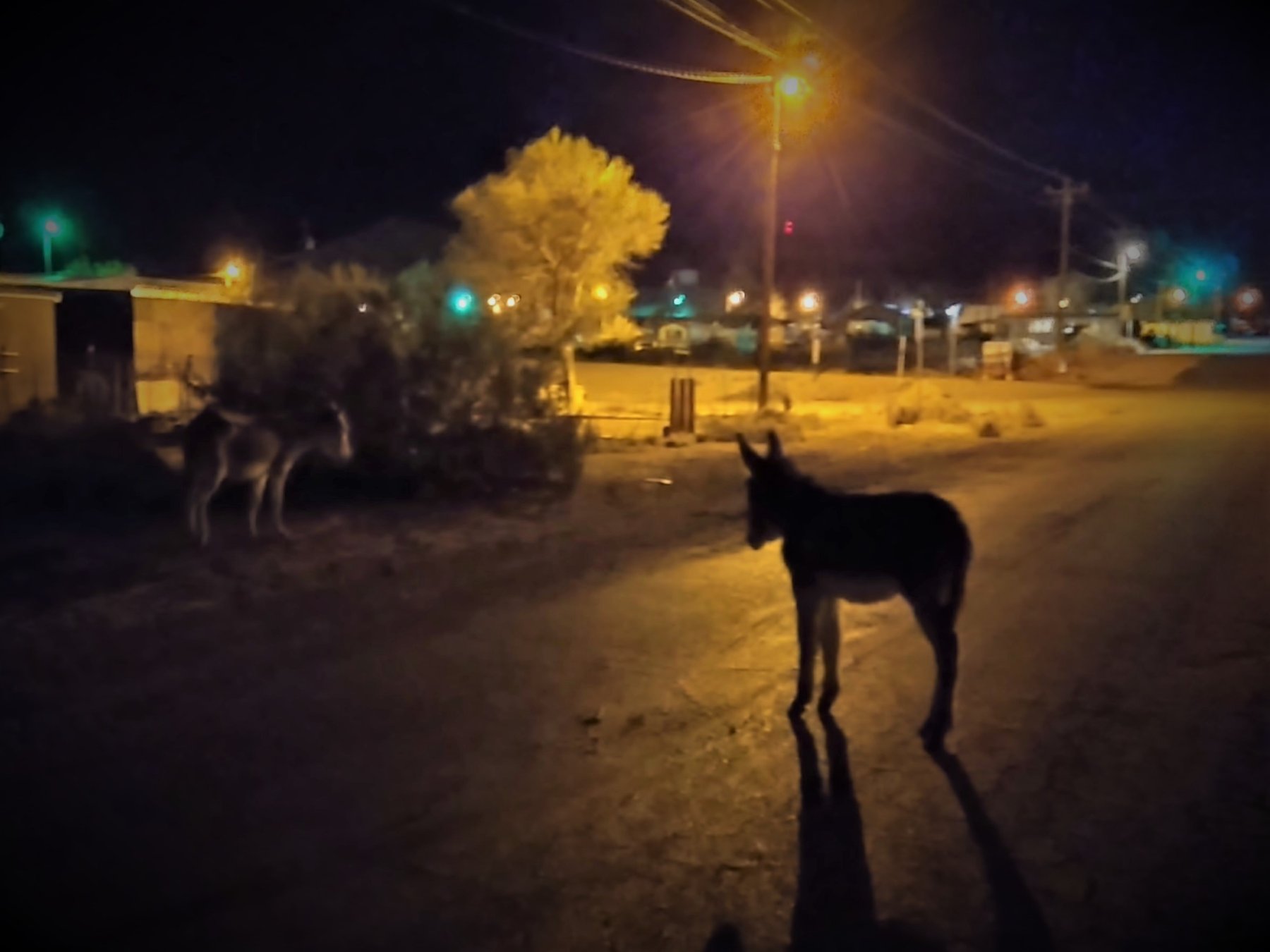 I arrived in time for the evening game on the 27th.  Unfortunately the game itself wasn't much, from a Twins fan's point of view.  Austin Martin played CF and led off, but his 0-4 ledger was redeemed only by a walk.  I don't recall him really being tested on defense, but he handled the routine plays (which mainly involved picking up the ball after base hits).  Denny Bentley and Francis Peguero both appeared and neither one really shone - Bentley went 2 hitless innings while walking 4 and striking out 4, while Peguero gave up 3 unearned runs in his inning of work, striking out 2 but also surrendering 3 hits that "didn't count" for earned runs in light of the third baseman's error.  I didn't take any photos of that 9-6 loss to the hated Salt River Rafters.  Probably just as well.
Friday's game was more entertaining, and I devoted myself to snapping some shots.  Jon Olsen had a very fine afternoon on the mound, going 4 innings against the hated Surprise Saguaros and giving up only 1 hit while striking out 4 and walking nobody.  Olsen's had some bad luck with injuries after his college career and thus is a bit of a late bloomer as a 25-year old at high-A Cedar Rapids, but hopefully may have opened some eyes with his AFL showing.  Here he is in a couple of shots.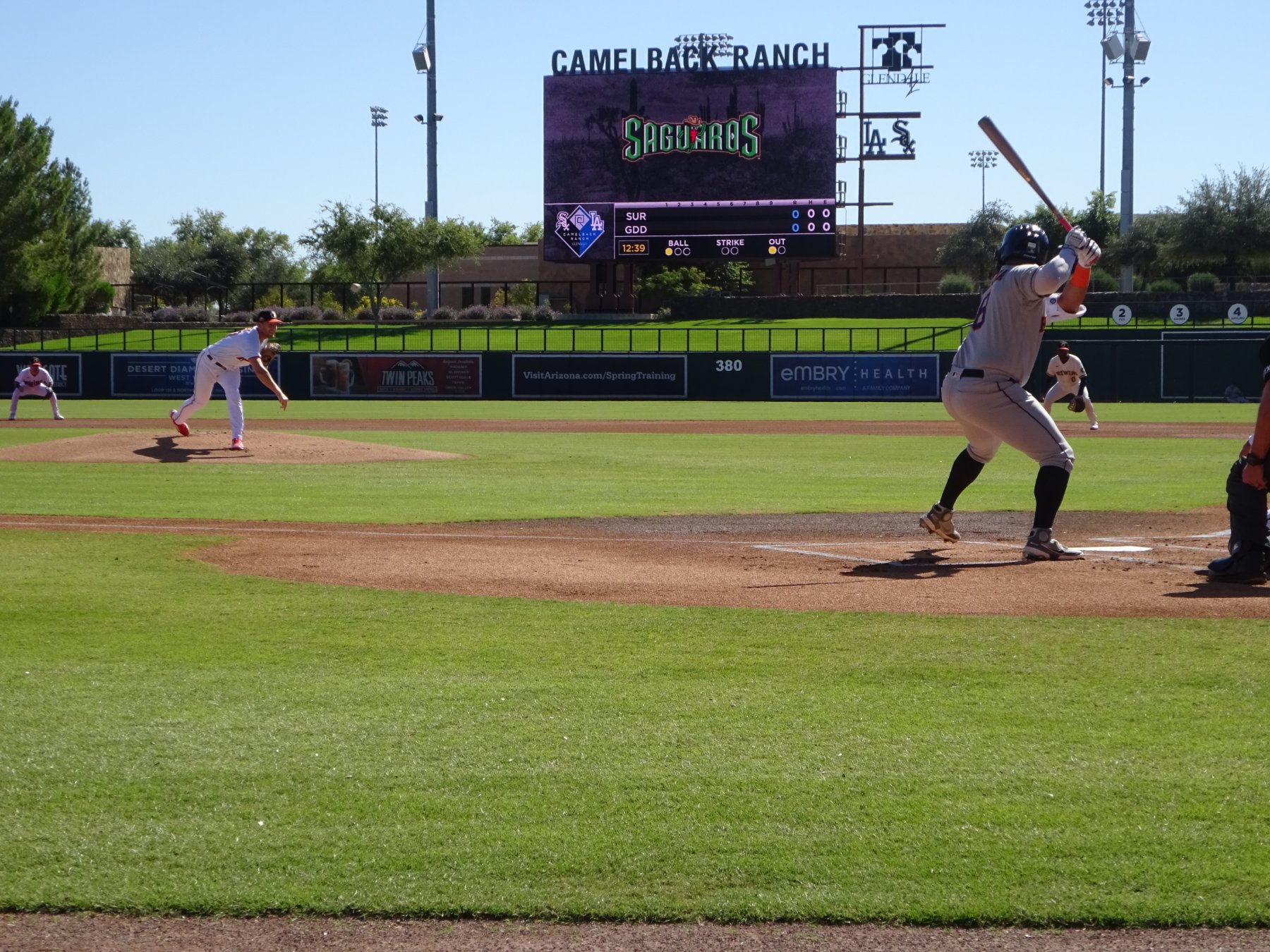 Edouard Julien batted leadoff and played second base.  He got a hit and scored, and also later drove in a run. 

I don't recall any particular plays of note in the field for him.  Here's a pretty representative example of his swing.

While Austin Martin was not in the lineup, he did coach at first base some of the time. 

Here he is with his ubiquitous head scarf underneath the helmet.

Alex Isola was catcher in this game.  He had an annoying habit of lobbing the ball back to the pitcher.

I would love to know the details on that, such as whether it was just a temporary expedient for some reason. 

He did throw out a runner at second base during the game.  Here's a shot of his leg kick when at bat.

On to Saturday's game, which was an 11 am affair to allow AFL fans to move from ballpark to ballpark and see a triple-header. 

The hated Mesa Solar Sox won this one 10-3.  In this game Martin and Julien hit leadoff and second, and were the double play combo.

So I was very interested in watching them interact. Here they are getting ready for their turns at bat.

Here they are in the field getting ready for a play.

Unfortunately the only interesting play was a routine double-play ball.

Martin bollixed up the throw so that Julien was pulled off the bag and did well to get even the single out at second base.   

No photo of that.  Back to the hitting.  Here's Julien taking a cut.

Were any batters hit by a pitch in this game, you ask?  Why yes.  Here is one.  No damage done, though.

Peguero got another inning of work in this game.  I neglected to get any photos of him this time either. 

Unfortunately, he gave up another run on a walk and a hit.  So not a good showing by him. 

Ryan Shreve did not appear while I was there. 

Well, that was my weekend.  A nice excuse for 3 days of great weather instead of the colder snowier conditions in northern Nevada.