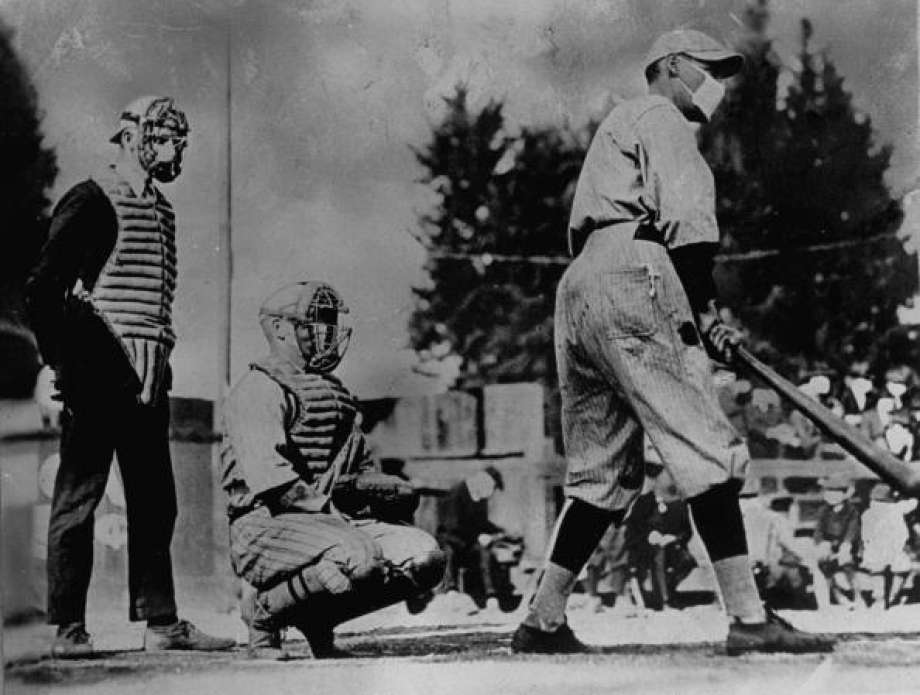 In 1918 Spanish Flu became the last act in the horrible loss of life that had been WWI, "By the time it had spread across the United States, the deadly event had killed an estimated 675,000 Americans."
If you wonder why the world is reacting so vigorously to Corona think about this from MLB.Com history - "In just 15 months Spanish flu killed, according to best estimates today, between 50 million and 100 million worldwide. It infected an estimated 500 million people around the world, about a third of the planet's total population."
United States Surgeon General Rupert Blue in September 1918. "People are stricken on the streets or while at work. First there is a chill, then fever with temperatures from 101 to 103, headache, backache, reddening and running of the eyes, pains and aches all over the body, and general prostration. Persons so attacked should go to their homes at once, get into bed without delay and immediately call a physician."
MLB.com reports, "the flu took: Cy Swain, a minor leaguer from 1904 to 1914 who slugged 39 home runs in 1913; Larry Chappell, a big league outfielder for the White Sox, Indians and Boston Braves between 1913 and 1917; catcher Leo McGraw, a minor leaguer between 1910 and 1916; catcher Harry Glenn, a minor leaguer from 1910 to 1918 who spent time with the 1915 Cardinals; minor league pitcher Dave Roth, who played between 1912 and 1916; and minor league pitcher Harry Acton, who played in 1917." The death of umpire Silk O'Loughlin shocked everyone. He was the name most people recognized.
"O'Loughlin umpired in the American League from 1902 to 1918 while working the World Series in 1906, 1909, 1912, 1915 and 1917."
The Philadelphia Inquirer reported - "Officials responded by banning most public gatherings. Impacted sporting events included high school and college football games, amateur soccer matches, and a fight between Jack Dempsey and Battling Levinsky."
The Inquirer added - "Penn's game against Georgia Tech was canceled. The Quakers postponed a contest with the Navy Yard's Marines, and when it took place on Oct. 26, it was played at an empty Franklin Field.
A campus rally for a much-anticipated game against eventual national champion Pitt was called off, as was a war-bond fund-raiser featuring movie star William S. Hart.
"Penn wasn't alone. Most college football teams, including an unbeaten Michigan squad, had to shorten their schedules because of the epidemic."
"Major League Baseball got lucky. Because of World War I, its season had ended a month early, on Sept. 2, before the worst of the outbreak. Still, throughout organized baseball, at least seven players, including Negro League star Ted Kimbro, eventually died from the flu."
In the World Series that was played in September the paper reported, "Boston's Babe Ruth, then a robust 23-year-old, was stricken twice but fought it off sufficiently to pitch and win a pair of games for the victorious Red Sox."
Baseball is a wonderful sport, but health is first and should always be first in our nation, politics, and decisions.