Division champions
I know we're all excited about the playoffs, but let's take a minute to appreciate the Twins' excellent regular season just concluded.
                    2016  2017  2018   2019  changeActual wins           59    85    78    101  +23Pythag wins           66    83    77     97  +20
The Twins had their second-best season ever, in terms of their record. Of course, the American league is much more stratified than ever, there being five teams with 95 losses or more, and the Tigers with 113, thus there are much more wins to be had for the top teams. The Twins came up just behind the Astros, Yankees, and Dodgers in the standings, while spending less on salary by a wide margin. Very impressive!
So where did the Twins' actual improvement come from? Eddie Rosario coined the term that the Twins marketing department ran with: Las Bombas! The Twins exploded to have the best offense in the game, not to mention they set the all-time total home run record, with 307 for the season. That wasn't nearly enough by itself to bring the Twins to 101 wins; they needed solid improvements from both their rotation and their relievers. Finally, most of these improvements came in a way that you probably could not have predicted: baseball is a funny game, and I am continually surprised at how much
.
               2016  2017  2018  2019  changeLuck (pythag)  -7    +2    +1    +4      +3   Hitters WAR    17.0  28.7  15.2  31.4   +16.2 Pitchers WAR    1.8   7.0  12.3  23.9   +11.6
I'll break down the hitters by WAR (technically fWAR, or FanGraph's WAR), focusing on the players that mattered most.
As a reminder, WAR is the best way to boil down any player's performance (from hitting, pitching, fielding, and baserunning) into one overall number. It is a "performance" stat that doesn't care about situations, not a situation-dependent "outcomes" stat (like WPA) or a more predictive "fundamentals" stat (like xWOBA or xFIP). That is, it tells you the overall contribution of a player that can be expected from that player's performance. This is measured in the number of fractional wins that player was better than a replacement-level player at his position. There's some good theory as to what is "replacement" level, but the closest the Twins have this year is C.J. Cron at 0.3 WAR--an okay hitter, but not that good compared to other first basemen. Any team could hope to find a first baseman on waivers or in their minor leagues almost as good as the 2019 version of C.J. Cron.
I'll list last year's players who have been replaced for comparison's sake, as well.
WAR                   2018    2019  Change15 hitters            14.6    31.3  +16.7                              RF Kepler              2.6     4.4   +1.8DH Morrison=>Cruz     -0.7     4.3   +5.0SS Polanco             1.3     4.1   +2.8C  Garver              1.3     3.9   +2.63B Sano                0.0     2.8   +2.8CF Buxton             -0.4     2.7   +3.12B Dozier=>Arraez      1.0     2.1   +1.1LF Rosario             3.4     1.3   -2.11B Mauer=>Cron         1.0     0.3   -0.7                              C  Castro             -0.2     1.5   +1.3CI Escobar=>Gonzalez   2.4     1.4   -1.02B Forsythe=>Schoop    0.4     1.4   +1.04O Cave                1.3     0.7   -0.6SS Adrianza            0.5     0.6   +0.1UT Grossman=>Astudillo 0.7    -0.2   -0.9
Take a moment to enjoy the contents of that rightmost column, and reflect on all the Twins games you watched and boxscores you read that led to that column. The Twins offense was better nearly everywhere, an improvement in one season that few teams are able to make in one year.
Moves that worked
Sprechen sie Baseball?
Four years ago, Max Kepler looked like a promising young player. A B-level prospect, he had up and down years in the minors before becoming the Twins' everyday right fielder in 2016. He put up hitting numbers that were just below average and was highly reliable in the field. Three years of nearly identical numbers (OPS+ of 96 each year) made us think that Kepler was a solid contributor but not a difference-maker. But something happened--whether it was tweaks by Kepler to change his launch angle a bit, mentorship from James Rowson, or a combination of several other things, Kepler doubled his home run rate while maintaining his plate discipline. He deserved to make the all-star team (there's always next year, though). Kepler is, at least in 2019, the best player on the team.
(GIFs from PitcherList, who borrowed them from MLB-owned media.)
On a Cruz every night
Whereas Kepler had a breakout year that still hasn't had enough attention, the Twins signed Nelson Cruz to do what he's always done: hit the ball hard over and over again. No doubt the Twins were hoping for merely a slight decline in his productivity coming off a year with 37 home runs and a 9% walk rate. Instead, Cruz kicked it up a notch, hitting 41 bombas and drawing walks at an 11% rate, increasing his season OPS+ from 134 to 166. While Kepler is the Twins' best player, I'd peg Cruz as their most valuable, as the Twins need to play all their best players in the field and have no other good option at DH. Year over year, the Twins improved by no less then 5 wins at DH position alone--simply put, without Cruz the Twins probably win "only" 97 games and maybe could have been caught by the Indians in the division.
Signing Schoop but pivoting to Arraez
The Twins signed Jonathan Schoop to replace Dozier at second base, and he did well in April and May, with an OPS+ well over 100. But the Twins knew they were getting a somewhat inconsistent player, and Schoop began to falter in June. Luis Arraez, meanwhile was hitting .344 with a high walk rate in AAA, which you can't let languish there. The Twins called him as fill-in in May and then permanently in June, when he quickly became an everyday palyer and then the starting second baseman, posting a 123 OPS+ and hitting .334. Schoop still got some playing time and actually improved in the second half, which is fortunate as the Twins need Schoop with Arraez hurt in the playoffs.
Not panicking about 2018 underachievers
In 2018, everything that could have gone wrong with the Twins offense did. Of they players that today remain from that team, in 2018 Sano had a terribly ineffective year, Buxton had lots of problems whenever he was actually playing, Polanco was good but not great in his half-season of work, and Castro was a poor hitter but a good catcher--but all these players had the potential for much more, and the Twins wisely kept all four around for the bomba squad to-be even as some Twins fans were ready to trade away Sano for peanuts and cut Castro. Instead, Sano finally showed that he is a very good hitter after all and not Delmon Young 2.0, Castro embraced increased rest to have the second-best hitting season of his career, Polanco's breakout was almost as strong as Kepler's, and much-injured Buxton hit very well in limited time. Collectively, these four players improved by eight wins. More importantly, three of the four hitters figure into the Twins' plans for years to come.
Giving rest to catchers
There is no longer any doubt that Mitch Garver is a top-notch hitter as well as a average-fielding catcher. Such a player is supremely valuable, but the Twins wisely held on to Jason Castro. These two flipped back-and-forth all year, enabling them both to get the rest they need at baseball's most taxing everyday position. With sporadic starts from Willians Astudillo, the catching position become one of the Twins' biggest strengths. The Twins have likely learned enough about these players to let Castro go in free agency and trust Astudillo to back up Garver, but that is a possible change for 2020. This year, keeping Castro has paid off handsomely.
Lifting the launch angle
We now know fairly certainly that "The most valuable batted balls are hit between 19° and 26°." However, knowing this fact is a far different thing than coaching players who are good at hitting the ball hard and flat to tweak their swing. A player can too readily change their launch angle but lose exit velocity--in short, a higher launch angle is only good if they continue to hit the ball hard at that higher angle. The five Twins hitters from last year who saw big improvements overall also saw big improvements their launch angle.
Launch Angle 2018  2019Buxton       12.7  19.5Kepler       16.2  18.2Polanco      15.5  18.0          Sano         12.9  16.0Garver       12.5  15.3
What's interesting is that there's more where that came from: if these players and their coaches can continue to tweak swings that launch the ball even higher while maintaining power, you might see incluso más bombas in 2020.
Moves that bombed
A failing Cron job
It is rare to find an above-average player available on waivers, but the Twins thought they had one in C.J. Cron, who the Rays let go to make room for Ji-Man Choi to start every night. And after the month of May, Twins fans were loving this move when Cron was hitting for power and drawing walks. But slumps starting in late June made us realize why the Rays considered him expendable. One might attribute nearly all of Cron's struggle to a nearly-chronic inflammation or "bone bruise" in his thumb, which harmed his swing substantially. So, I can't complain too much about this move--the Twins don't have a great solution at first base (especially with Brent Rooker's problematic year), and they might consider bringing Cron back next year, at least till Rooker, Alex Kiriloff, or even Luke Raley seems ready to contribute.
La Tortuga no está en fuego
Along with everyone else, I was on the Willians Astudillo bandwagon to start the year. I always love when unusual players can be successful, and Astudillo might be the most unusual. His minor league hitting stats, his catching ability, his position versatility, and his arm all argue for him to have a place on the team. But once he got regular playing time, the cracks began to show--it's really hard to be a good hitter when you swing at everything. And "swing at everything" is less of an exaggeration for Astudillo than for anyone else, as he walked only 5 times in 202 plate appearances. You don't really have to pitch to La Tortuga, you just have to throw it in his general direction. His propensity for weakly hit balls in play makes few pitchers fear him. Still, a .700 OPS is good enough to be a backup catcher in the majors, and maybe he can improve his hitting a little, so I'm not too worried here--but I'm not sure I have time for the La Tortuga fan club meetings anymore.
On to the starting pitchers:
WAR             2018    2019  Change6 starters       9.7    16.7  +6.9 Berrios          3.3     4.4  +1.1  Odorizzi         2.6     4.3  +1.7Gibson           2.8     2.6  -0.2Lynn=>Pineda     0.8     2.7  +1.9Romero=>Perez    0.7     1.9  +1.2Santana=>Dobnak -0.5     0.8  +1.3
Moves that worked
Berrios and Odo for the wins
Jose Berrios went from being the Twins' best pitcher to also their most dependable. There was never a stretch from Berrios where he faltered for an extended period, and he eclipsed earning 600 outs (that is, 200 IP) in a season for the first time in his career. His walk rate and ERA went down as his velocity stayed around 93-95 MPH and his outstanding curveball kept curving.
Odorizzi meanwhile had the best year of his career, posting a 3.51 ERA, 10 strikeouts per 9 IP, and allowing only 16 home runs, all the best of his career. The Twins are now wishing they could have signed him to a longer contract, as they need him next year.
The 1948 Braves lost the World Series on "Spahn and Sain and pray for rain", though the 2001 Diamondbacks won the World Series with "Johnson and Schilling and the good Lord willing." Can the 2019 Twins advance on "Berrios and Odorizzi"...and not so warm and fizzy? Listen to Thin Lizzy? Then after, not so easy? The rhyming isn't as clever, but Baldelli's bullpen usage will have to be, as they'll likely need at least one win each series in games without either of their top two starters.
Patient, Passable Pineda & Perez
Martin Perez provided uncharacteristic excellence in April and May first half, but at the end of June something happened and he started giving up lots of runs in lots of innings. Michael Pineda had to work the rust out with a rough April, but after that was solid and finished the year with an ERA of 4 (lower than the league average) and solid numbers across.
Getting to know Randy Dobnak
Randy Dobnak was undrafted out of a college named Alderson-Broaddus in a town named Phillippi in West Virginia, so he went to pitch in an independent league where the Twins noticed him and signed him. He then had success at every level in the minors. He doesn't strikeout a lot, he gives up his share of walks, and his fastball can barely hit 94. His solution to this is to usually avoid the four-seam fastball and instead work the sinker, slider, and an occasional changeup and sprinkle it in and out of the zone. The results have been excellent in five starts, and that's likely enough for Dobnak to earn a start in the ALDS next week.
Moves that bombed
No ace to be seen
May and June had Twins fans loving Berrios, Perez, and Odorizzi, and August had Pineda pitching well, but at every step, the Twins could have dearly benefitted from a number one starter. The Twins tried to sign Dallas Keuchel, but he sat out half the season instead. They tried to trade for Marcus Stroman, but the Mets took him in a strange strategy of sacrificing the future to miss the playoffs today. They tried to trade for Zack Greinke, but they couldn't give up as much as the Diamondbacks could. They wanted Madison Bumgarner, but the Giants didn't want to part with their long-time starting pitcher. So the Twins had to make do without a top-notch pitcher, and now in the playoffs and in 2020, it becomes even tougher to get by without one.
Stop taking mystery pills
Michael Pineda, in a surprise to everyone, was suspended late in the year for testing positive for diuretics. Pineda claims that he took a weight loss pill that was unknowingly tainted with hydrochlorothiazide, and Major League Baseball pretty much conceded that fact in reducing his suspension from 80 to 60 games. Still, no one complained about this suspension; we cannot effectively ban PEDs unless we also ban PED-masking drugs, and we can't effectively ban those if excuses are allowed. So the lesson here is simple: professional athletes should never take any drug or supplement that hasn't been reviewed by team doctors. The Twins' staff will not let Pineda accidentally ingest a diuretic, but they had no way to prevent it here. Dear all future Twins players: don't take mystery pills. If they work, there's probably a reason, and if they don't work, why would you take them?
And the bullpen:
WAR                      2018    2019  Change11 relievers+spot starts  2.4     7.7  +5.3  Rogers                    1.9     2.1  +0.2 Duffey                   -0.2     1.2  +1.4Duke=>May                 0.8     0.9  +0.1Pressly=>Harper           0.8     0.9  +0.1Moya=>Littell             0.1     0.6  +0.5Hildenberger=>Thorpe      0.0     0.6  +0.6Reed=>Smeltzer           -0.2     0.5  +0.7Belisle=>Romo            -0.2     0.5  +0.7Rodney=>Stashak           0.5     0.5   0.0Magill                   -0.3     0.1  +0.4Busenitz=>Parker         -0.8    -0.2  +0.6
Moves that worked
Relievers are molded, not signed
I and most other writers wanted the Twins to sign some high-level relief help. There is no doubt that Falvey and Levine tried, but just came up short. But in the end, the Twins pen was well above average, and all but two of the contributors weren't such last year. The Twins know well that the best relievers are often failed starters, and Duffey, May, and Littell all made that transition this year, with Stashak having done so last year. Rogers got even better this year compared to last, and Thorpe and Smeltzer swung between the bullpen and rotation to fill in the gaps much better than expected. Gaining 5 WAR out of a pieced-together, work-in-progress bullpen is a tremendous boost to the team as a whole.
It's always in the last place you look
If you would have told me the Twins would add a reliever who throws 94-97 mph, throws a really nice curveball, strikes out 12.8 per 9IP, and keeps a lid on home runs, I'd be thrilled with that acquisition. But it wasn't required, as Tyler Duffey, who has been bouncing between the majors and AAA for four years, has become a upper-tier relief pitcher. He was searching for the secret to success and finally found it in embracing the relief role. Now my question is, how many more pitchers can Wes Johnson and Jeremy Hefner develop into scorchers?
Instead of trading prospects, call them up
The Twins front office were criticized for failing to trade for a top pitcher at the deadline, and their one acquisition, Sam Dyson, fell flat immediately. Still, they expressed a valid point: instead of trading their high-minors assets for short-term help, why not use the assets as the short term help itself? In very limited playing time, Brusdar Graterol contributed in key spots and showed that he's ready to help in the postseason. The Twins also called up Jorge Alcala to do the same, but the success of the rest of the bullpen limited his chances.
Want mo' Romo
Sergio Romo came onto the Twins roster with a big positive attitude and an even bigger slider that seems nearly unhittable to righthanders. While he wasn't around long enough to post more than half a WAR for the Twins, he contributed toward several wins and will be highly important against the Yankees and then the Astros, two highly right-handed teams, in the playoffs.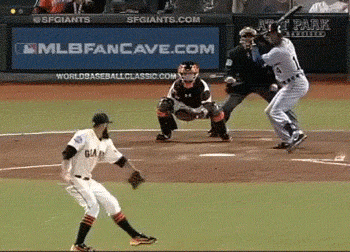 Moves that bombed
Blake "Out of the" Park-er
Blake Parker was signed as a plan B--a move to bolster the back end of the bullpen. Instead, he ended up the Twins' only bullpen acquisition over the offseason, and proceeded to give up 7 home runs and 16 walks against 36 innings pitched before the Twins said goodbye. His numbers before and after the Twins stint are passable, so the Twins can be forgiven for making an okay move that just didn't work out. Give them credit for moving on early enough--no Twins fan will need to remember Blake Parker after this paragraph ends.
His name was Magill, he called himself Lil, but everyone knew him as Nancy
Rocky Baldelli stepped into his room, only to find Guardado's bullpen. One leftover piece of that pen, whom Baldelli seemed to tout, was a pitcher who never shined as a reliever in the minors or majors. The Twins thought he had some tools they could work with, but it didn't come to pass as Matt Magill had a ERA of 4.45 and decent strikeout rate, but he fell apart in key situations and didn't have the foundation for success that the Twins' staff was looking for. Like Parker, they moved on from Magill quickly, and he has had some success with the Mariners, but he was never going to be a top bullpen option and is no big loss.
Division champions
It's overall been an excellent season for the Twins. So take today and tomorrow to enjoy the afterglow of the best regular season the Twins have had in your lifetime and feel good about what they accomplished, no matter what happens in October.