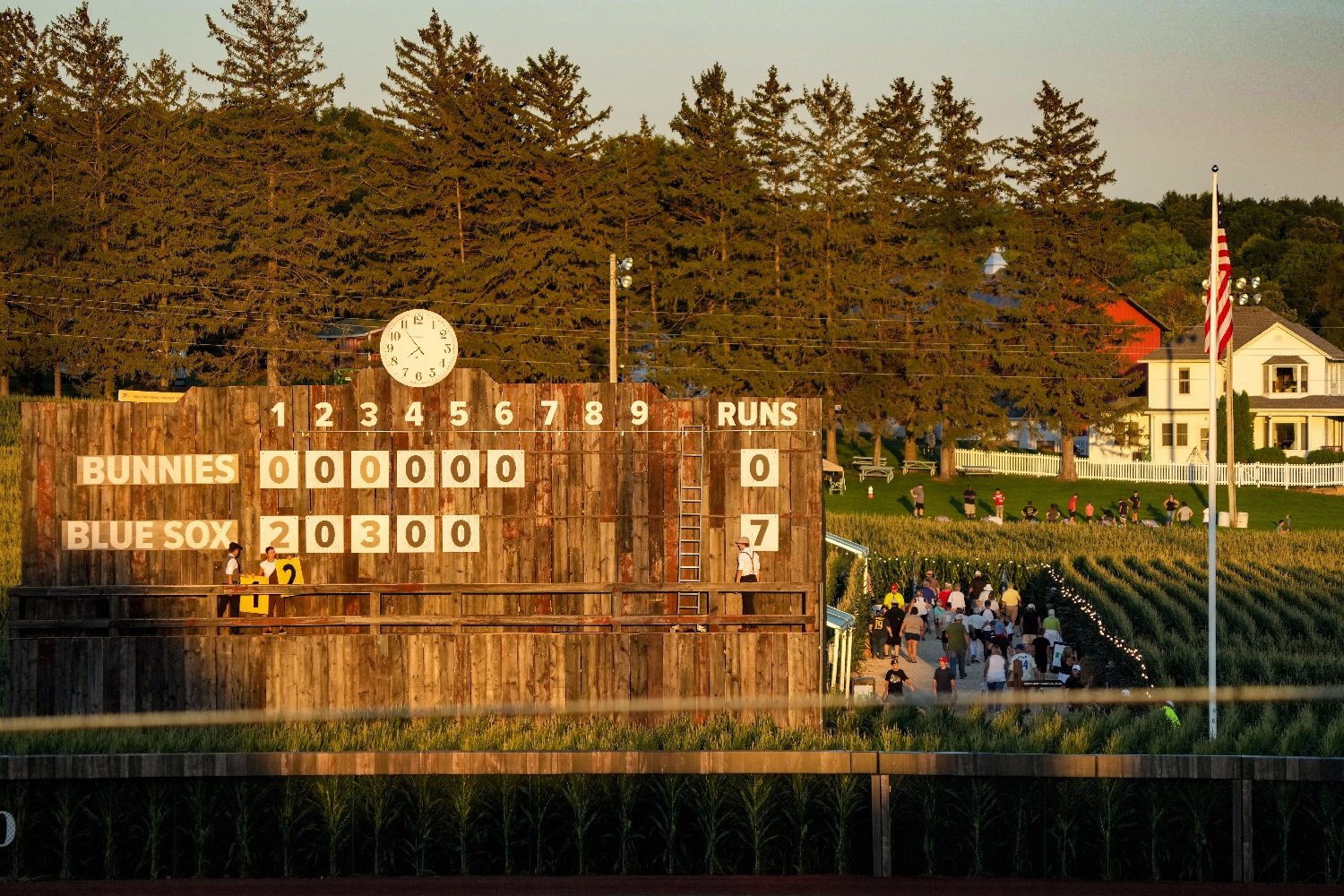 Image courtesy of Zach Boyden-Holmes / The Register / USA TODAY NETWORK
TRANSACTIONS
SAINTS SENTINEL
Columbus 6, St. Paul 0
Box Score
Clippers starter Xzavion Curry actually had a no-hitter going into the sixth inning, before Mark Contreras finally put a notch up on the scoreboard with a one-out single. Matt Wallner followed later in the inning with a single of his own, but that was all the Saints got on the night, even after Curry's outing came to an end after six innings.
Aaron Sanchez, in his first start back with the Saints after making a spot start with the Twins, made it into the fifth inning for the home team. In 4 1/3 innings, Sanchez surrendered three runs (two earned) on three hits, three walks, and struck out three. Jovani Moran finished the fifth, allowing a run of his own, and got the first two outs in the sixth, allowing two hits and striking out three in 1 1/3 innings. Daniel Gossett got the final out in the sixth and allowed a hit. Jharel Cotton (IP, K), Drew Strotman (IP, H, K), and Michael Feliz (IP, 2 H, 2 ER, BB, 2 K) finished off the final three innings for the pitching staff.
While only Contreras and Wallner collected hits, first baseman Roy Morales did draw three walks. As a team the Saints drew five walks, struck out thirteen times, and were 0-for-5 with runners in scoring position, leaving six men on base.
WIND SURGE WISDOM
Corpus Christi 2, Wichita 9
Box Score
The Wind Surge laid waste to the Hooks in this one, outhitting the visiting team 14-to-5 on the game, en-route to a big win in the ICT.
Edouard Julien led the way with three hits in four at-bats, including a triple. He also drew a walk and scored a run out of the leadoff spot. Joining him with multiple hits on the game were Yunior Severino (2-for-5, 2 R, RBI, 2 K), Chris Williams (2-for-5, 2 R, RBI, K), Cole Sturgeon (2-for-4, R, 2 RBI, K), and Anthony Prato (2-for-3, 2 RBI, BB, K). The only hitter not to collect a hit on the game was catcher Andrew Bechtold, but he also chipped in two walks and scored two runs. Jair Camargo provided the only extra-base-hit besides Julien's, with an RBI double in the fifth.
Since 12 of their hits were singles along with four walks, they had a lot of opportunities with runners in scoring position, going 7-for-16 as a team in those situations.
Kody Funderburk made the start for Wichita and went the first 2 2/3 innings. The Hooks actually took the first lead of the game in the third inning, chasing Funderburk after a pair of singles and three walks had led to the first two runs of the game. In total, the left-hander gave up three hits, three walks, and struck out two.
Denny Bentley got credited with his fifth win of the season pitching the next 2 1/3 scoreless innings. He allowed one hit, one walk, and struck out five. Alex Phillips (1 2/3 IP, H, BB, 2 K), Bryan Sammons (1 1/3 IP, 3 K), and Steven Cruz (1 IP, 2 BB, 2 K) finished the final four scoreless innings as their lineup pulled away to seal the win.
KERNELS NUGGETS
Cedar Rapids 2, Quad Cities 7
Box Score
The Cedar Rapids "Bunnies" and Davenport "Blue Sox" faced off on Tuesday in the #MiLBatFieldofDreams game on Tuesday night, and what an experience it had to be for the Twins and Royals farmhands to kick off their series.
As just under 100 miles separate both Cedar Rapids and Quad Cities, Iowa, with Dyersville and the Field of Dreams site about an hour and a half away from each, their selection to play in the game was more than fitting. For Cedar Rapids pitcher Matt Mullenbach, it was perhaps even more memorable as he grew up near Des Moines, even though he had never actually been there before (Don't worry, he grew up a Twins fan and his middle name is Kirby, and his parents got engaged at the Field of Dreams, and...). 
"Bunnies" manager Brian Dinkelman even had nothing but good things to say about the experience, equating the venue to a "Major League Field just stuck in the middle of corn" (which I hope someone pointed out the obvious there, haha).
Being the former Minnesota "Town Team" player that I was, Iowa baseball historian John Liepa's look back on the significance of the "Bunnies" and "Blue Sox" names chosen for this game was a fascinating read in anticipation of the game as well.
As for the game, the "Blue Sox" went to work quickly, scoring two runs off "Bunnies" starter Aaron Rozek in the first inning thanks to a two-run homer from Juan Carlos Negret. They chased Rozek in the third after another home run, double, walk and a single around a groundout and an error led to three more runs. In his 2 1/3 innings, Rozek was charged with five runs (three earned) on five hits and two walks, while striking out two.
Derek Molina got them through the fourth with 1 2/3 scoreless innings, facing five hitters and retiring them all. Mullenbach then got the fifth inning in his home state, delivering a scoreless frame of his own, working around a single and a walk while striking out one. Tyler Palm was summoned for the sixth, and the "Blue Sox" added on a couple more runs with an RBI double and single before he a pair of flyouts.
In the top of the seventh inning, the "Bunnies" finally broke through against their opposing starter, when Jake Rucker led off the frame with a double (that landed between three fielders), and came around to score their first run of the game on an RBI single from Kyler Fedko. Later in the inning, Fedko scored to close the deficit to five on a sacrifice fly from Jeferson Morales, but that would be as close as they got.
Miguel Rodriguez (IP, K) and Hunter McMahon (IP, K) finished the game with a pair of scoreless innings.
Although the "Bunnies" were only outhit 8-to-7 by the "Blue Sox," it was the latter that got the big blasts in the form of two home runs, and two RBI doubles. Rucker finished 2-for-3 with the double and a run scored to lead the Kernels. Alerick Soularie and Will Holland also added doubles to the effort. Fedko scored one run, drove in one, and stole a base in his three at-bats.
MUSSEL MATTERS
Fort Myers 3, Jupiter 0
Box Score
The Mighty Mussels got six far-better-than-quality innings out of left-hander Jaylen Nowlin, who picked up his fourth win of the season with a scoreless outing. He allowed the Hammerheads just four hits, while striking out eight, all on just 63 pitches (45 for strikes). Included in those strikes, were 10 of the swinging variety and in just two innings did he throw more than 10 pitches. It was an absolutely dominant and efficient outing from the young hurler.
His lineup put him in front before he ever took the mound, and who knows, that might have helped him mow through Jupiter hitters with extra confidence. To lead off the game, singles from Misael Urbina and Tanner Schobel, and a walk from Noah Cardenas loaded the bases for Jorel Ortega, before he drove in two of them with a single that put them in front for good at 2-0.
They added an insurance run in the seventh thanks to a Carlos Aguiar ground-rule double to drive in Keoni Cavaco, who had singled earlier in the inning.
Relievers Jackson Hicks (2 IP, 2 H, BB, 3 K) and Niklas Rimmel (IP, H, K) completed the shutout for the pitching staff, with Rimmel picking up his second save of the season.
COMPLEX CHRONICLES
FCL Twins 2, FCL Rays 1 (6 innings)
Box Score
The FCL Twins tied the game at one in the fifth inning, when first baseman Breilin Ramirez hit his second home run of the season. They took the lead 2-1 in the sixth when the rehabbing Alex Isola scored from third on a wild pitch after leading off the inning with a walk.
The Rays outhit the Twins 3-to-2 in the game, but since hits were so hard to come by that means Twins pitchers also were fantastic on Tuesday.
Ryan Horstman made the start and struck out two in his two innings, allowing the Rays lone run on two hits. Pierce Banks (2 IP, H, K) and Cole Bellair (2 IP, 2 K) chipped in two scoreless innings apiece, giving the Twins a chance. Bellair picked up his first professional win in the process.
TWINS DAILY MINOR LEAGUE PLAYERS OF THE DAY
Pitcher of the Day - Edouard Julien, Wichita Wind Surge (3-for-4, R, 3B, BB, K)
Hitter of the Day - Jaylen Nowlin, Fort Myers Mighty Mussels (W, 6 IP, 4 H, 8 K)
PROSPECT SUMMARY
#7 - Noah Miller (Fort Myers) - 0-for-2, 2 BB, K
#9 - Matt Wallner (St. Paul) - 1-for-4, K
#14 - Edouard Julien (Wichita) - 3-for-4, R, BB, K
#18 - Tanner Schobel (Fort Myers) - 1-for-4, R, K
#19 - Alerick Soularie (Cedar Rapids) - 1-for-4, 2B, K
#20 - Kala'i Rosario (Fort Myers) - 0-for-3, BB, K
WEDNESDAY'S PROBABLE STARTERS
Columbus @ St. Paul (1:07 PM CDT) - RHP Dereck Rodriguez (6-4, 4.28 ERA)
Corpus Christi @ Wichita (7:05 PM CDT) - TBD
Cedar Rapids @ Quad Cities (6:30 PM CDT) - TBD
Fort Myers @ Jupiter (5:30 PM CDT) - LHP Jordan Carr (4-0, 3.22 ERA)
Please feel free to ask questions and discuss Tuesday's games!