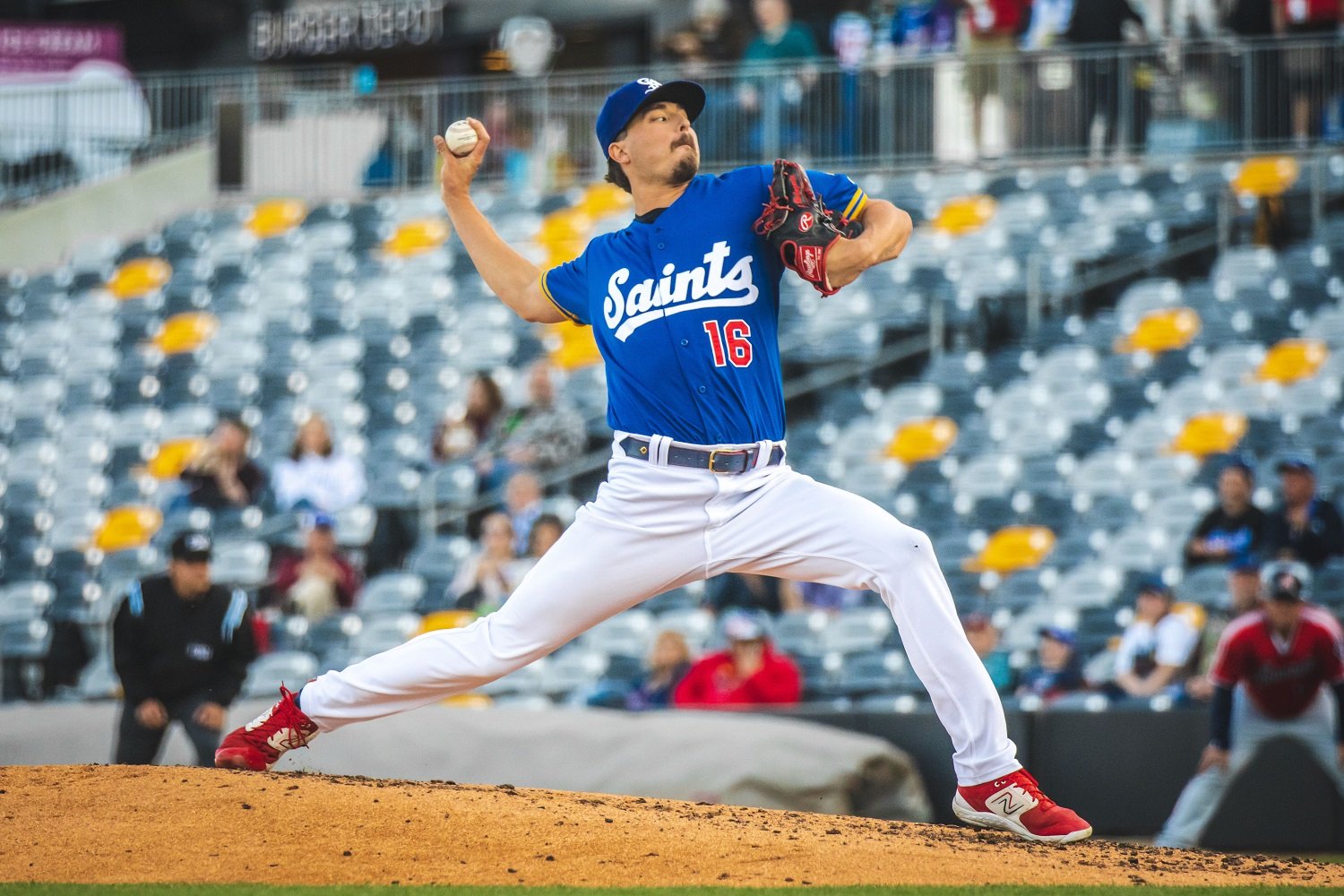 Image courtesy of Rob Thompson, St. Paul Saints (photo of Jordan Balazovic)
Before we get started with the daily minor-league update, we're trying to come up with as many Minnesotans in pro baseball there are. Click here to see what players we have, and let us know in those comments if we missed someone. 
TRANSACTIONS
   While we knew it was coming, the Twins officially placed RHP Tyler Mahle on the Injured List and recalled RHP Louie Varland.
   RHP Ronny Henriquez was sent to Fort Myers to start his rehab assignment. 
   RHP Alex Phillips was placed on the 7-Day IL by Wichita.     
SAINTS SENTINEL 
St. Paul 5, Nashville 3
Box Score
While it wasn't perfect, Jordan Balazovic made his first start of the season. He went 3 1/3 innings and was charged with one run on one hit. He walked three and struck out six batters. Things looked much better after three innings. He walked the first two batters he faced in the fourth frame before getting a ground out and handing things over to Jose De Leon who allowed one of the inherited runners to score. 
De Leon worked 3 2/3 innings out of the bullpen. He was charged with two runs on five hits. He walked one and struck out two batters. Jorge Alcala pitched the eighth inning and got the first two outs of the ninth frame. He walked leadoff man, Maple Grove's Isaac Collins, to start the ninth. Then he struck out Monte Harrison and Blake Perkins. However, Eddy Alvarez walked, bringing up slugger Jon Singleton as the go-ahead run. Toby Gardenhire went to newly-promoted southpaw Kody Funderburk. On three pitches, the former two-way player at Dallas Baptist got a strikeout to end the threat and the game. Alcala gets the Win, and Funderburk recorded his first Triple-A save. 
Following the game, Funderburk told Twins Daily that tried to keep it simple in the big moment. "It was a really exciting experience to come into that situation. (I) just tried to focus on doing my job and getting the lefty out."
The Saints took the lead in the third inning. Elliot Soto doubled, and Edouard Julien followed by switching places with him. Soon after, Alex Kirilloff singled in Julien and the Saints had the 2-0 lead.  
However, the Saints were down 3-2 going into the bottom of the eighth inning. Kirilloff singled, and Kyle Garlick walked. Andrew Stevenson pinch ran for him. Matt Wallner came to the plate and came through with a two-run double. Soon after, Wallner took off for third base on a Lucas Erceg wild pitch. Catcher Payton Henry threw the ball away and Wallner scored with the fifth run of the game. 
Kyle Farmer went 0-for-3 with a walk and two strikeouts in his second rehab game with the Saints. Kirilloff went 2-for-4. Michael Helman went 3-for-4 and is now hitting .348 since his return to St. Paul. 
WIND SURGE WISDOM
Wichita 3, Northwest Arkansas 1
Box Score 
Last week, the Wind Surge gave up 53 runs over the final five games of the week against Springfield. So what the pitching staff did in this game is greatly appreciated. Lefty Aaron Rozek had his best game of the season. He gave up one run on four hits over 5 2/3 innings. He struck out two, but he walked none. The performance was good for him him, but it was also good for his younger brother!
Back to Aaron Rozek's performance... after the game, he told Twins Daily a little bit about what was working for him. "Cutter was the go-to pitch tonight for sure. (I) was able to use that in any count. Think the biggest thing for me was being able to just go deeper into the game to allow our bullpen to relax a bit, and ultimately just giving our team a chance to win."
The Burnsville native continued, regarding his early-season struggles and what he needed to focus on in the game on Wednesday. "No huge adjustments were made, just fine-tuning, I think. Being able to throw pitches in better locations... obviously not going to blow guys away with velocity, so have to move the ball around more than others would." 
Next, Tyler Beck worked 2 1/3 innings of one-hit ball and was credited with the Win to improve to 3-0. Alex Scherff recorded his second save of the season. He gave up a hit and a walk, and another batter reached on an error. However, Scherff got a double play - the Wind Surge's third of the game - and ended the game with the score at 3-1. 
The Wind Surge tied the game at one in the second innings when Yoyner Fajardo singled to score Pat Winkel. Then in the seventh inning, the Wind Surge took the lead. Brooks Lee led off with a single. He advanced to second when DaShawn Keirsey reached on an error by the shortstop. However, the next two batters got out. Winkel walked to load the bases, and then Anthony Prato came through with a huge hit. He lined a single to center that scored Lee and Keirsey and gave the Wind Surge a lead that they didn't relinquish. 
Lee led the way by reaching base four times. He was 3-for-4 with a walk and a double. Prato went 2-for-4 with a walk and clearly the biggest hit of the day.  
KERNELS NUGGETS
Cedar Rapids 9, South Bend 5  
Box Score
The Kernels had an afternoon game in South Bend against the Cubs. The game was scoreless through the first five innings, but then the two teams combined for 14 runs over the final four innings, and fortunately, the Kernels scored nine of them. 
Let's start with the pitching. Alejandro Hidalgo made the start. The 19-year-old acquired in the Gio Urshela trade struck out nine batters over 5 1/3 scoreless innings. He gave up just three hits and one walk. The outing dropped his season ERA to just 1.29. Most important, since his Kernels/Twins debut when he gave up six walks in just 1 2/3 innings, he has just four walks in 12 1/3 innings over his next three outings. 
On the other side, Brandon Birdsell tossed five shutout innings for the Cubs. He gave up just three hits and two walks, and he struck out five Kernels. Why does the Birdsell name sound familiar? Maybe you follow Texas Tech baseball really closely? Or, maybe you remember that the Twins selected him in the 11th round of the 2021 draft and offered him as much as they had available above slot but within their allotted amount. Instead, he went back to school and the Cubs made him their fifth-round pick a year ago. He didn't debut until this season. He has now made five starts for South Bend and is 1-0 with a 0.44 ERA. In 20 2/3 innings, he has given up one run on seven hits. He's walked eight and struck out 18 batters. 
And then came the runs. The Kernels scored first with two runs in the sixth inning. Kala'i Rosario hit his first home run of the year, and it was followed by Jose Salas's first home run as a member of the Twins organization. In the seventh frame, Charles Mack picked up his first hit of the season, a double that drove in Keoni Cavaco (who had reached on a double).  
John Wilson walked two but got the final two outs of the sixth inning while he maintained the shutout. Unfortunately, in the seventh inning, he faced three batters and all three singled. Niklas Rimmel came in and got the first out on a ground out. However, Scott McKeon tripled to drive in two runs to tie the game at three. Rimmel got the next two batters out without allowing McKeon to score. He then worked a perfect eighth frame. 
That sent us to the ninth inning, and the Kernels busted out. It started out simple enough. Cavaco walked. Ernie Yake came in to run for him. He advanced to second on a wild pitch, stole third base, and scored the go-ahead run on a Mack sacrifice fly. Noah Miller struck out for the second out. Then the real fun began. Ben Ross and Tanner Schobel singled. Rosario singled to score Ross. Jose Salas walked to load the bases. Kyle Fedko drove a bases-clearing double to open things up. A wild pitch and a Willie Joe Garry single scored another run and the Kernels had a 9-2 lead. And they needed it. 
Miguel Rodriguez came in for the ninth and gave up two runs on four hits and a walk, but the Kernels held on to work to a 9-5 win. 
Rosario led the offense. He went 3-for-4 with the homer and two RBI. Tanner Schobel and Ben Ross each went 2-for-5. For the Northside Cubs readers, Scott McKeon went 3-for-5 with two RBI. Fabian Pertuz and Jacob Wetzel each had two hits. 
MUSSEL MATTERS
Fort Myers 4, Dunedin 5
Box Score 
For six innings, the Mussels offense did nothing. Down 4-0 going to the seventh-inning stretch, Ft. Myers scored one run in the bottom of the seventh. A Dalton Shuffield single scored Ricardo Olivar. In the bottom of the eighth frame, a run double off the bat of Jorel Ortega scored Alec Sayre with the second run. Ortega advanced to third base on the play and scored when the Dunedin catcher tried to pick him off. 
The Blue Jays added an insurance run in the top of the ninth, but the Mussels made it very interesting in the bottom of the ninth inning. With one out, Shuffield walked. Dylan Neuse singled, and Mikey Perez walked to load the bases. Sayre struck out for the inning's second out. But Twins Daily's Minor League Hitter of the Month, Andrew Cossetti, came up and walked on five pitches that weren't near the strike zone. After a pitching change, Ortega came up but struck out to end the game. 
Young Jose Olivares started and was charged with three runs on seven hits and two walks over five innings. He struck out four batters. 
Ronny Henriquez came on for the sixth and gave up a run. He started the seventh inning and got two more outs before being replaced by AJ Labas who got out of the seventh and worked a scoreless eighth inning. Juan Mendez gave up the ninth inning insurance run when he walked two and gave up a hit. 
Henriquez looked solid in his first rehab appearance of the year. Sure, he gave up a run on a hit and two walks in 1 2/3 innings, but that isn't terribly important. How he looked, how his pitches looked, and then how he responds tomorrow physically is what really is important to the process. His stuff sure looked like it did last year. His fastball sat between 94.4 and 96.3 mph. His slider was between 84.4 and 87.9 mph. His changeup was between 86.8 and 89.6 mph. His slider and changeup both got really good vertical movement, and his changeup had a nice horizontal drop. With how much time he has missed this spring, I would expect his rehab to be very close to the 30 day maximum, and even at that point, I would expect he would be activated and optioned to St. Paul to continue the work. 
TWINS DAILY MINOR LEAGUE PLAYERS OF THE DAY
Pitcher of the Day – Alejandro Hidalgo (Cedar Rapids) - 5 1/3 IP, 3 H, 0 R, 1 BB, 9 K. 
Hitter of the Day – Kala'i Rosario (Cedar Rapids) - 3-for-4, BB, HR(1), 2 R, 2 RBI.
PROSPECT SUMMARY
Check out the Prospect Tracker for much more on the new Twins Top 20 prospects after seeing how they did on Wednesday. 

#1 - Brooks Lee (Wichita) - 3-for-4, BB, 2B(9), R, SB(2), E(3)  
#5 - Edouard Julien (St. Paul) - 1-for-3, BB, 2B, R, RBI.
#8 - Jose Salas (Cedar Rapids) - 1-for-4, BB, HR(1), 2 R, RBI, K. 
#9 - Louie Varland (Minnesota) - 4 2/3 innings, 4 ER, 7 H, 2 BB, 6 K, 87 pitches, 59 strikes.
#11 - Matt Wallner (St. Paul) - 1-for-4, 2B(6), R, 2 RBI, 2 K.
#14 - Noah Miller (Cedar Rapids) - 1-for-4, BB, SB, 2 K. 
#16 - Jordan Balazovic (St. Paul) - 3 1/3 IP, 1 ER, 1 H, 3 BB, 6 K, 60 pitches, 32 strikes. 
#17 - Ronny Henriquez (Ft. Myers-Rehab) - 1.2 IP, 1 ER, 1 H, 2 BB, 0 K, 33 pitches, 22 Strikes. 
#18 - Tanner Schobel (Cedar Rapids) - 2-for-5, R.
THURSDAY'S SCHEDULE AND PITCHING PROBABLES 
Nashville @ St. Paul (6:37 PM CST) - LHP Brent Headrick (0-0, 6.00 ERA) 
Wichita @ NW Arkansas (7:05 PM CST) - RHP Chad Donato (0-2, 12.54 ERA) 
Cedar Rapids @ South Bend (6:05 PM CST) - RHP Orlando Rodriguez (2-1, 1.59 ERA) 
Dunedin @ Fort Myers (5:35 PM CST) - RHP Zebby Matthews (3-0, 3.10 ERA) 

Please feel free to ask questions and discuss Wednesday's games!