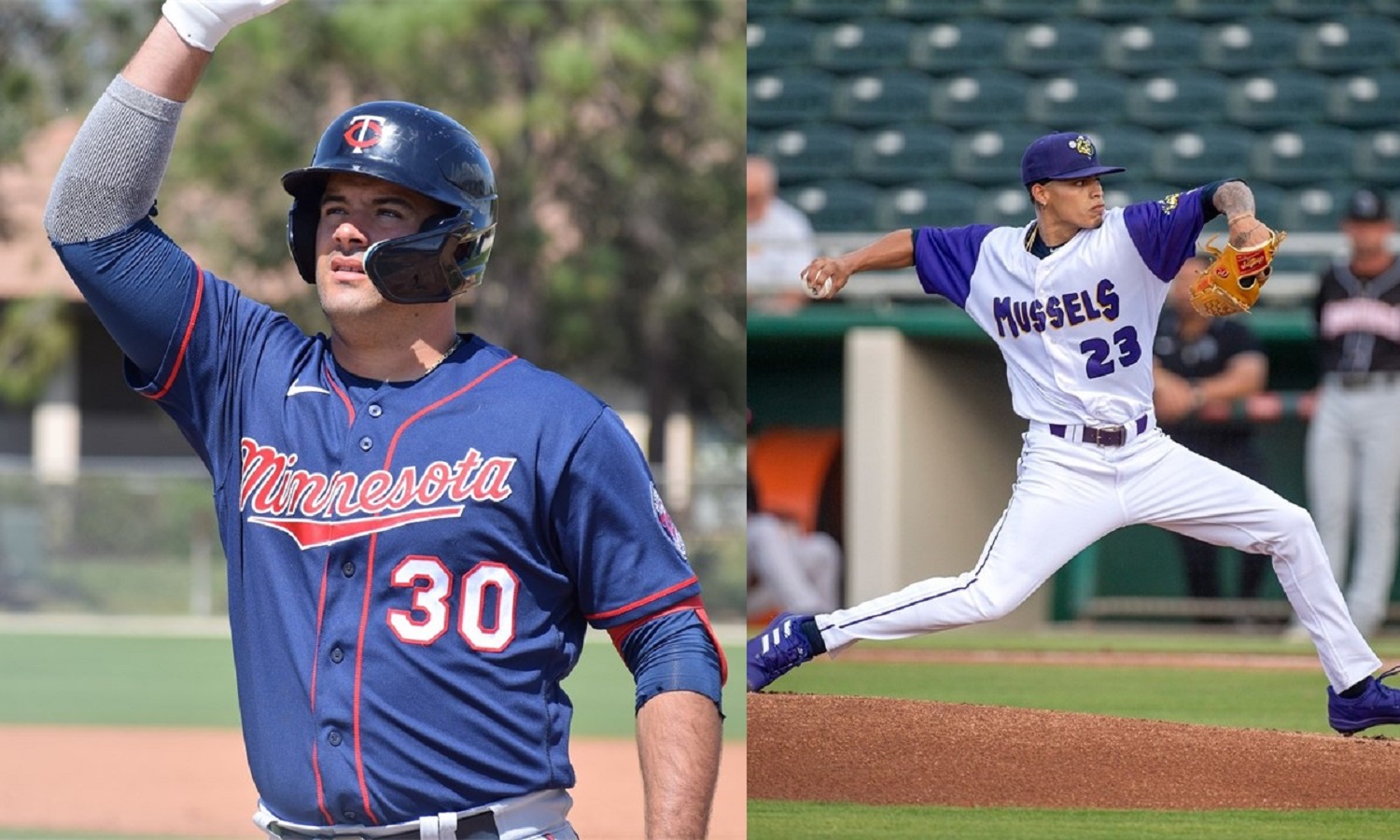 Image courtesy of Steve Buhr (Sabato), William Parmeter (Raya)
Baseball is entering an unprecede
nted time when it comes to prospect development. The pandemic caused the 2020 MLB Draft to be limited to five rounds because high school and college seasons were truncated. Another wrinkle was the fact that the 2020 international free agent class couldn't officially sign until January 2021. Over the next three seasons, these players will be entering their 40-man roster evaluation year. 

College players taken in the 2020 Draft must be added to their club's 40-man roster next winter to be exempt from the Rule 5 Draft. Most high school players taken in that draft will have their Rule 5 decisions made following the 2024 season. International players signed in January 2021 need to be added prior to the 2025 Rule 5 Draft. Baseball America expects there to be a lack of eligible players for upcoming Rule 5 Drafts because of the shortened draft and the canceled international signing period. 

Minnesota's 2020 Draft Results
The Twins took Aaron Sabato with the 27th overall pick in the 2020 MLB Draft. In 103 games last season, he hit .215/.336/.438 with 17 doubles and 22 home runs. He struck out 142 times in 372 at-bats between High- and Double-A. Many evaluators don't consider him one of the team's top prospects, because his bat hasn't developed as quickly as expected. Unless Sabato has a huge 2023 season, Minnesota is unlikely to add him to the 40-man roster next winter. 
In the second round, the Twins took Alerick Soularie from the University of Tennessee. Over the last two seasons, he has been limited to 125 games while hitting .231/.343/.376 (.719). During the 2022 season, he combined for 28 extra-base hits in 91 games. He was slightly younger than the average age of the competition in the Midwest League this year. The 2022 season will be critical to show he can find success in the minors' upper levels. 

Marco Raya is Minnesota's highest ranked prospect from the 2022 Draft. Last season, he made his professional debut as a 19-year-old in the Florida State League. In 19 games (65 IP), he posted a 3.05 ERA with a 1.08 WHIP and 10.5 K/9. Raya has a chance to develop into one of the best starting pitching prospects to come through the organization in quite some time. With his limited professional innings, it will be interesting to see how the Twins handle his workload in 2023 and beyond. 
Kala'i Rosario was the Twins' final pick in the 2020 MLB Draft. In 2022, he played the entire season in Fort Myers where he was over two years younger than the average age of the competition. In 109 games, he hit .239/.320/.408 (.727) with 36 extra-base hits. Since he was a high school draft pick, the Twins get two more seasons to decide if he should be added to the 40-man roster. 

International Signing Period (January 2021)
Danny De Andrade and Fredy Michel were the highest ranking international free agents signed by the Twins in January 2021. Last season, De Andrade came stateside and played 48 games in the Florida Complex League. In 178 at-bats, he hit .242/.333/.371 (.704) with nine doubles and four home runs.  De Andrade will likely get his first taste of full-season action with Fort Myers in 2023. 

Michel is following a similar development path to De Andrade with his first season in the Dominican Summer League before playing 2022 in the FCL. Last season, he hit .163/.317/.233 (.549) with five extra-base hits in 40 games. When he signed, Baseball America compared him to a "young Eduardo Escobar," so there is still hope for him to develop in the coming years. It seems likely for him to repeat the FCL in 2022. 

It's clear there are going to be fewer options for teams in upcoming Rule 5 Drafts. The players listed above have important seasons facing them over the next three years. Raya is the lone 2020 pick that looks like an easy decision to add to the 40-man roster. Other players need to show some growth before the team adds them into the organization's long-term plans. 

Do you think any of these players can take the next step in 2022? Leave a COMMENT and start the discussion.