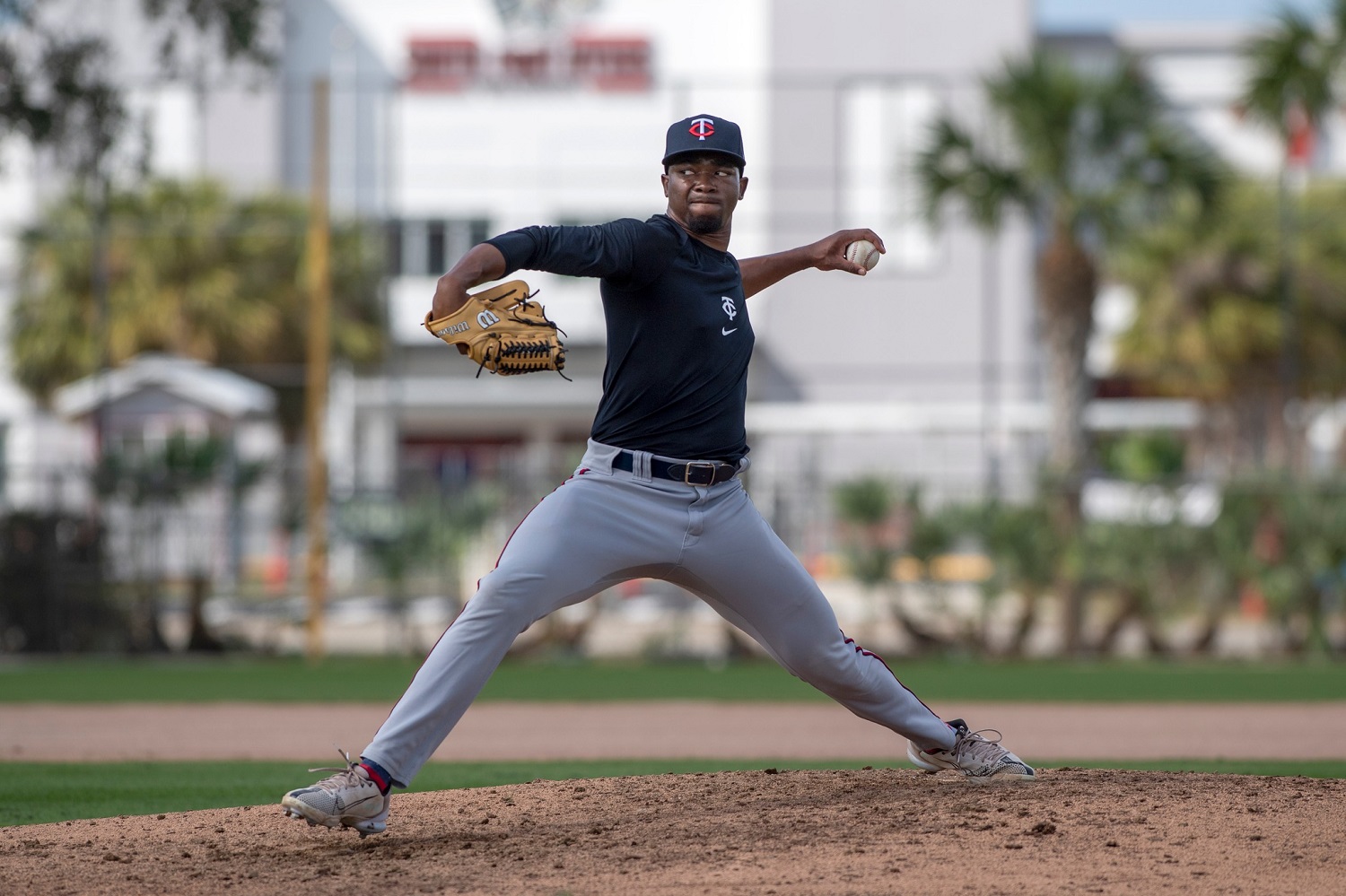 Image courtesy of William Parmeter
The Guardians have stayed relevant in the AL Central because of their ability to continue to churn out above-average big-league arms. Minnesota is trying to replicate Cleveland's pitching philosophy which is one of the reasons why the team hired Derek Falvey away from their organization. Below are pitchers to keep tabs on this season, even if they aren't the top-ranked prospect at that level. 
Triple-A: Randy Dobnak
Saints Opening Day Roster
The Saints are starting the year with a loaded rotation, including Bailey Ober, Louie Varland, and Simeon Woods Richardson. Randy Dobnak might be a forgotten piece of the organization's pitching depth. Minnesota signed him to a five-year extension leading into the 2021 season, but a finger injury has limited him to just over 50 big-league innings over the last two years. He's no longer on the 40-man roster and needs to prove he is healthy before the Twins give him another big-league opportunity. Fans also need to keep realistic expectations for Dobnak in 2023. In his first Saints start, he allowed one earned run on three hits with five walks and five strikeouts. Multiple younger pitching prospects have passed him in the organization's depth chart, but that doesn't mean he can't provide future value to the club. 
Double-A: Kody Funderburk
Wind Surge Opening Day Roster
The Twins drafted Funderburk in the 15th round of the 2018 MLB Draft from Dallas Baptist University. Last season, he spent the entire season at Double-A with a 2.94 ERA and a 1.32 WHIP with a 103-to-44 strikeout-to-walk ratio in 107 innings. He was slightly older than the average age of the competition at Double-A last season, so it will be interesting to see how the Twins treat him this year. The left-handed hurler will be even older for the level in 2023, but there are other names ahead of him at Triple-A. His goal should be to reach Triple-A by the season's second half. David Festa is the highest-ranked pitching prospect on the Wind Surge staff, with former top prospect Blayne Enlow also on the roster. 
High-A: Jaylen Nowlin
Kernels Opening Day Roster
Many eyes will be on Cedar Rapids to see the professional debut of Connor Prielipp, Minnesota's second-round pick in 2022. He was considered one of the top college arms in the draft class but was recovering from Tommy John surgery. Nowlin joins Prielipp in the Kernels rotation, and he looks like a steal from the 19th round of the 2021 MLB Draft. In 2022, Nowlin made 22 appearances between Low- and High-A with a 3.80 ERA and a 1.35 WHIP. His strikeout rate was impressive as he posted a 14.1 K/9 with 111 strikeouts in 71 innings. In 2023, he needs to continue to build his innings total and cut back on his walk (4.6 BB/9) and hit rate (7.6 H/9). He's starting the season where he ended last year and now needs to prove he can make positive strides as a starting pitcher. 
Low-A: Juan (Miguel) Olivares
Mighty Mussels Opening Day Roster
Minnesota signed Olivares out of Venezuela in September 2021, which meant the 2022 season marked his professional debut. Twins Daily voted Olivares the short-season minor league pitcher of the year after posting a 1.44 ERA and a 0.94 WHIP over 50 innings. He has not allowed a home run during his professional career and posted a 54-to-20 strikeout-to-walk ratio. As a 19-year-old, he will come stateside in 2023 and look to build off his award-winning pro debut. Nearly 78% of his plate appearances came against younger batters, and that trend should continue during the 2023 campaign. He's a long way from Target Field, but he can continue to make strides that will help him rise on prospect rankings. 
Which pitchers will you be watching at each level? Will any of the names listed above have a breakout season? Leave a COMMENT and start the discussion.