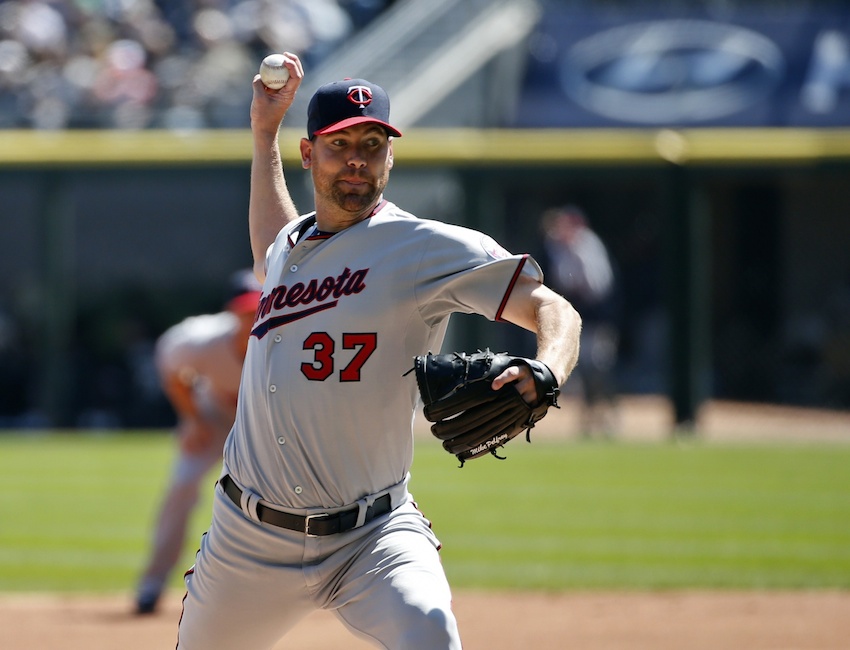 Fast forward a few hours, and the Twins had inserted Pelfrey back into the rotation due to a suspension handed down to free-agent signee Ervin Santana. It looked like a head-scratching move at the time, but a few weeks into the season, Pelfrey has only puzzled Twins fans with his surprising ability.
After his first four starts in 2015, Pelfrey owns a 2.25 ERA (by a wide margin, the Twins best mark by a starter), and is 2-0 across his four contests. He owns a 15.3 K%, which ranks as his highest mark as a Twin, and is tied for the highest mark of his career (also had a 15.3 K% in 2012 with the Mets). He owns the lowest WHIP (1.13) of his career, and his 5.63 K/9 is the second highest mark of his career. Obviously all of those numbers are fun, but it's also fair to note the small sample size. Through just one month of the season, the question now for the Twins and Pelfrey is, can he keep this up?
After making just five starts a season ago, and pitching just 23.2 innings, a mark he has already surpassed in 2014, injury concerns will always loom large for Pelfrey. Wondering whether the ineffectiveness Pelfrey displayed a year ago can be completely attributed to injury, or if he had slipped as a professional is also worth questioning. So far however, the Wichita State alum has had nothing but positive answers.
Looking for regression, there are some definite warning signs for Pelfrey. Most glaring, an FIP (fielding independent pitching) totaling 4.47 suggest that a lackluster Twins defense is to be commended for keeping Big Pelf's ERA so low. On top of a concerning FIP number, Pelfrey has also experienced just a .232 BABIP (batting average on balls in play). That mark is the lowest of his career by a wide margin, with 2014 being the only other time Pelfrey has allowed a sub-.300 BABIP. Both of those statistics have the potential to return towards a mean, which in turn, would make Pelfrey's shiny start to the season take a downturn.
It's not all doom and gloom however, as Pelfrey has some numbers in his corner this season as well. Having his splitter working well in the early going, Pelfrey has only allowed opposing hitters to bat .209 against him. That mark is the lowest in his career by a wide margin, owning a previous best of .268. Looking at batted ball percentages, Pelfrey has only surrendered 12.7% of his hits as line drives. Typically the easiest type of batted ball to fall in as a hit and create damage, the low line drive percentage is just the second time (excluding the five game 2014 season) in his career that he has held that percentage below 20%. Also, in allowing his defense to help him, Pelfrey has gotten opposing batters to hit ground balls 57.7% of the time, just his third time above 50% in his career. Again, although early, it appears that sustainability and regression are evening each other out in the early going.
Knowing that the Twins have decisions to make with their rotation regarding Ricky Nolasco, Trevor May, and eventually Alex Meyer and Ervin Santana, Pelfrey has done well to take himself off of the hot seat. I'd still love to see him pitch out of the bullpen at some point if things fall apart, but at least in the early going, the Twins have to be ecstatic about his output. The two-year, $11 million contract hasn't worked out thus far, but the 2015 production has been a nice return for Minnesota.