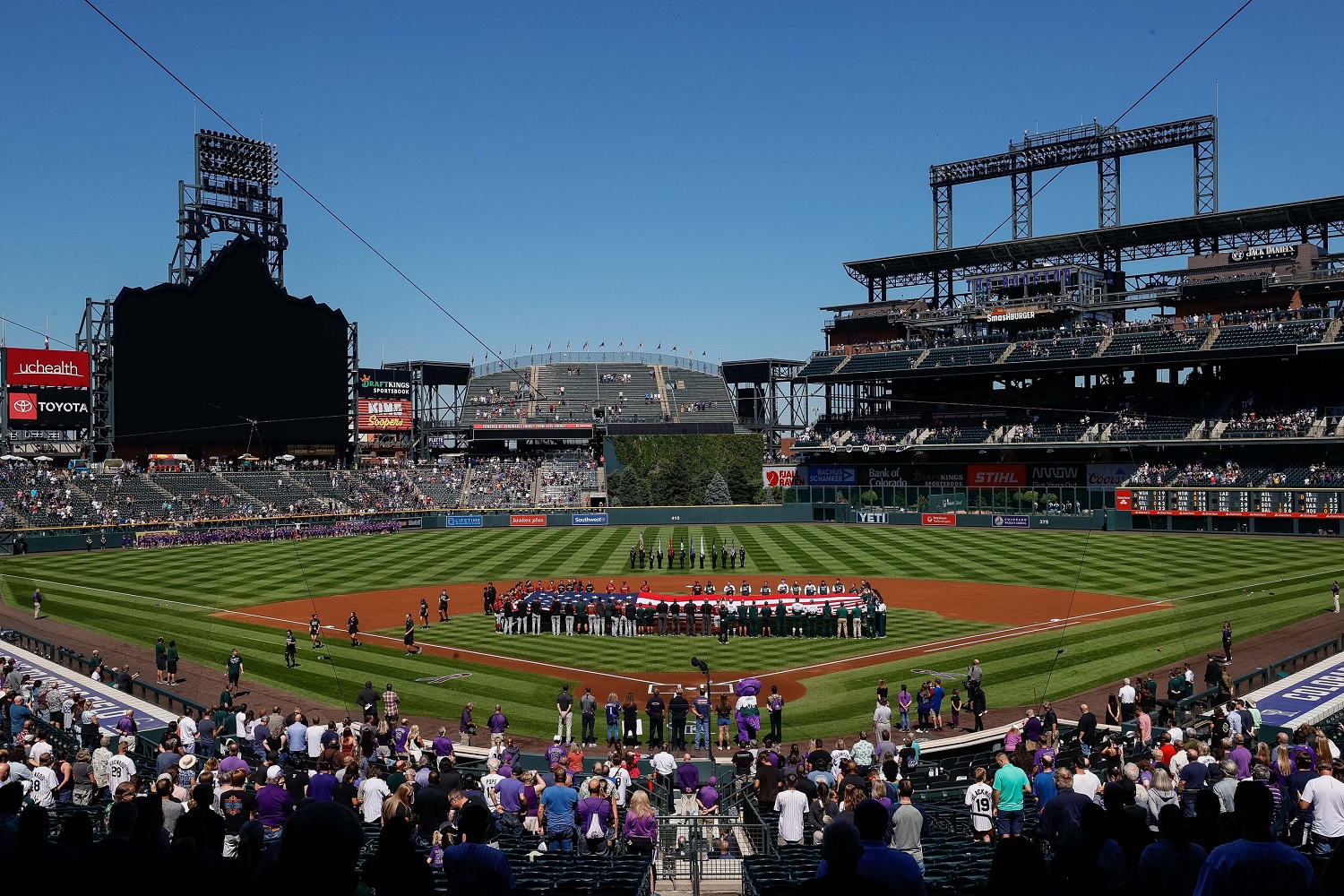 Image courtesy of Isaiah J. Downing-USA TODAY Sports
Sept 29-Oct. 1 @ Colorado Rockies (3 games)
Coors Field - 2022 attendance was 2,597,428 (ranked 6th out of 15 NL teams, 9th overall MLB)

Say what you will about Rockies baseball, but the fans continue to know how to pack a stadium. It seems like just yesterday, but Coors Field has been fueling baseball physics controversy since 1995. After two seasons at the now-imploded Mile High Stadium, the Rockies moved into their "new" home at over 5,000 feet above sea level. Coors Field led the league again in "runs park factor," and it wasn't even close (coincidentally the second and third teams on the list for 2022 make up the 13th Road Trip of the season!). Baseballs fly here, humidor, and big dimensions be darned.
Quirks of the stadium include seats in center field called the "Rockpile," an in-park brewery, a purple row of seats in the 300 level which marks the Mile-High point, and a mixed-use development district around the ballpark. The National Ballpark Museum is across the street, and exists as a "must-stop" for anyone on a baseball tour de force. The Denver Art Museum, Rocky Mountain parks and trails, and the Denver Zoo all can provide some entertainment in between games.
Colorado isn't expected to be a nuisance to many this season, but they have shown consistent resilience at home. This last series of the 2023 season won't be easy, as a weary Twins squad comes into one of the hardest ballparks to earn a 'W' in all of baseball. Odds are that the Twins will need the victories here, so here's to hoping our bats are lively and our pitchers don't read statistical reports about Coors Field.
It's 569 miles from my front door to Coors Field, an almost nine hour journey across the great prairie of Nebraska or South Dakota/Wyoming. Friends and family aplenty are looking forward to using this trip as an excuse to finally get to a game in Denver, like they've been planning to for almost 30 years now! I have a dream of finding a way to get a suite for the final game of the season. I also hope to keep paying my mortgage. To be continued…
Now it's your turn to plan!
If you have been to Coors Field, please post your list of "best seats" and "must sees."  Anyone else planning on going to this final series of the 2023 regular season?
Grace and peace Twins Territory!  Let's play ball!
PREVIOUS 2023 TWINS' ROAD TRIP GUIDES
Trip #1 Kansas City & Miami (3/30-4/5)
Trip #2 New York & Boston (4/13-4/20)
Trip #3 Chicago & Cleveland (5/2-5/7)
Trip #4 I love LA!? (5/15-5/21)
Trip #5 Houston, We have a Correa! (May 29-31)
Trip #6 Tampa to Toronto (6/6-6/11)
Trip #7 Detroit to Atlanta to Baltimore (6/23-7/2)
Trip #8 West Coast Bound Again! Oakland/Seattle (7/14-7/20)
Trip #9 Kansas City & St. Louis (7/28-8/3
Trip #10 Detroit & Philadelphia (8/7-8/13)
Trip #11 Milwaukee (8/22-8/23)
Trip #12 Texas & Cleveland (9/1-9/6)