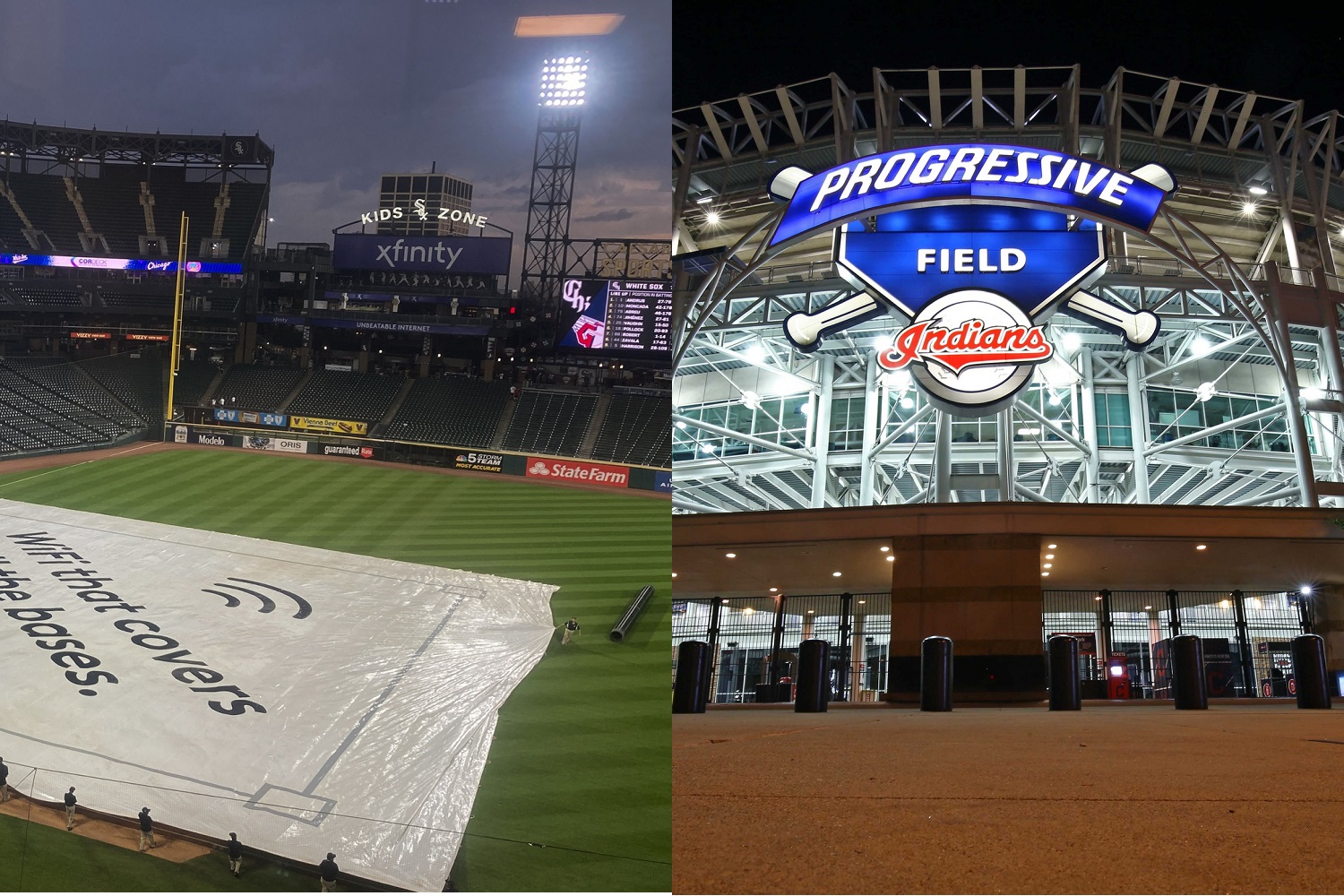 Image courtesy of © Matt Marton-USA TODAY Sports & © Aaron Doster-USA TODAY Sports
May 2-4 @ Chicago White Sox (3 games)
Guaranteed Rate Field - capacity  40,615  -  2022 attendance was 1,976,344 (ranked 8th out of 15 AL teams, 19th overall MLB)
The artist formerly known as New Comiskey Park & The "Cell" has been around since 1991, but South Side Chicago baseball has been cooking since 1910. While the new stadium resides in a residential area, it carries a "big" stadium vibe compared to its North Side counterpart. Sharing an owner allows you to also buy Bulls gear at the ballpark, which works for me. 
The upper deck leans into the "upper" definition, while the bleachers get hot…but probably not in May. In the 2000s, a person could shower on the outfield walkway. I'm not sure who thought that was a great idea, but I'd be lying if I said I didn't try it out one blistering August afternoon. 
The pinwheels will be lightless and pinwheel-less for this series. I like a good Minnie & Paul handshake with fireworks for a Target Field Twins home run, but those pinwheels #@$@%@&...
I've been to this away ballpark the most, with four games watched. I've only sat in the right field corner, near the visiting bullpen, so I'm looking forward to branching out into new territory. See my earlier "first timer" blog for the details of these trips, but know that it doesn't contain everything. 
I caught a throw from Big Papi when he was still wearing the correct uniform. I was in the right field foul seating with my trusty glove (no shame), and Ortiz had just tossed a ball to a kid, only to have a White Sox jersey-wearing adult rip it away from him. The look of disgust on Papi's face was priceless. So I did what any overaged fanboy would do; I waived my glove at the future HOF and mouthed that I would get the ball to the kid if he threw it up a few rows to me. Papi nodded and threw a strike; I caught it and ran for the exits! JK…I nodded thanks and handed it to the kid—baseball memory-making 101.  
I'm also ready to hang out at my old stomping grounds, Garrett Seminary & Evanston area. Specific memories and tastes call out to me: Giordano's pizza, the NU library (nerd out zone), Lake Michigan, Soldier Field and the Museum campus, Sears tower, and the Magnificent Mile. The smell of the L-Train platforms wandering in the Lake Shore breeze. The early-season angst of White Sox fans. With this being a Tuesday-Thursday series in May, I'm guessing there should be quite a few good seats available.
Getting to Guaranteed Rate Field involves most likely car and parking for me, and sneaking to the South Side before rush hour is a "mandatory" event. I have plenty of folks to visit throughout the 2.5 days, so coming in from the western suburbs won't be an issue. I've contemplated re-enacting my 2 hr. L-Train ride for old-time's sake, but I will save that for the next trip to town since I'll most likely be carless for that one.
Mitchell, SD, to Guaranteed Rate Field gates is 645 miles. This is a driving road trip, for sure! The distance between the series of destinations determines the options available to me for travel, and this trip presents one of the shortest get-away-day trips.
May 5-7 - @ Cleveland Guardians (3 games)
Progressive Field – 35,401   -  2022 attendance was 1,295,869  (ranked 12th out of 15 AL parks, 25th overall MLB)
Baseball in Cleveland began in 1894. This trip takes me to the most current iteration of Cleveland baseball, Progressive Field. I grew up memorizing Major League and even parts of Major League 2 (no shame).  This stadium isn't Municipal Stadium, but it's been around a while nonetheless.  1994 saw the building of the current iteration of the ballpark, and 2019 brought an extensive concourse renovation at the 200 level with entertainment and open walkways.
I'm curious to see the home crowd and to analyze the success of the Guardians rebrand. I'm guessing not everyone has bought a new jersey yet, but then again, they had success last year, so that might have boosted the speed of the transition. 
I don't think I've ever been to Cleveland, but a significant branch of my kids' family tree has its roots in the area.  My wife was born in Canton, OH, due to a death in the family and a trip back for her grandpa's funeral.  Besides being a great way to trick people in a workplace "something you didn't know about me" game, the ties to Canton and family have played a role in some of our best early family trips with the boys.
The football Hall of Fame carries memories and annual gifts from our Aunt Susie and Uncle Dick (who will be hosting me whether they like it or not).  Uncle Dick texted me throughout the "debacle" series in Cleveland last year as we witnessed it live in the Progressive stands. He texted me that it would be ok. He wasn't right.
But I can't wait to build new memories with them again this summer. This is one family connection that got untethered due to Covid. I also have some partner churches and current/former students in the area that I'm looking forward to meeting in person over the weekend series.
Built downtown, with plenty of surrounding neighborhood options for food and drink and a consistently winning team, Progressive Field strikes me as a ballpark that should have more fans in attendance. Will 2023 be the year for a resurgence in fan support?
One unique attribute that I'm curious to see is John Adam's Drum. This dedicated fan brought the "thump" to every game since 1973 but hasn't been in attendance since Covid started. So does somebody still drum? Are they just waiting for his return?
Sights include the Rock & Roll Hall of Fame, East 4th St., and the House of Blues. Need a unique place to stay? How about the actual "A Christmas Story House." Seriously. Leg lamp and all.
Mitchell, SD, to Progressive Field gates is 980 miles. Guaranteed Rate Field gates to Progressive Field gates is 340 miles. I was driving all the way! More fun "on the way" than "on the way back" for sure because I'm hoping to catch a Cedar Rapids vs. South Bend minor league game Thursday night (5/4) between towns!
---
Now it's your turn to plan!
If you have been to either Guaranteed Rate Field or Progressive Field, please post your list of "best seats" and "must-sees."  Is anyone else planning on going to this series?
Grace and peace, Twins Territory!  Thanks for the help!
Previous Road Trip stories:
---