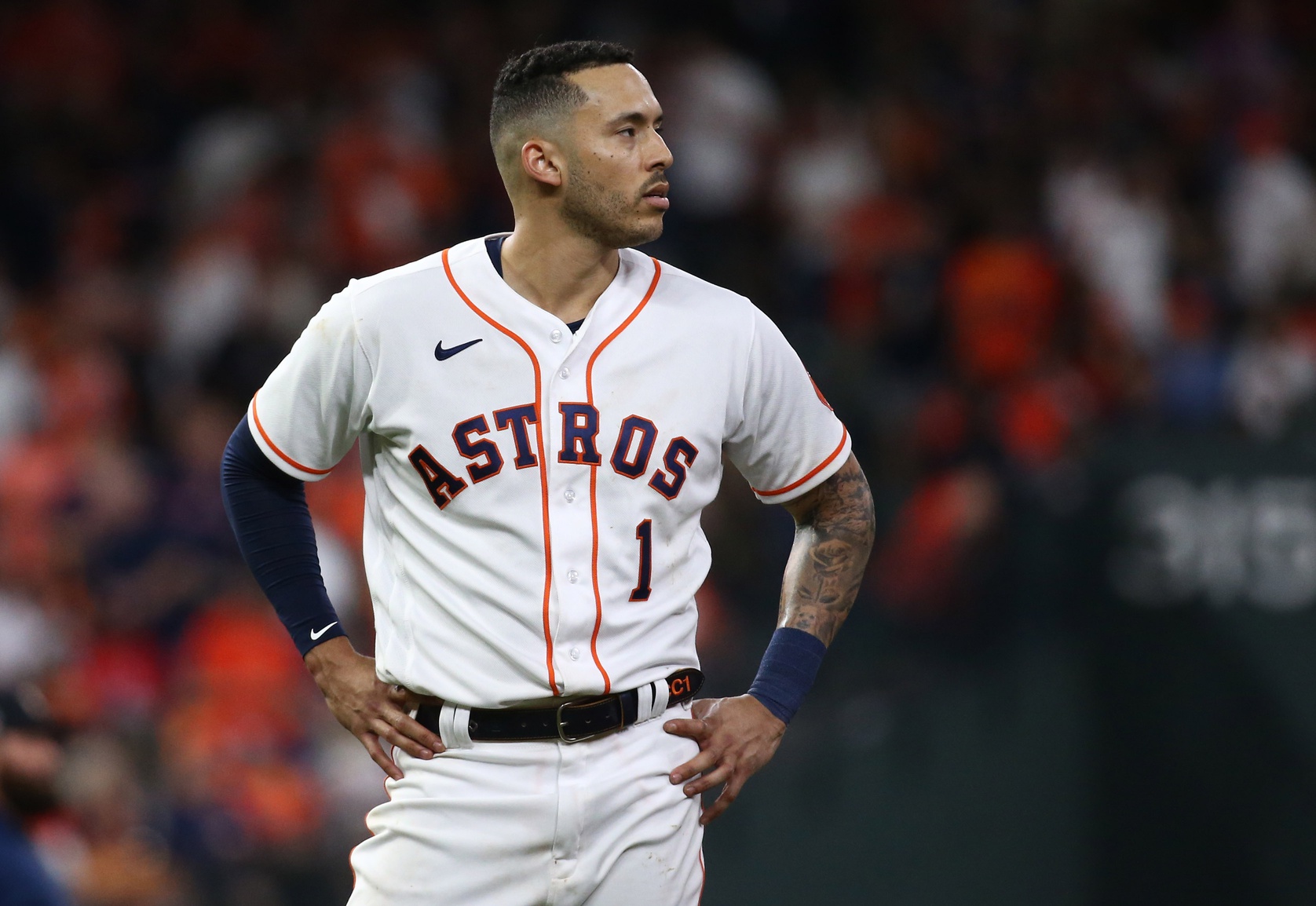 Image courtesy of © Troy Taormina-USA TODAY Sports
At the end of May, Carlos leads us deep into the heart of his old home, the World Series Champions' stompin' grounds:  Houston, Texas.  It's time to put the squeeze on the Astros!  Minute Maid Park.  Let's begin…
Minute Maid Park - 2022 attendance was 2,688,998 (ranked 2nd out of 15 AL teams, 7th overall MLB)
In the season's first one-city road trip of the 2023 season, we head to the ballpark that has hosted four of the last six World Series.  Yes…you heard that right…four of six.  Minute Maid Park carries history, scandal, success, and futility all in one amazingly crafted and retro-fitted setting. 
I think what's probably most important for Twins fans to appreciate about baseball in Houston can be traced back to the O.G. stadium: the Astrodome.  The sporting world's first fully enclosed and air-conditioned stadium, the Astrodome changed the game and almost all other games around the world.  The Astrodome gave us the first synthetic turf playing surface (hence why we call all the new stuff Astroturf even if it isn't!), the ability to play ball in any type of weather or geography, and the introduction of year-round civic and sports arenas within a city.  
The current ballpark was constructed around a former Union Station railway concourse, and harkens to the culture and community that it serves.  Oil, agriculture, trains, Bar-B-Q, Mexican food, boom/bust economics, and espionage/waste disposal (couldn't resist). The retractable roof might come into play in May, with an opportunity for outdoor baseball early and late in the season.  This element allows for a natural grass playing surface.
Originally named Enron Field in 2000, my kids' third favorite orange juice stepped up to the plate for naming rights once Enron imploded.  Hopefully the Minute Maid Train will fail to leave the station due to a lack of Astros homers, but recent history would argue to bet the "over."  The Twins are a mere 4-16 at Houston since 2015 after being swept there in 2022.
While our recent Twins connections with the Astros have more to do with Carlos Correa (who went 1-11 w/ 1 RBI in 2022 in his first return trip to Houston) than any real rivalry, there is a personal connection for me.  My first game at Target Field was a Sunday afternoon, August 4, 2013…against a ratty Astros team that boasted such young players as Jose Altuve, Jason Castro, Chris Carter, and Robbie Grossman. 
The Astros were clearly tanking.  The Twins were unclearly tanking.  While the Twins won the battle that day 3-2, they've lost the war quite decisively over the past decade.  If this year's squad has any hope of reaching postseason success, it might hinge on a three-day road trip in May where they are going to be tested by the best in the business.
I didn't get to Minute Maid Park in time to see the legendary and questionable "Tal's Hill" in centerfield.  The berm & flagpole served for quite a few highlights and lowlights for fielders, and it stretched the dimensions out to 436ft.  The hill left the building after the 2016 season, replaced by a restaurant, standing room seating, and a lower medical liability deductible. 
The dimensions also came in with it to a reasonable 406ft.  Interestingly, berms or mounds in the field of play used to be a way to give a better view to standing room overflow fans ON THE FIELD!!!  Can you imagine?  Showing up to a game, discovering that it was sold out, but being told to "Worry not!  Centerfield has some room for you!"  It sounds like an alternate reality.
I look forward to many things on the Houston trip.  Connecting with co-workers at one of our partner schools there, checking out the Space Center, and enjoying some beach and fishing time out at the Gulf of Mexico are potential highlights.  Mainly I'm just excited to watch high quality baseball, in a crazy cool stadium, alongside a fan-base that has doubled-down on their team.  I'm sure there will be many stops on my tour-de-baseball this year where the hometown fans could care less.  Houston ain't one of those stops.
With no connecting series, and Houston's hub and wheel road layout, making the drive might be the best option.  At 1058 miles and 16 hrs from Mitchell,SD, it's a trek.  The next road trip is a solo, globe-trotting mess of airports and logistics, so on a day when the FAA system crashes for several hours, the comfort of having my own wheels and family along for this ride ranks high on my planning priority list. 
Now it's your turn to plan!
And yes...if this is the first time you've seen one of my road trip pieces, I'm going to all of these away games.   Please join me in person or with some insider info! If you have been to Minute Maid Park, please post your list of "best seats" and "must sees."  Anyone else planning on going to this series?
Grace and peace Twins Territory!  Thanks for the help!
---
Previous Road Trip stories: