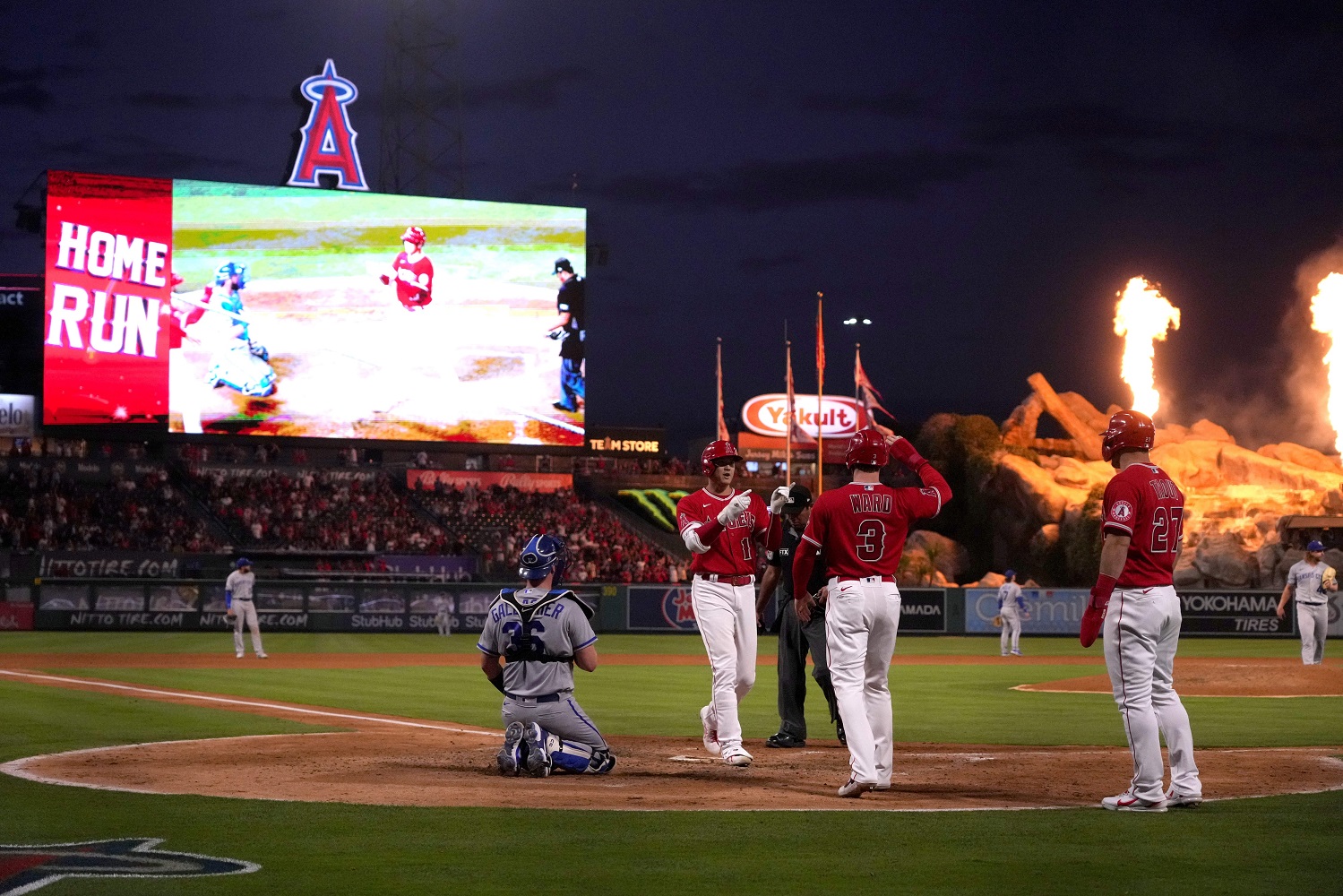 Image courtesy of Kirby Lee-USA TODAY Sports
May 15-17 @ LA Dodgers (3 games)
Dodgers Stadium - 2022 attendance was 3,861,408 (ranked 1st out of 15 NL teams, and 1st overall MLB)

Like the Twins, the Dodgers got their start in the Northeast and moved westward.  First settling in Los Angeles Memorial Coliseum, the Dodgers found their forever home in 1962 at Chavez Ravine.  Beautiful, breathtaking, "an aesthetic ideal" mirroring Hollywood itself, Dodgers Stadium tops many ballpark bucket lists.  The construction crew literally moved 8,000,000 cubic yards of rock and material amidst the natural landscape, slicing a piece of baseball heaven into place.  Jackie Robinson's presence exists inside and outside of the ballpark, with statues and stories in full display. 
With the Dodgers being a juggernaut on the field, finding affordable seats will prove equally daunting.  The Kirk Gibson Home Run Seat (section 302, right field pavilion, Row D, seat 88) stands (sits?) immortal.  If you haven't re-enacted that iconic scene from the 1988 World Series while playing baseball, or softball, or whiffle ball/ping pong/ice fishing for that matter…then you need to turn in your baseball fan card.  Just turn it in.  I look forward to seeing where it all took place. 
There is also the infamous Dodger Dog, made even more infamous by the 2023 Winter Meltdown's guest of honor Glen Perkins last season.  Needless to say, I will have to measure and weigh the consequences of my food reporting accordingly when on-site. 
The Twins have some World Series history with the Dodgers (sad face emoticon), but our recent efforts to beat them have been even worse.  The Dodgers have won 10 in a row against the Twins, dating back to 2011.  Yes.  We haven't beaten the Dodgers in over a decade.  So hint of a rivalry here, unless you can remember when Koufax was dealing and the Dodgers took all three at home in that ill-fated '65 World Series.
I don't have much personal history in LA, though I drove around the area for a few days in a rental car with small children once.  Let's just say that it becomes vital to plan bathroom and food stops BEFORE setting out upon the LA freeway system.  The Hollywood sign, Disneyland, Rodeo Drive, the Walk of Fame, Universal Studios, the ocean…all worth the trip in and of themselves.  Some of them free. Some of them the opposite of free. 
At 1585 miles from Mitchell, driving to Los Angeles will require a full 24 hours behind the wheel.  Renting a car for 7 days doesn't make my wallet feel great, and it's not a mass transit kind of town.  Everything I read about getting around in LA involves a car and a lot of traffic patience.  I'm exploring a Vegas "pre-series research weekend" flight leading to a rental car for the week.  The good news for this weary traveler is that the next series also involves the shortest "connection" travel between series for this season.  31 miles!  Just down the freeway to…
May 19-21 @ LA Angels (3 games)
Angel Stadium - 2022 attendance was 2,457,461 (ranked 5th out of 15 AL teams, 13th overall MLB)

To say that Angel Stadium exists because Disney exists isn't an overstatement.  The birth of Disneyland in 1955 led to the pursuit of community development in the Anaheim area.  In 1966, that pursuit involved building a baseball stadium, then known as Anaheim Stadium.  The 1980's brought a change in architecture, as the NFL Rams filled in the outfield seating area to increase capacity.  1998 brought a return to the open-concept outfield, as the Disney corporation placed its imprint upon the setting and installed the "Outfield Extravaganza" rock pile in left-center field. 
Mike Trout hits baseballs there for a living.  Shohei Ohtani embodies a modern version of Babe Ruth there daily as well.  Attendance remains high, despite the losing ways of the club in general.  Angel Stadium seats 45,050, (approx. 11,000 less than Dodger Stadium), but I wonder what might happen if the Angels could get on a roll again.  That being said, a rough April might lead to whispers of trades for Ohtani in his last contract year…which could add some excitement to the mix.
Chilly LA nights in the early and late parts of the season mean layering up for this road trip.  While the days are cookie-cutter beautiful and mid-70s, the nights will remind me of home.  Angel Stadium contains some connection to Twins lore, as it was the ballpark that stole Torii Hunter from us, and the site of the beginning of our playoff futility in 2002 (technically the futility started in Game 2 at the Metrodome, but I'm gonna go ahead and blame Angel Stadium since the Dome is no longer around to defend itself).  In 2019, the Bomba Squad unleashed 8 homers during a game at Anaheim en route to their record-breaking season.  The Twins did a modified version of this same road trip in August 2022, fresh off the trade deadline and with the season on the line, and came away 1-4.  Here's to hoping for a dramatic reversal in the land of movie immortality.
Again, having a car is the name of the game when traveling around Angel Stadium.  There is a bus option from downtown LA, but that doesn't scream "relaxing road trip" to me.  Also, with Disneyland right around the corner, there is no shortage of hotel options in Anaheim. 
At only 2.5 miles slightly SE of Disneyland, a guy has to go, right? Perhaps I can convince a few of the players to join me for some roller coasters???  If that's a hard pass, maybe I can convince the Rally Monkey to take a stroll with me to the La Brea tar pits to fulfill a promise I made back in 2002…
Now it's your turn to plan!
If you have been to either Dodger Stadium or Angel Stadium, please post your list of "best seats" and "must sees."  Anyone else planning on going to this series?
Grace and peace Twins Territory!  Thanks for the help!