The Gophers are back playing baseball in Minnesota today. The first pitch is at 6 PM on B1G+, and for those of you looking to take in a baseball game in person, they will be at Zigi's house, US Bank stadium.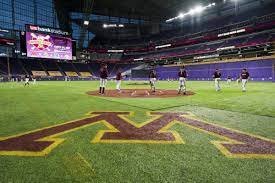 The mid-week tilt will be against UW Milwaukee, who comes to town with a 4-2 record. The Panthers are paced offensively by Luke Seidel, who is 6-6 on stolen bases in as many games. He also boasts a .824 OPS as he holds down left field and the leadoff spot for UW Milwaukee.
The Gophers limp into US Bank for their first home game after taking some tough losses to St Louis in Fort Myers last weekend. The Gophers are looking to bounce back with some home cooking against Wisconsin's only Division-I baseball team by giving the ball to Eden Prairie's own Ben Shepard. A right-hander that has pitched in a limited role so far this year but has seized his opportunities, and the University of Minnesota Duluth transfer will look to shut down the Panthers.
On offense, the player I would like to highlight this week as your player to watch is Ike Mezzenga. The younger brother of Ben Mezzenga, a teammate of mine from 2016-2018, Ben was a fantastic leadoff-type bat who had incredible quickness (I did beat him in the 60, I want that on record). (Editor's note: @Alex Boxwell, you are the author, you can put it on the record. I won't research it!)  While Ben was a relatively easy prospect to identify with his bat-to-ball skill and great speed and quickness, Ike has a different journey, making him potentially even more exciting follow than his brother.
Ike did not jump off the page as a high-school prospect, not to mention his senior season was washed due to the COVID pandemic. He bet on himself and attended the nationally-renowned developmental junior college Northern Iowa Area Community College (NIACC). As a freshman at NIACC, Mezzenga saw few opportunities and struggled in his 40 at-bats. However, continuing to develop as a ball player and an athlete, he burst onto the scene as a sophomore and quickly put himself on the radar of four-year schools.
As a sophomore, he had a three/four/five season, which has become the measure of having an outstanding offensive season. A three/four/five season refers to the slash line of .300/.400/.500 or better. Ike had an impressive .345/.423/.565 season, with 15 home runs in 53 games at NIACC.
Mezzenga had a long road to becoming a Gopher but has shown that he can adjust to the level early this season, hitting fifth in the order and playing multiple positions while holding a .391/.462/.565 slash line going into play on Wednesday. 
He is a player I'm excited to follow because there's no reason for his development to stop now. Limited recruiting interest out of high school, not playing well as a freshman at NIACC, he has shown the most important quality you need as a high-level hitter, and that is when he gets knocked down, he gets back up. 
Look for Ike to provide some pop in the middle of the Gopher order this season and continue refining his game into being a professional prospect.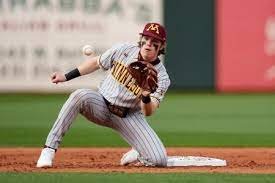 The Gophers will continue to improve throughout this season as this group learns how to succeed at this level of play. They will also be tested this weekend with #7 Vanderbilt and #4 Ole Miss matchups this weekend. Big measuring stick weekend is coming. If you want to play college baseball, it doesn't get any better than that. If you want to watch some college baseball, head to US Bank Stadium on Friday, Saturday and Sunday. 
Go Gophers