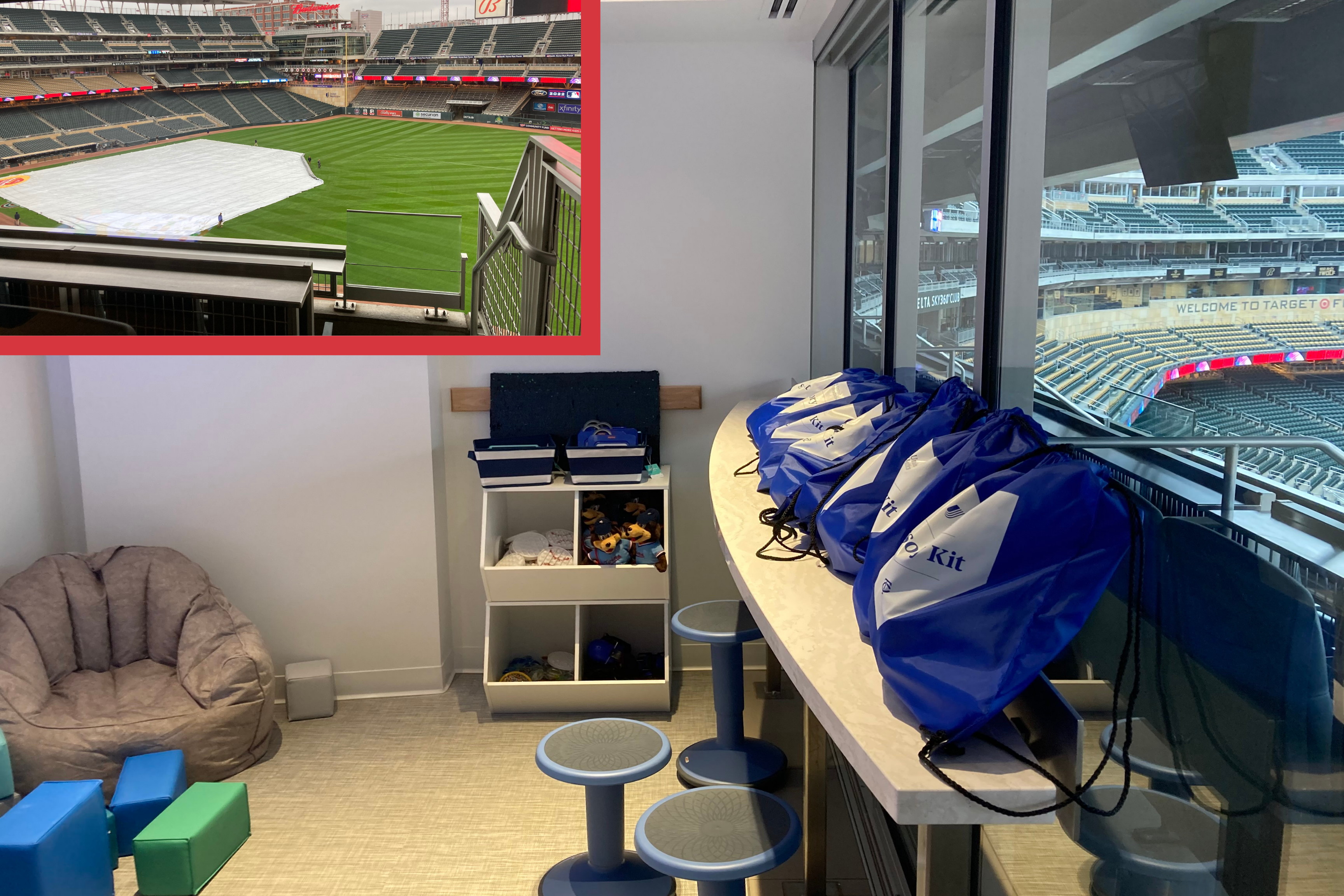 Image courtesy of David Youngs, Twins Daily
Friday's highly-anticipated home opener isn't the only exciting, fresh beginning at Target Field. 
Joined by UnitedHealthcare CEO Brett Edelson, the Twins officially unveiled their brand new UnitedHealth Sensory Suite on Tuesday afternoon at Target Field. 
Grounded in providing a more inclusive gameday experience for all fans, the suite will strive to provide a welcoming, compatible, and calming environment for neuroatypical fans seeking respite. 
"Since opening in 2010, we've worked really hard to ensure that Target Field is accessible to everyone," Twins President Dave St. Peter said on Tuesday. "This suite is going to allow so many people who maybe otherwise wouldn't be able to enjoy a day at the ballpark to do so now."
The suite features several sensory rooms with various traits, toys, and features catering to fans of different age generations. 
"It's a very intricate design of spaces that are quiet, spaces that have sensitivity around different sensory disorders, and features to be inclusive to all fans," Edelson said.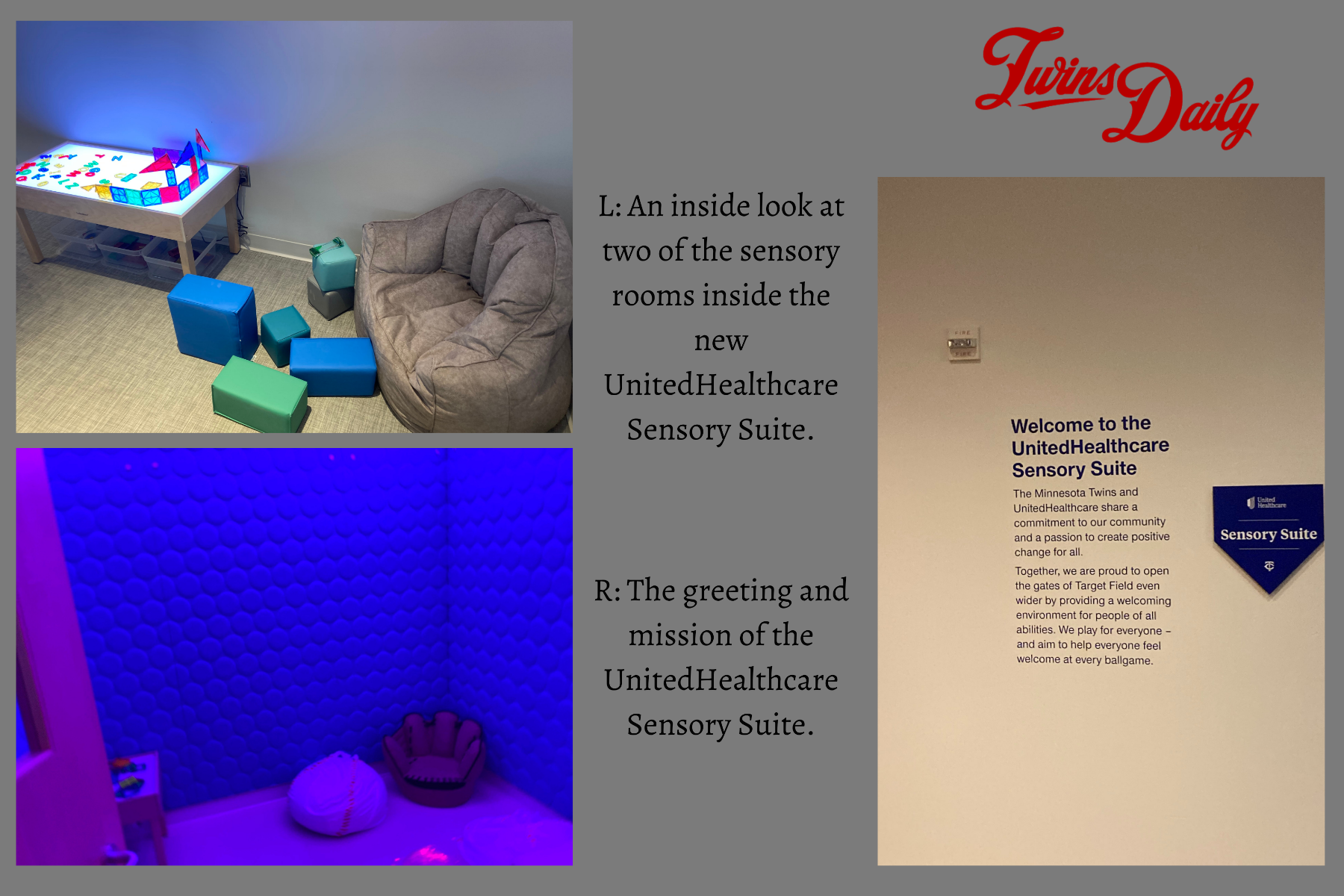 Yet the real difference maker is the front portion of the suite, which offers a beautiful overlook of the playing surface at Target Field. 
"One of the greatest pieces of feedback that we got during the process was 'how can we actually see the game?'" Edelson said. "Having the fantastic view of the field, that was so important to everyone."
And while other professional sports teams offer similar spaces, the sensory suite at Target Field goes above and beyond. 
"Other teams have spaces like this, but ours takes it to the next level," Twins Senior Manager of Business Communications Matt Hodson said. "Any team that has a space is doing the right thing, but oftentimes those spaces are tucked away in a service area and can be just one room. We are being very intentional with the individualized spaces in this process."
Providing proper and inclusive accommodations for fans is not a one-size-fits-all scenario. That's why the Twins, UnitedHealthcare, and Fraser will be working with guest service staff members to help equip them to best serve neuroatypical fans throughout Target Field. 
"We took a step back and said, 'Not everyone is going to come to the suite, (some fans) want to have that gameday experience at the ballpark,'" Edelson said. "We are offering training to all the guest service staff members so they can help families make the most of their gameday experience." 
In an industry that is often viewed through a lens of results on the field, it's important to remember the human side of baseball. The Twins have long served as champions of bridging the gap between baseball and the needs of our society. 
"We found through our listenings in the community that this was something that we were missing," Hodson said. "We were missing the environment where families and individuals who are neuroatypical could enjoy the ballpark experience."
And while the implementation certainly creates a great story, the Twins organization will continue to use its platform to best serve community members of all walks of life. 
"This organization does the right thing because it's the right thing to do," Hodson said. "When we say 'all are welcome at Target Field, we truly mean it." 
 
UnitedHealthcare Sensory Suite: What to Know
The new UnitedHealthcare Sensory Suite is an attempt to provide a different way to watch #MNTwins games for neuroatypical fans that might be a little overwhelmed at the ballpark. 
It includes a balcony that overlooks the game and two inside rooms that provide a quieter environment, designed by UnitedHealthcare in partnership with Fraser, with neuroatypical kids and adults in mind. 
The suite is in the newly branded UnitedHealthcare Suite Level, which most fans previously didn't have access to. It's right next to the elevators near the right-field foul pole, so it's very accessible. 
Twins game day staff will be trained to best serve neuroatypical fans that may not want to use the suite. 
The Twins, UnitedHealthcare, and Fraser will provide sensory kits for guests to check out, free of charge, at Guest Services stations throughout Target Field.
The sensory suite was a designed build, meaning that additions and recommendations from field experts were utilized in the building process.