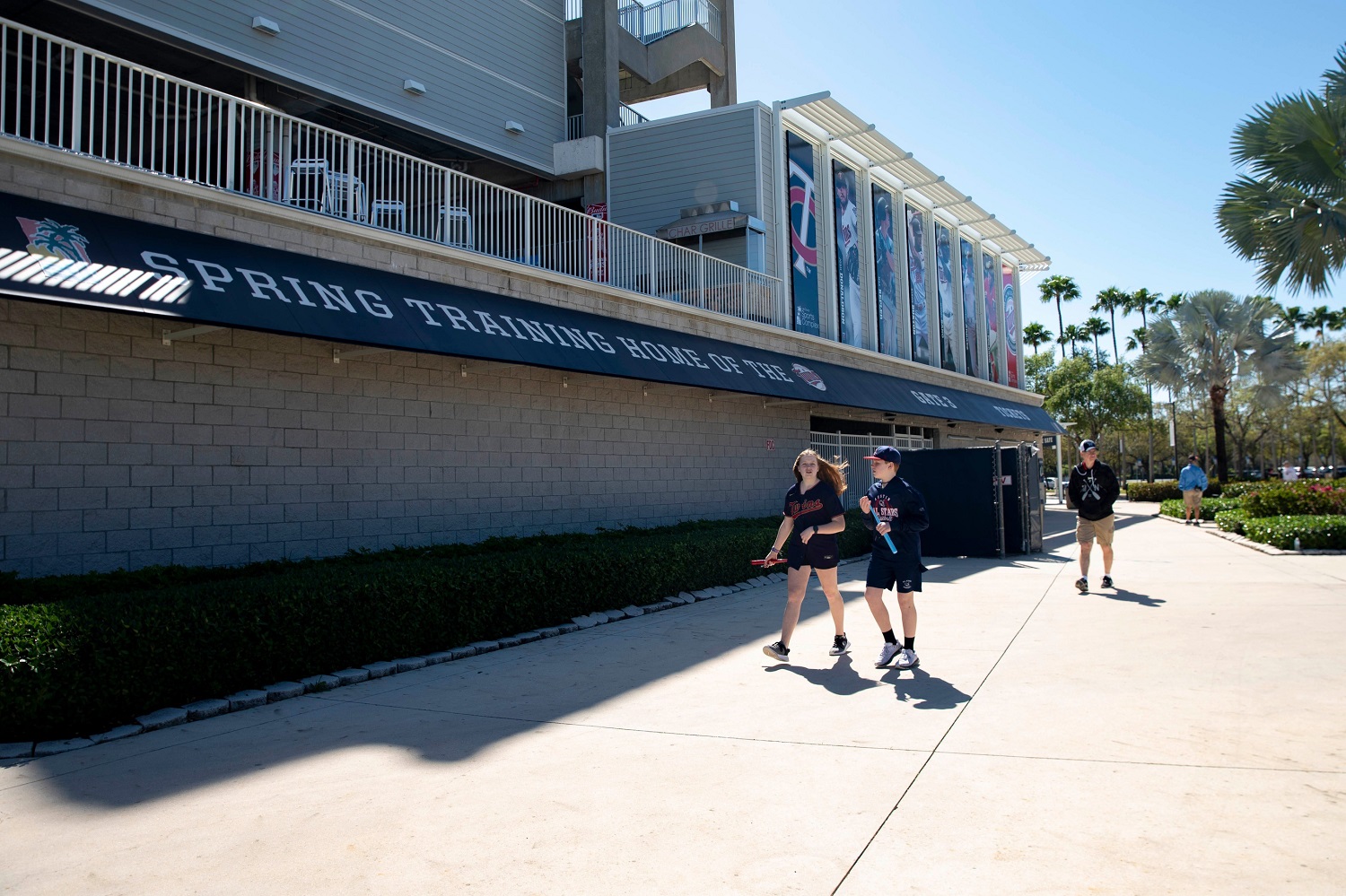 Image courtesy of Landon Bost/Naples Daily News
The Twins Spring Training Complex in Ft. Myers was one of many locations in Lee County that suffered damages from the landfall of Hurricane Ian on September 28. 
Fortunately, the Lee County Sports Complex suffered minimal damage, with some water intrusion that has already been repaired and ballpark cosmetics. What damages the complex did suffer have either been renovated or are nearly close to full renovations as the Twins expect to reopen the doors to the complex on Monday, December 5. 
The damages of Hurricane Ian's impact on southwest Florida are still visible to visitors today though as the beaches in Fort Myers are still bearing scars of the storm. 
"My wife and I drove down there during the first week of November and it was about 35 days after the hurricane," said Matt Hoy, Senior Vice President of Operations for the Twins. "I've stayed on Fort Myers Beach every year for spring training for the last 30 years. And seeing the damage we immediately started crying, it was devastating. You don't realize the magnitude of the destruction until you see it with your own eyes."
With only minor damages to the complex and less than a mile from Lee County hospital. The Twins organization offered up the complex as a staging ground for first responders in the two months to follow Hurricane Ian's landfall. 
"It was an amazing display of resources that were set up on-site there. We're a member of this community, and we want to make sure that we help in any way we can. So anytime there's an emergency like this, we tell first responders, you guys do what you need to do, and utilize the facility accordingly," said Hoy. 
John Vittas, Broadcasting and Media Relations Director for the Twins Low-A affiliate the Ft. Myers Mighty Mussels, spent time helping evacuate the complex before Hurricane Ian's impact on Lee County.
Following the storm damage, Vittas and many other Mighty Mussels and Twins employees in the area immediately volunteered their time to World Central Kitchen as the non-profit set up base in the player development complex. 
"I personally put in some hours with World Central Kitchen and helping a few friends in the area, some of the Mussels employees took it upon themselves to put in 40-plus hours per week. That type of commitment should definitely be recognized. The love and assistance that volunteers showed to those affected in our area was truly inspiring," said Vittas.
While the Twins player development complex was used as a staging ground for first responders and World Central Kitchen. The Twins prospect mini-camps for the fall were moved to Target Field.
Pitchers and catchers still have over two months before they start reporting to Lee County for spring training, but Twins fans are already making plans for their annual spring training trips. Vittas says Twins fans can expect the immediate area around Hammond Stadium to look "completely recognizable and just as sunny and vibrant as always."
The beaches are a different story. 
Vittas said, "Various organizations are working hard to restore the beaches back to their original state, but that will take time. Some Fort Myers beaches may be available to visitors by February, but I'd imagine the traffic and finding space will be challenging. Twins fans could look into using beaches in the Venice/Sarasota area or further up the coast."
The assistance from the Twins organization to Hurricane Ian relief efforts will not be stopping any time soon as Vittas shared the Mighty Mussels front office plans to honor first responders of Hurricane Ian during the 2023 season. 
"We are looking into several ways to honor first responders and to help fundraise for the communities most affected. The community has always been the largest pillar of Minor League Baseball, and it's times like these that Minor League teams can truly make a positive impact," said Vittas.
If Twins fans would like to contribute to Lee County recovery efforts that are still in place, they can make donations on the Lee County government website at the Hurricane Ian Relief Fund.