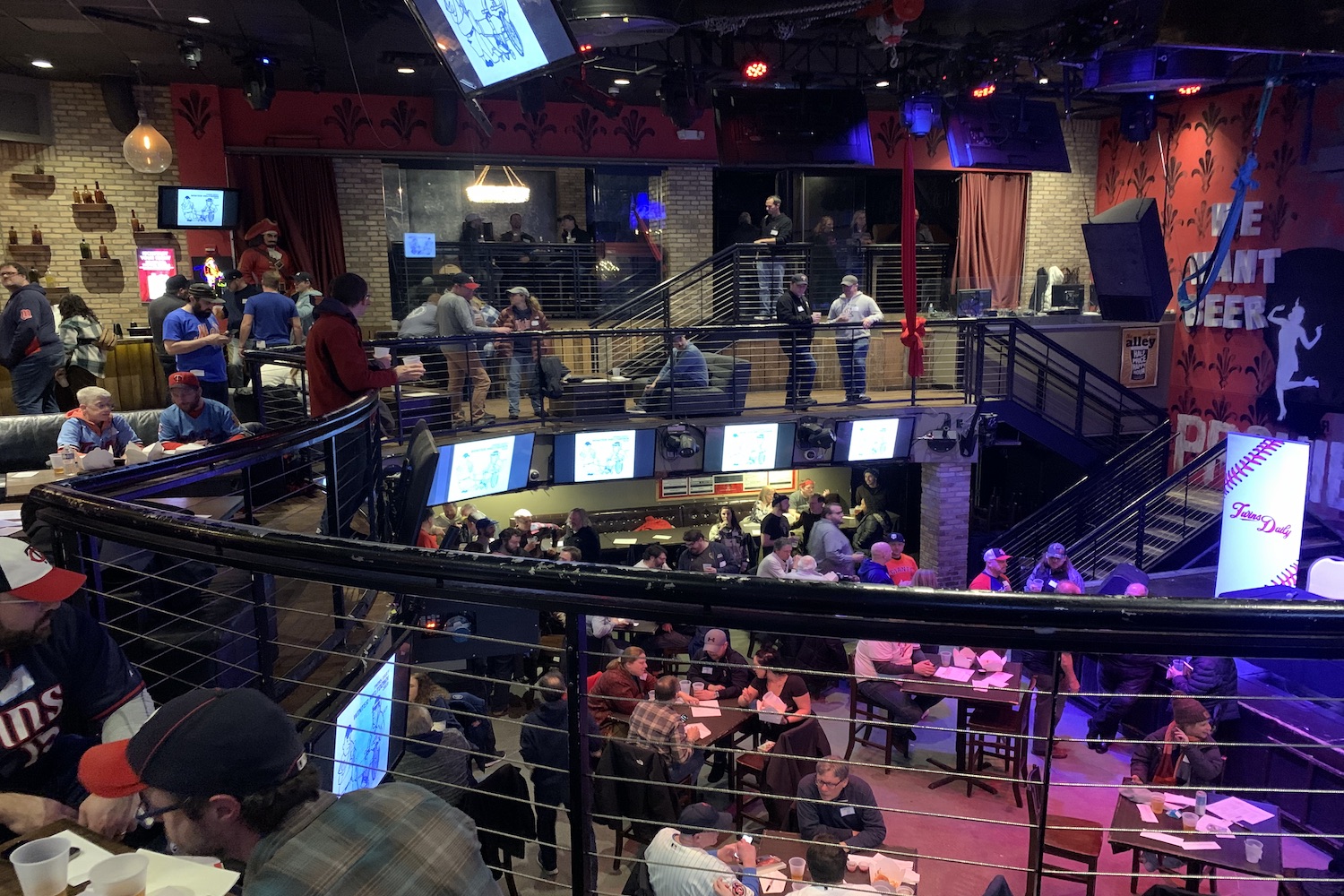 Taking place a few blocks away from Target Field at The Pourhouse, the 2023 Winter Meltdown brought together hundreds of people for a lively night of food, drinks, and baseball chatter. 
The staff at the venue did an excellent job keeping up with a huge crowd of attendees, serving up tasty 612Brew beers, snacks, sliders, and more. Twins fans and media, many having walked over from TwinsFest at Target Field, filled both of Pourhouse's two levels to catch the action on-stage, which featured Aaron Gleeman and John Bonnes interviewing two iconic figures in Twins media, as well as several interactive games and giveaways. 
The first interviewee was legendary columnist Patrick Reusse, fresh off being recognized by the Twins with the Herb Carneal Lifetime Achievement Award in honor of his decades covering the team. As always, Reusse was full of amusing anecdotes and snarky one-liners, sharing his thoughts on the Luis Arraez trade, Joey Gallo's strikeouts, and MLB's rule changes, among other things.
Reusse was followed by featured speaker Glen Perkins, a former three-time All Star closer for the Twins who now serves as analyst and commentator for the Bally Sports North broadcast team. In the past I've called Perkins a Twins Daily Hall of Famer: a hometown big-leaguer who was one of the team's best players throughout the site's early years of existence, adopted an analytical mindset midway through his career, and once famously bought a bunch of TD pub-crawlers a round of beers from the bullpen during a rain delay.
He was a perfect headliner for the Winter Meltdown's return, and was a great guest, reminiscing on his playing days while also sharing insights about the current team and the state of baseball. I found particularly interesting Perk's explanation of how the front office influences the contents of the TV broadcast: the increased presence of people like him who can speak to the analytical side of baseball is no coincidence. As he put it, they want fans and viewers to gain a better understanding of the game through this lens because it's fundamental to how they build and run the team.
If you missed the event, you can catch recordings of both Reusse's and Perkins' interviews on the latest episode of the Gleeman and the Geek podcast.
There were plenty of other highlights from the night, including some recognizable faces among the crowd (I enjoyed catching up with former Minneapolis mayor and staunch Twins Daily advocate RT Rybak) along with plenty of great apparel on display. The rebrand seems to be resonating with the fanbase, as the updated logo and styles were quite prevalent.
With that said, the "best dressed" award has to go to the combo of Aaron Rupar and Brett Howe, who were sporting Giants and Mets Carlos Correa shirseys, respectively.
It's all part of the unique Winter Meltdown experience that I have missed so dearly over these past two years. I'm filled with gratitude for everyone who played part in making it happen, and who came out to make it what it was. 
HUGE thank you Bonnes, who did a majority of the legwork on planning and overseeing the event. Big thanks also to Reusse and Perkins, who were among the most engaging guests we've had; The Pourhouse for hosting us with such great accommodations; and to 612Brew for supplying the beers and take-home pint glasses. 
The scale this event has reached is truly amazing to me, and speaks to the powerful sense of community among Twins fans, and surrounding this website specifically. We appreciate you all. If you didn't make it this year, I hope to see you at next year's Meltdown – or better yet, this summer at the ballpark.