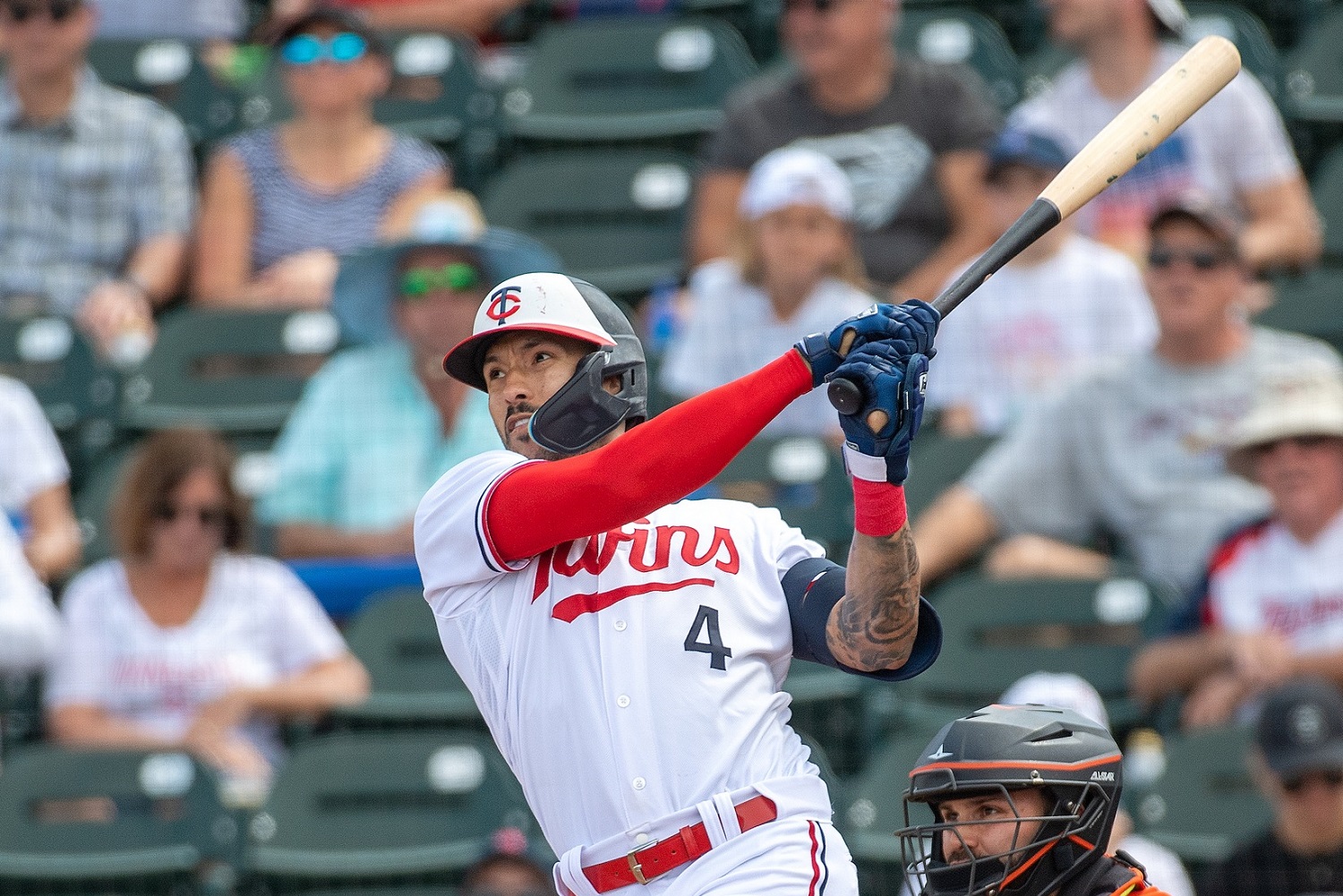 Image courtesy of William Parmeter
Going into the off-season, it was clear that retaining Carlos Correa was the main objective for the Twins. While countless injuries forced the team into a crash-landing in September, their star shortstop's engine was still firing on all cylinders. Sadly, his incredible performance over the season's final 50 games went relatively unnoticed by most, as the cabin became too filled with the smoke of another lost season.
With Correa settled back into a corner locker in the Twins' clubhouse, the hope is that the subtle changes to his swing that propelled him through the end of a tumultuous season will once again prove successful. Perhaps he can even soar to new heights with continued tutelage from hitting coach David Popkins. That's going to be a tall task, as Correa was one of the best hitters in the game through the homestretch of 2022. 
So how good was he, and how reasonable is it to expect even more from C4 in 2023?
The last 50 games of Correa's 2022 campaign were indeed phenomenal. His season as a whole was certainly above average, but this final stretch was the type of performance that many imagined when he was inked to a $35.1 million guarantee in March. From the start of the season until August 11th, Correa had a strong slash line of .264/.340/.427, good for 21% better than league average. That's roughly borderline all star level play, but notably worse than his career 130 wRC+.

HIs incredible play from August 12th through the end of the season was the type of stretch that leads contending teams to deep playoff runs. In that span, he had an other-worldly .339/.411/.536 (172 wRC+) in 50 games played, despite his teams' brutal record. 
Twins Daily's own Parker Hageman
went to Twitter
to break down some of the subtle adjustments that Correa made with Popkins' direction. Most notably, the slugger adjusted his swing delivery and posture in an effort to clean up his bat path. Dan Hayes of The Athletic also
wrote in great detail
about the change in approach that Correa was undertaking through the season. 
"The goal was to incorporate natural movements from when Correa previously experienced success," Hayes wrote. "Popkins said the first change was to create a more direct path to the ball. Next, they worked on reducing the amount of loop in Correa's barrel."
As Hageman noted in his analysis, having a cleaner bat path helped Correa to do more damage when hitting high-velocity pitches later in the season. In fact, there were very few players in baseball that did this better than the star slugger in September. According to Inside Edge, Correa batted .545 with a whopping .955 slugging percentage on pitches 95 MPH or greater in the last 30 days of the season. That was best in baseball among qualified hitters.
These adjustments that
Carlos Correa
made also helped him to lower his strikeout rate that had skyrocketed over the first month of the season. In April, he had a strikeout in 29.6% of his at-bats. By September, that rate fell back down to his career norm, which is roughly 20.3%. In the last month of the season. In that timeframe, Correa thrived when the count reached two strikes. He batted .286 when he had two strikes against him and he had a .529 slugging percentage, good for second-best in all of baseball. 
With a more traditional off-season that wasn't limited by a leaguewide lockout, the hope is that these changes to Correa's swing will stick and that he will continue to develop alongside
David Popkins
. Not only that, but the coach's success working with Correa will hopefully continue to increase his reputation throughout the organization as he heads into his second year with the club. 
"Midway through last season, Correa began encouraging teammates to work with Popkins, providing a young coach with much-needed credibility in the clubhouse." Hayes wrote. 
If the rest of the team can adjust and improve as Correa did in 2022, while maintaining good health in the homestretch, the Twins will avoid the catastrophe that fans suffered through last September. With Popkins flying the plane and Correa sitting in as a co-pilot, the club can avoid a crash-landing and hopefully touch down on the 2023 postseason landing strip. 
What do you think? Will Correa be able to carry these subtle changes to his swing into the 2023 season? Let us know in the comment section below.