The pandemic, the economy and 2021 baseball
---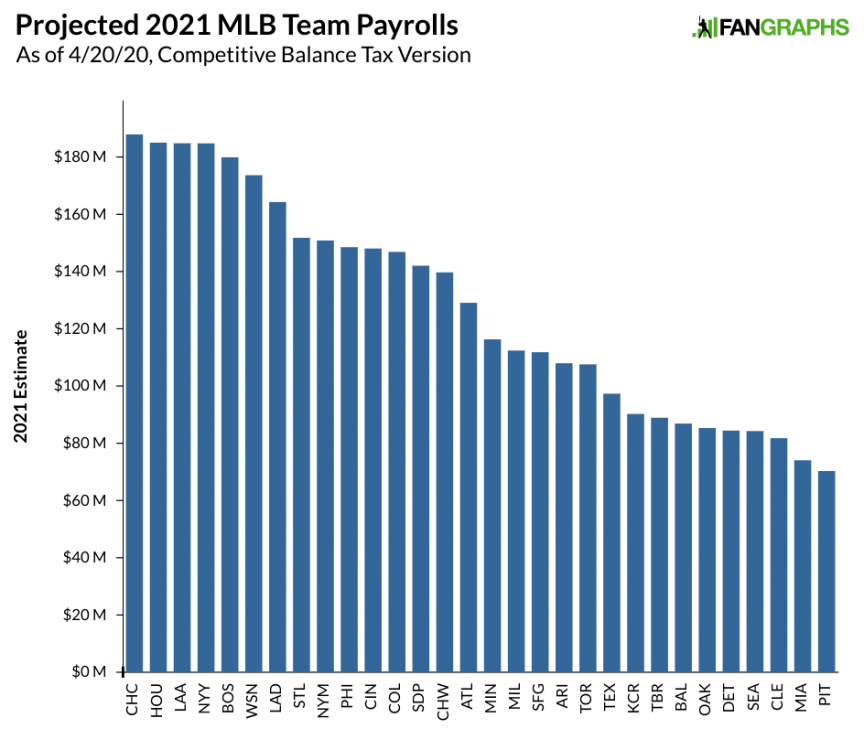 The baseball owners through their lackey – Rob Manfred – have declared that they lost substantial and unsubstantiated amounts of money in 2020. A May 2020 CNBC report said, "Under the MLB's plan, the highest-paid players could lose about 80% of their salaries, while players making the least amount could keep up to 90% of their pay. The plan calls for players to retain their salary via a tier system. In short, the more a player is scheduled to earn for the 2020 season, the less he retains under the plan." There were alterations to the initial plan, but executives were doing what they always do, reducing losses.
In August 2020, FOX business reported, "Major League Baseball salaries plummeted to their lowest level since 1996 this year during a coronavirus pandemic that forced a shorter season and limited paychecks for players…"
October 20 Bleacher Report said, "After the COVID-19 pandemic forced 898 regular-season games to go on without fans this summer, MLB's 30 teams dropped a combined total of $3 billion in operating losses.
"The clubs have done a really good job locally and we tried to do a good job centrally," Manfred told Ronald Blum of the Associated Press. "The liquidity is sufficient to get us through 2020. I think if we're faced with limited activity next year and the kind of losses that we suffered this year, again, it will become more of a problem."
Every article on TD and other sites say that salaries are going way down, free agency will be highly impacted and there were a number of very good players – Wong, Hand among them that were released when in the past their options would have been picked up.
Since the wealth of owners, the paycheck for Manfred and the pay to the players is in a stratosphere that I cannot imagine it is still fascinating to see the billionaires taking advantage of this Covid opportunity.
We can look back to the great depression when the baseball player was in a similar situation and then the wages were really determined by attendance. In a fascinating Sabr article the author found that the actual cuts in players' salaries were common but did not match the percent that the drop in attendance would have demanded. Instead, like we are seeing so far this offseason, "When an owner determined that a player was no longer performing at a level worthy of his salary, he was more likely to waive him than cut his salary. When he was waived, he was likely to be replaced by a lower cost player, and the lowest cost players were almost always rookies."
The essay also saw a change in long term contracts, "as the economy worsened, teams proved even less willing to make long term commitments to players." http://research.sabr.org/business/download/BoB-2009-2.pdf
In 1918 the Spanish Flu and WWI had taken a toll on baseball too and the season was reduced in length to 126 games. "In desperate need of hitters after losing some 13 players to the war, Red Sox manager Ed Barrow turned to his best pitcher, Ruth, who had won 24 games the year before (2.01 ERA), while hitting just two home runs." In May: The Babe got the flu, and when the Red Sox physician treated him with silver nitrate, it only made things worse, causing him to choke and pass out. After being rushed to the hospital, there were rumors that Ruth was on his death bed. https://www.axios.com/coronavirus-spanish-flu-baseball-1918-f498f2d4-7726-4a02-a5f5-59c63d982764.html
As a side note - Prince Fielder was owed $24million this year, despite the fact he was not playing. That is the beauty of guaranteed contracts and why owners are hesitant to give them. Ken Griffey gets #3.6 million through 2024, and Manny Ramirez gets $2 M per year through 2026. "Bobby Bonilla is a retired MLB player who last took the field in 2001, but, 20 years later, is still getting paid $1.2 million a year by the New York Mets. In fact, he'll get p/aid $1,193,248.20 a year every year until 2035, when Bonilla is 72 entire years old." https://www.sportscasting.com/retired-athletes-big-paydays-former-teams/
During the World Series a crisis was averted as the two teams traveled by train together and talked about holding out for more money. The public was irate and soon Boston would be trading Ruth – retaliation? Who knows?
Whether the reserve clause, the outlaw leagues, or the changes in media coverage the tussle between owner and player has never been smooth and no sport is immune to the economy, wars, or other factors. Now we have a CBA coming to an end, terrible player/owner/management relationships, players released, and no idea what the next season will be. How do those who are supposed to put together a roster manipulate through this haze? What will the Twins do? What do players do?
I have to add this addendum - the Twins just let go two of their long-term coaches from the Appalachian League - Smith and Reed had a long history with us, but that means nothing in the new cut throat MLB that is cutting teams, leagues, coaches, players. Is Covid a reason or an excuse? Stay tuned.