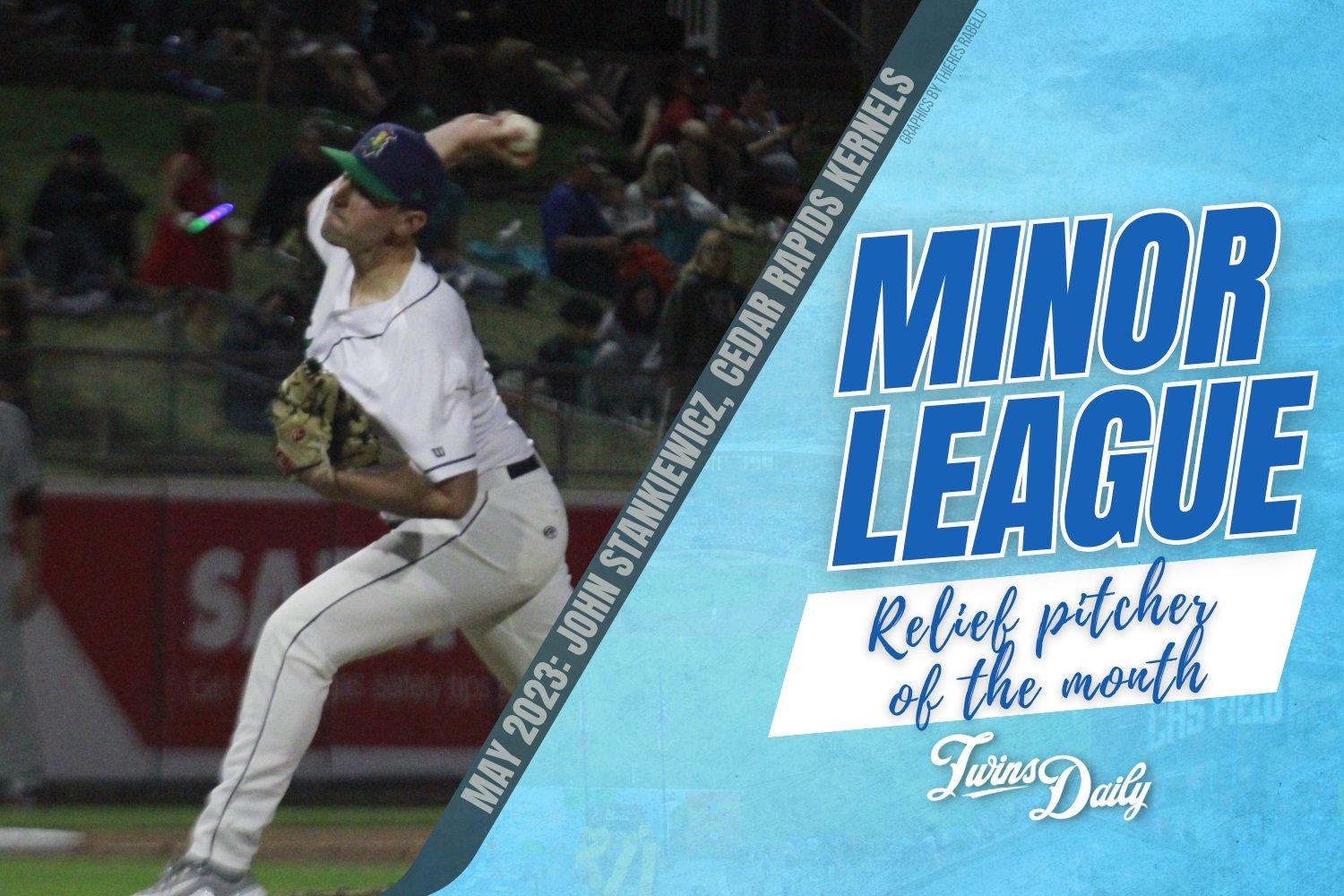 Image courtesy of McKenzie Short (Cedar Rapids Kernels), graphics by Thieres Rabelo
Being a minor league relief pitcher is arguably the most peculiar position a professional baseball player could find themselves in. Typically, minor league pitchers find themselves as either being supplanted as starting pitchers who are working on their craft with hopes of making it to the big leagues, or they are in a complex transitional phase where they are being converted from starters to relievers, as being a reliever gives them a more straightforward path to contributing to their respective Major League club. Very few are just relief pitchers.
Some on this list fit the mold of a pure relief pitcher, and some fit the mold of a former starter transitioning into a relief role with hopes of making the Major League club.
To begin, let's take a look at the honorable mentions.
RHP Austin Schulfer - St. Paul Saints - 8 G, 2.53 ERA, 1.41 WHIP, 10.2 IP, 8 H, 7 BB, 8 K
RHP Regi Grace - Cedar Rapids Kernels - 8 G, 2.00 ERA, 1.11 WHIP, 9.0 IP, 8 H, 2 BB, 10 K
RHP Patrick Murphy - St. Paul Saints - 9 G, 0.69 ERA, 1.46 WHIP, 13.0 IP, 7 H, 12 BB, 13 K
Top Five Relief Pitchers for May 2023:

#5. LHP Zach Veen - Fort Myers Mighty Mussels - 7 G, 0.00 ERA, 1.30 WHIP, 10.0 IP, 11 H, 2 BB, 10 K
We start the Top Five list with the homonymic adjacent named relief pitcher of prized Colorado Rockies prospect Zac Veen. Despite not being the #30 ranked prospect on MLB.com like his homonymic doppelganger Zac, Veen, in his second year of professional baseball, has impressed enough that a Major League baseball career just might be in his future. Through seven appearances in May, Veen pitched himself to a perfect ERA of 0.00, a WHIP of 1.30, and, as he did in April, the same amount of strikeouts as the number of innings pitched with ten. Veen has dominated at the Low-A level as a top reliever for the Mighty Mussels throughout the first two months of the minor-league season, and that is why he has made the Top 5 Twins Minor League Reliever of the Month list in back-to-back months. 
#4. LHP Kody Funderburk - St. Paul Saints - 9 G, 3.86 ERA, 1.37 WHIP, 11.2 IP, 12 H, 4 BB, 18 K
Speaking of homonyms, number four on this list comes in the form of Kody Funderburk. Despite having same-sounding first names, our German last names couldn't be much different if they tried. Funderburk translates to "the dweller near a rocky mountain, or beside the bank of a river," while my last name, Schoenmann, translates to "beautiful man." Although Funderburk's ancestors spent time dwelling by a river, while mine spent time looking beautiful, our situations are much different nowadays.
Kody spends his time pitching for the Triple-A St. Paul Saints, while I last played organized baseball when I graduated high school in 2018. Also, Kody is much more handsome than I am. To discuss Funderburk's pitching, the first number that pops out is that he has 18 strikeouts through 11 2/3 innings pitched. If Caleb Theilbar's return to the Twins weren't imminent, it wouldn't be beyond rational to think that Funderburk could be a contributing left-handed bullpen arm for the Twins at this very moment. Funderburk needs to lower his walk and hit rates if he wants to pitch for the Twins this season.
3. RHP Gianluca Dalatri - Cedar Rapids Kernels - 6 G, 1.17 ERA, 0.78 WHIP, 7.2 IP, 3 H, 3 BB, 7 K
Gianluca Dalatri's unique professional baseball career has made its way to the Twins organization after signing a minor-league contract on May 4th. Dalatri was drafted by the Detroit Tigers in the 40th round of the 2019 draft out of the University of North Carolina-Chapel Hill. Dalatri never appeared for the Tigers organization and instead started his professional career with the Palm Beach Cardinals of the St. Louis Cardinals organization in 2021. Dalatri stayed with the Cardinals organization through 2022 and got as high as Double-A before being released by the Cardinals at the beginning of the 2023 MLB season. 
On May 4th, Dalatri signed with the Minnesota Twins and was assigned to the High-A Cedar Rapids Kernels. Since joining the Kernels, Dalatri has done nothing but impress. Dalatri has used a three-pitch repertoire that contains a 94-95 MPH fastball, an 87-88 MPH cutter, and an 80-81 MPH slider to dominate Single-A hitting while generating a 0.78 WHIP and seven strikeouts in 7 2/3 innings pitched during May. It will be interesting to see if Dalatri can continue to impress and work his way up through the Twins organization.
2. RHP Oliver Ortega - St. Paul Saints - 8 G, 0.00 ERA, 0.97 WHIP, 10.1 IP, 6 H, 4 BB, 10 K
Ortega, who the Twins claimed off of waivers from the Los Angeles Angels, a move that led to the recently breaking out Blayne Enlow getting designated for assignment, has impressed during his time with the Triple-A St. Paul Saints. On April 6th, Ortega was placed on the 7-day injured list with a right shoulder strain and couldn't return to game action until nearly a month later, on May 3rd. After missing a month, Ortega bounced back by putting up a 0.00 ERA, 0.97 WHIP, and ten strikeouts to four walks through 10 1/3 innings pitched. Ortega's pitching repertoire includes a fastball that tops out around 95-96 MPH and, according to Baseball Savant, was in the 84th percentile in fastball velocity and 64th percentile in fastball spin during his 2022 stint with the Angels, an 80-81 MPH curveball that challenges right-handed hitters, and a sinker and cutter that he uses to change pace and establish his fastball. If Ortega continues to perform, he, like Funderburk, could make his Twins debut later this season. 
1. RHP John Stankiewicz - Cedar Rapids Kernels - 7 G, 0.71 ERA, 0.63 WHIP, 12.2 IP, 5 H, 3 BB, 12 K
John Stankiewicz, a 6-foot-4, 24-year-old from Fordham University, was signed as an undrafted free agent after the shortened COVID five-round 2020 MLB Draft. Last year, Stankiewicz won the Twins Daily Minor League Starting Pitcher of the Month award for April, and this year he is winning the Twins Daily Minor League Reliever of the Month award for May. Admittedly, this was a hard one, as I wanted to give the award to Ortega, but Stankiewicz's performance was too good to be topped. During May, Stankiewicz switched between stretch relief and single-inning relief, but no matter his role, he dominated. In seven appearances, Stankiewicz earned himself a 0.71 ERA, 0.63 WHIP, and he had twelve strikeouts to three walks in 12 2/3 innings pitched.
Rob Friedman's post shows that Stankiewicz's pitching repertoire includes a fastball that hovers around 92-93 MPH and a curveball, slider, and changeup that he uses as a useful offspeed pitch. Friedman even dubbed Stankiewicz's curveball "The Stankhammer." 
Stankiewicz's highlight performance for May occurred on the 21st while the Kernels were facing the Peoria Chiefs. Through 3 2/3 innings of long relief, Stankiewicz retired all eleven hitters he faced and struck out four. As the season continues, if Stankiewicz can continue to build off his success as both a stretch and short reliever in May, he might be rewarded with a promotion to Double-A Wichita. 
Congratulations to each of these Twins minor-league relievers on a strong month. Leave your thoughts in the Comments below.