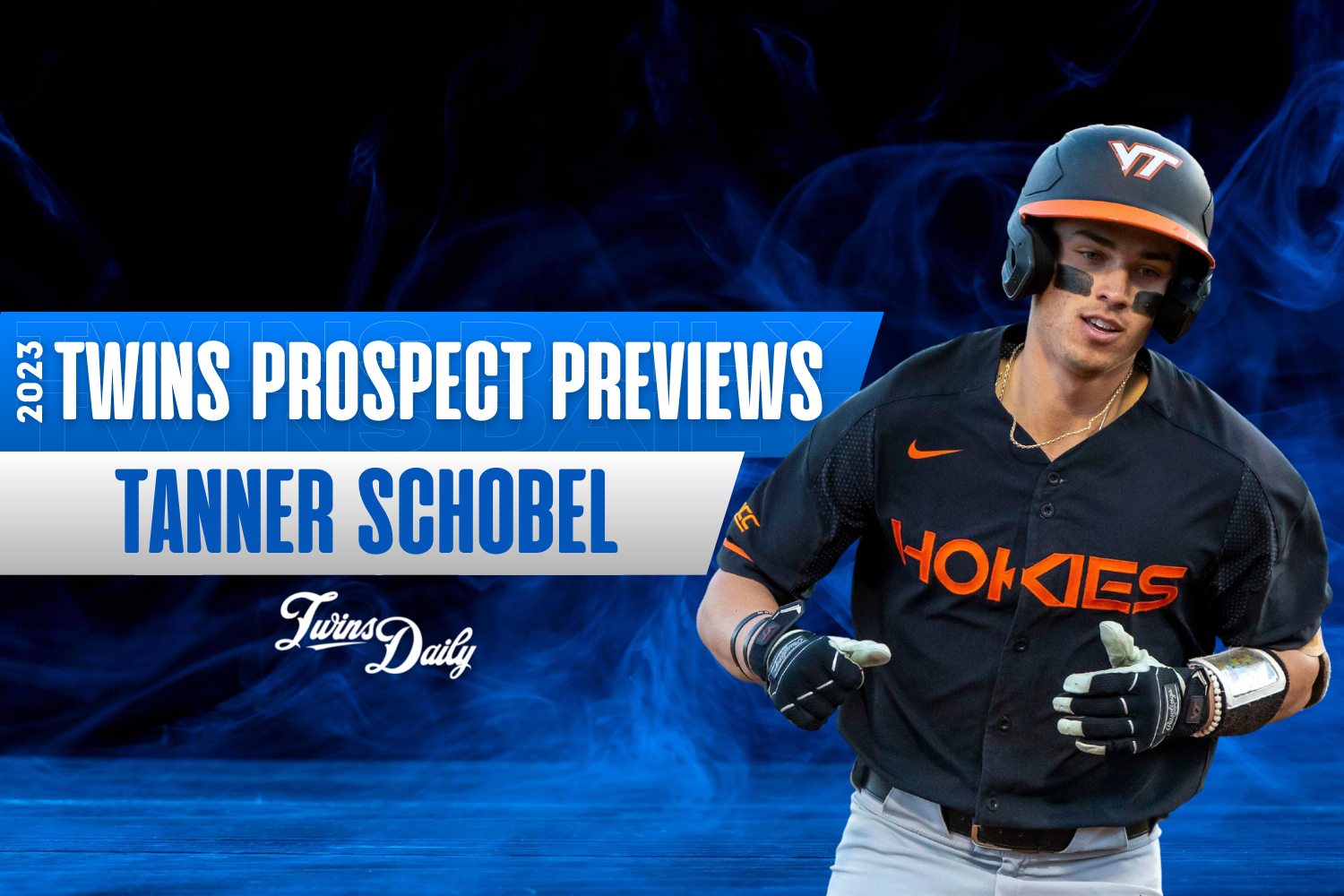 After the collective amazement at the Twins drafting a pitcher that Minnesota fandom clamored for at #48 had worn off, we began moving into the nether regions of the draft. Famously random, the MLB Draft is incredibly unpredictable, even more so after you pass the first 50-75 prospects. The Twins, however, have shown preferences based on their drafting model after their top 1-2 picks. They are likely to draft college players, particularly position players, with solid floors that have shown significant development in an area of value in the previous season. Enter Tanner Schobel.
Schobel was a draft-eligible sophomore when the Twins selected him at #68 overall in the 2022 draft. He signed for a bonus just over $1 million. For a young player, Schobel has a ton of experience, starting every game for Virginia Tech as a true freshman, before playing well in the Cape Cod league at the end of the season prior to assuming the starting shortstop role ahead of his second season in Blacksburg.
Scouting and Signing
Hit: 50 Power: 45 Run: 50 Arm: 50 Field: 50 Overall: 45 (scouting grades courtesy of MLB.com)
As a freshman at Virginia Tech, Schobel put together a .279/.339/.441 (.780) line with seven home runs. His performance on the Cape (a wood-bat league), was a good barometer for the positive development he made in 2022. As the Hokies everyday shortstop, Schobel hit .363/.445/.689 (1.134) with 19 home runs. By any standards, that is a significant power breakout, owing largely to his ability to get more loft on the ball.
It's likely that Schobel's sophomore power breakout doesn't carry over into the professional game. It's the kind of development you want to see from a young prospect drafted after the first two rounds as it points to continuous improvement and development. Schobel ended up at Low-A Fort Myers at the end of last season, managing a solid .367 OBP bolstered by an 18 BB%. Schobel is one of those prospects who has good tools across the board, but maybe not yet any one that is outstanding. He's a solid defender with a good arm. The Twins moved him between shortstop and second base in his first professional half season. It's likely he continues to be moved around the diamond in 2023 to bolster his versatility.
Likely to Start At: Low A Fort Myers
It's likely Schobel starts the season in Fort Myers, despite an impressive end to 2022. As a college player with good versatility and solid tools, he should be a fast mover. It's likely he moves to Cedar Rapids in short order if he has a strong start in 2023. Schobel's future with the Twins depends largely on the development of his hit and power tools. If he can translate his power breakout to wood bats, the Twins will have found something significant. If not, he profiles as a strong utility infielder with average to above average hit and power tools, a valuable depth piece for the Twins.
What did you think of the Tanner Schobel pick? What do you think his ceiling is with the Twins?