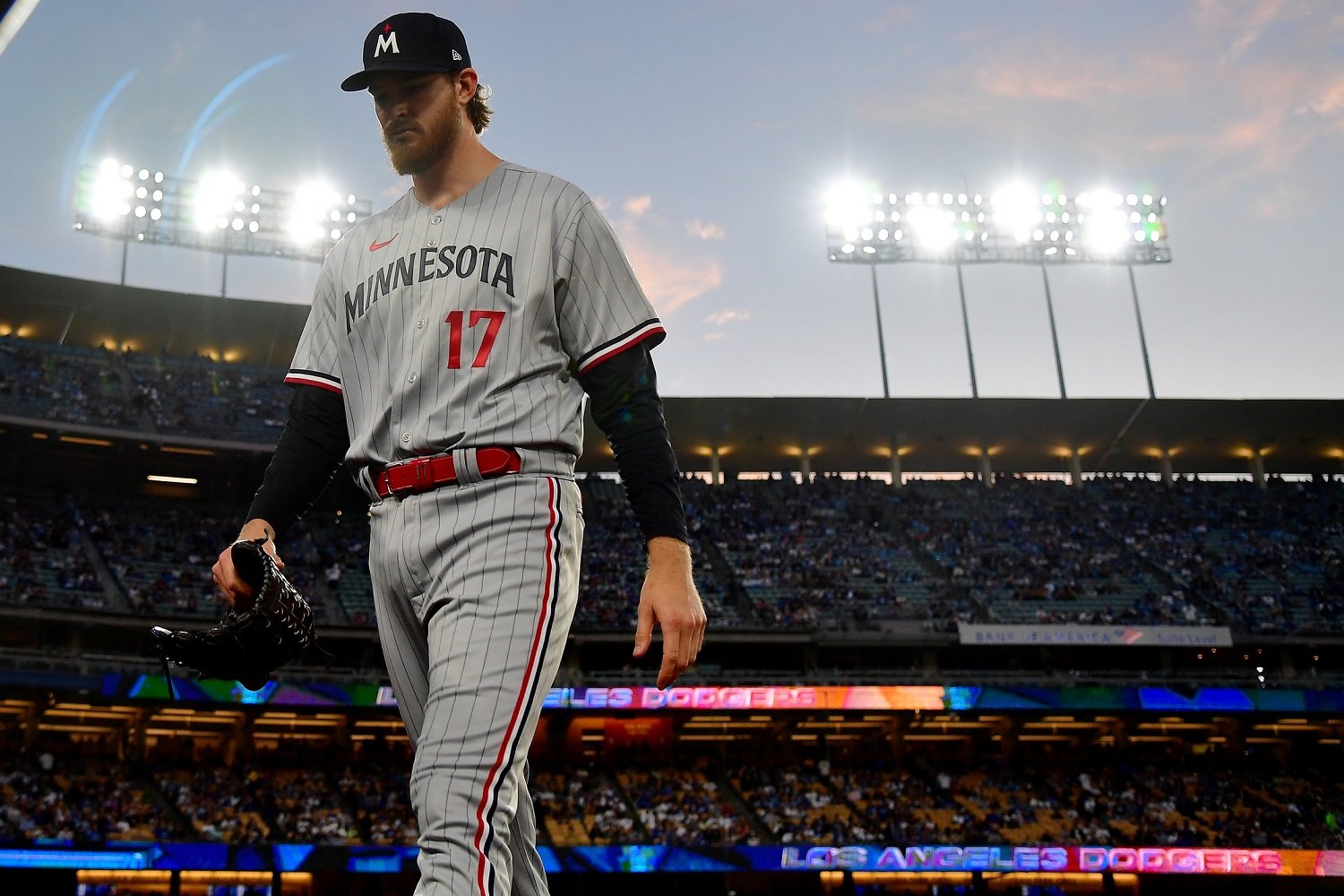 Image courtesy of © Gary A. Vasquez-USA TODAY Sports
The Giants won the Wade Jr. trade, and his seven home runs and .901 OPS would be enviable in center field for the Twins this season. Byron Buxton missed Sunday's game with a sore leg/knee, and is questionable to start the homestand. Luckily the Giants have been a weak 7-13 on the road this season, while the Twins boast a 14-8 home record. The Giants come into town on a bit of a roll, however, sweeping the Phillies and winning a series against the Marlins last week. The Twins enter Monday's contest reeling from a 2-4 west coast swing through Los Angeles, having lost three leads and losing a winnable game against Shohei Ohtani.
The Giants look to rookies Casey Schmitt and Patrick Bailey to get their offense going, while boasting a right-handed rotation and two left-handed relievers. These attributes set up well for some big outings from the Twins left-handed mashers.
The Twins bullpen was tagged with three of the four losses in Los Angeles, and it remains their Achilles' heel on the 2023 campaign. Having the starters go at least six innings is imperative, especially with a talented Blue Jays squad waiting in the wings for the weekend.
Interesting Fact: The Twins swept a three-game series against the Giants at home in August of 2022. Aaron Sanchez got the series started, and Sonny Gray and Joe Ryan finished it off. Carlos Correa and Kyle Garlick are the only current Twins hitters to play in that series. Yes, you heard me right. All of the other members of that 2022 series lineup are either gone or injured!
Weather Factor: Sunny and in the low-80's for Monday and Tuesday night. Wednesday will be 69 degrees of beautiful!
Pitching Probables
Game 1 – Monday, May 22, 2023 – 6:40 pm CDT – Twins RHP Bailey Ober (3-0, 1.78) can't be blamed for any of the Twins mediocre run of late, and he looks to get the series started off right. San Francisco counters with righty reliever John Brebbia (2-0, 4.26 in the bullpen) in an opener-style plan to get their series started. 
The Giants will most likely rotate their righty and lefty relievers intentionally throughout the game, inviting Rocco Baldelli to make his beloved lineup substitutions early and often. Last week those early switches came back to bite the Twins late in games. Will Monday's managing lead to success or head-scratching?
Game 2 – Tuesday, May 23, 2023 – 6:40 pm CDT - In the T-Shirt Tuesday matchup, the Twins will send RHP Sonny Gray (4-0, 1.64) out to face former Twins free agent dream guy RHP Alex Cobb (3-1, 1.94). Cobb comes in with a 220 ERA+, inducing ground balls and getting out of jams routinely. His last outing against the Phillies only lasted four innings, but the Giants still won the game.
Gray's ERA+ of 263, and ability to keep the baseball in the ballpark (no home runs allowed in 2023!) are metrics that set him apart from the field this season. His last outing against the Dodgers saw him run up his pitch count and hit the showers after only four innings also. Which versions of Cobb and Gray will we see Tuesday night?
Game 3 - Wednesday, May 24, 2023 – 12:10 pm CDT - In the afternoon series finale, the Twins send ace RHP Joe Ryan (6-1, 2.25 ERA) out to face Giants RHP Anthony DeSclafani (3-3, 3.09 ERA). Nothing of note sticks out about DeSclafani's statistics, other than the fact that he strikes out five times more batters than he walks, so the strikeout prone Twins might be in trouble. 
Ryan looks to bounce back from a solid, but ultimately disappointing start back in his native California. Born in San Francisco, Ryan looks to take out his frustrations on his favorite team as a kid and get his new favorite team back on the winning track.
Prediction Time!
What's your prediction for this series?  Can the Twins build up their lead in the AL Central against an inferior opponent? Who do you see being the biggest impact player in this series? Let us know in the comments! Go, Twins!