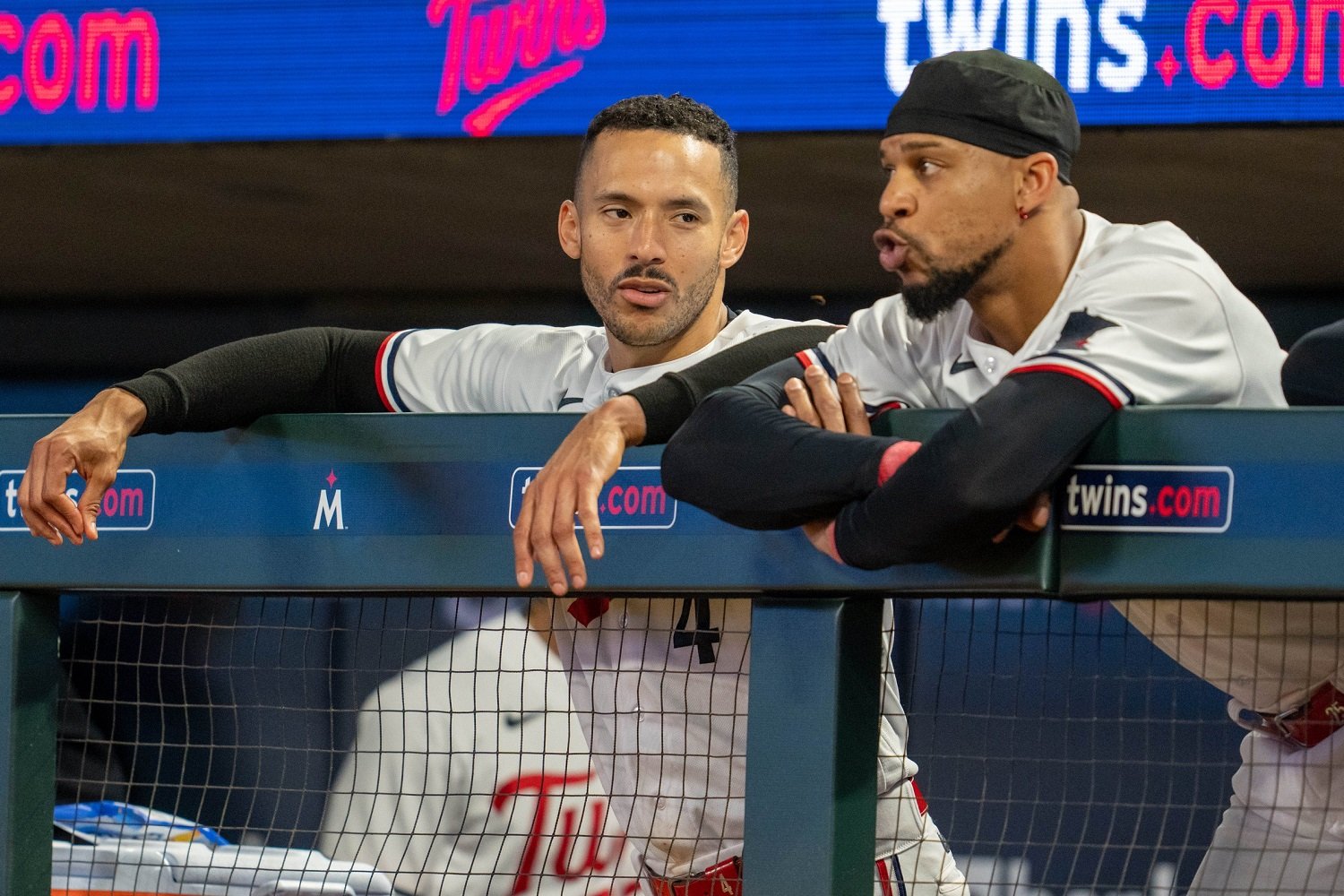 Image courtesy of © Matt Blewett-USA TODAY Sports
Welcome back to Twins Fantasy Fix! The Twins continue to pace the AL Central, but frustratingly, they haven't been able to run away from the pack quite yet in a weak division.
Part of the problem has been inconsistent offense, and that can be traced to the team's stars, Carlos Correa and Byron Buxton. Correa has still yet to really get going at the plate and has missed the last three games with his plantar fasciitis flaring up. Buxton, meanwhile, has missed the last three games as well after taking a pitch to the ribs Thursday. He's also still dealing with some knee issues and could miss a few more games, though an IL trip hasn't happened yet.
With Correa and Buxton out of the lineup, and Joey Gallo hitting the IL Saturday as well, the Twins have needed to find offense in other places. Two players, in particular, have stood out: Donovan Solano and Willi Castro. Solano is riding a four-game hitting streak coming into Sunday and is batting .379 with a .902 OPS over his last 10 contests. He's mostly playing at first base, and that could continue in the short term if Alex Kirilloff plays more in the outfield with Gallo out of the lineup.
Castro is batting .324 with an .898 OPS across his last 10 games with two home runs. He's been playing in left and center field as well as in the infield. Castro's versatility is a boon to the Twins and should help him continue to see regular playing time, at least in the short term. Both Solano and Castro may take a hit when Correa, Buxton, and Gallo are all back in the lineup, but they're worth a look for now while they're hot. This is particularly true in daily formats, where their cheaper salaries would allow you to pay up elsewhere. 
Let's look at some key injury updates, plus which Twins have their stock rising and falling from a fantasy perspective due to results from the past week as well as a prospect to keep an eye on. I'll also take a look at the week ahead and highlight some matchups to target and avoid.
Twins Injury Updates
Byron Buxton
Expected return: TBD
As noted above, Buxton took a pitch to the ribs Thursday. He avoided a fracture but was still expected to miss multiple games, including Sunday's tilt. He may be able to return following Monday's off day.
Carlos Correa
Expected return: TBD
Correa may be in a similar spot to Buxton, with a return potentially coming after the Monday off day. The shortstop has avoided an IL trip so far due to the plantar fasciitis in his left heel, though the team may still choose to go that route at some point to simply give him time to rest the injury. He's probably not looking at a long-term absence though the issue could flare up again throughout the season.
Joey Gallo 
Expected return: Mid-June
Gallo hit the injured list Saturday with a left hamstring strain and he should miss a few weeks. Kyle Garlick was recalled from Triple-A in a corresponding move and should see playing time against lefties. 
Kenta Maeda
Expected return: June
Maeda recently made a couple of rehab starts with the Saints as he continues his recovery from a right triceps strain. Maeda was starting for the Twins when he was last with the team in April, though it's hard to imagine Bailey Ober or Louie Varland losing their rotation spots given how well they've pitched. But Maeda is building up his pitch count to be a starter, so stay tuned. 
Stock Rising: Royce Lewis
ESPN ownership: 16%
Lewis is another player who has stepped up lately, with Correa and Buxton missing time. The top prospect has hit the ground running in his return from an ACL tear, posting an .809 OPS and blasting two key home runs through five games. It looks like his regular home this year will be third base, though he's still a candidate to play in the outfield or at shortstop in the future. For now, Lewis should be able to lock down a regular role at the hot corner, and fantasy managers should take notice, given his pedigree. There may be some growing pains, given how many games he's missed the past few years, but Lewis seems to have that "it" factor. His big games can really move the needle in fantasy leagues. 
Stock Falling: Jorge Lopez
ESPN ownership: 13%
As recently as May 20, Lopez had a 1.31 ERA. Since then, he's allowed nine earned runs in just 3 1/3 innings, pushing his ERA to 4.50 for the season. The righty was seeing some save opportunities in the early going as well, but he can't be trusted in high-leverage spots at the moment. Brock Stewart and Griffin Jax are both probably ahead of him in the bullpen pecking order, and Jovani Moran may be as well. Lopez could regain some fantasy value if he finds his early-season form and moves back into a more prominent role, but for now, he should not be on rosters.
Prospect Spotlight
Jordan Balazovic  (Current team: Triple-A)
Balazovic was once arguably the team's top pitching prospect but took a step back following a rough 2022 season. Things have been a little better this year for the 24-year-old with a 4.45 ERA across 28 1/3 innings with the Saints, which have largely come in a relief role. However, he's struggled lately, posting a 7.43 ERA across his last four appearances. If Balazovic can turn things around, he could be an option to help the Twins' bullpen at some point, but he'll likely have to show some consistency at Triple-A first. He's probably not on the fantasy radar this year, though he still has some fleeting long-term appeal.
Upcoming Week Matchup Notes
3 Games at Rays (Zach Eflin, Yonny Chirinos, Tyler Glasnow)
3 Games at Blue Jays (Yusei Kikuchi, Alek Manoah, Kevin Gausman)
A tough week is on tap with trips to Tampa and Toronto. The pitching matchups don't look terrible outside of Gausman and possibly Glasnow as he rounds into form following an injury that delayed the start of his season. However,  Minnesota starters will be challenged, as the Rays are second in the majors in runs scored and the Blue Jays are 11th.
Two-Start Starting Pitchers 
Varland lines up to start Tuesday and Sunday. They look like tough spots, but the youngster impressed his last time out in a tricky road start against Houston. Varland now has a solid 3.51 ERA and 1.15 WHIP. Trusting him this week is a bit of a roll of the dice, but it wouldn't be shocking to see him continue his strong play, either.
Twins Fantasy Hitters to Watch
As noted in the intro, Solano and Castro are hot right now and are worth keeping an eye on. Meanwhile, Lewis and Kirilloff are probably Minnesota's biggest offensive threats in the absence of Correa and Buxton. This makes the team fairly cheap to stack at the moment in daily formats, so you can get creative if there's a matchup or two you like this week and want to roll a few Twins out there.
To me, the matchups that stand out are the first two in Toronto. Kikuchi has a decent 4.47 ERA, but the lefty has struggled against right-handed bats the past few years. If Correa is able to return by then, he's 9-for-18 in his career against Kikuchi. Twins hitters overall have a career .365 batting average against him.
Manoah, meanwhile, is struggling this year with a 5.46 ERA and 1.77 WHIP, which are huge steps backward after a strong 2022 campaign. Control has been the biggest issue, as he's sitting with a rough 6.4 BB/9. No Minnesota hitter has had noteworthy success against him in the past, but really anyone could be in play while Manoah is down. 
What's Royce Lewis' fantasy ceiling this year and beyond? Let me know in the COMMENTS, plus post your thoughts on the matchups this week.