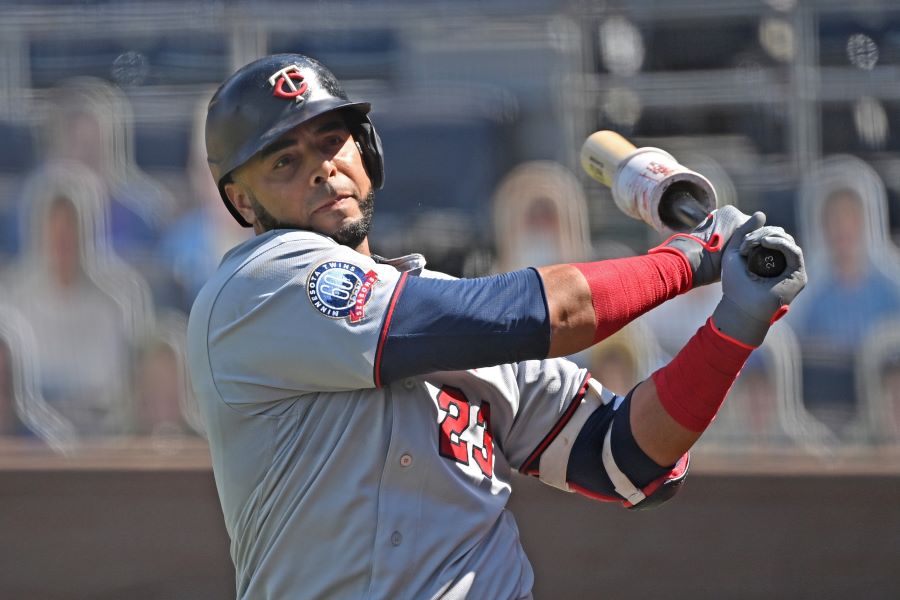 Image courtesy of © Peter Aiken-USA TODAY Sports
The 40-year-old slugger continues to hold off Father Time, somehow managing to best his legendary 2019 season. He's got a legitimate chance at the first Triple Crown since Miguel Cabrera did it in 2012. Today, we'll size up the competition.
Let's start with home runs:
AL Home Run Leaderboard
1) 13 – Nelson Cruz
2) 12 – Teoscar Hernandez, Jose Abreu, Mike Trout, Luke Voit
Of the three Triple Crown categories, Cruz seems best positioned to take the home run crown. For one, he's currently leading the field, but has several worthy competitors nipping at his heels, most noticeably Mike Trout. Cruz also has six more games against Detroit, who give up the second-most home runs in the AL at 1.66 HR/9. He also only has to face Cleveland's very good pitching staff three more times and gets six more chances against the White Sox, who have pitched well but have never been able to contain Cruz (notwithstanding Cruz's three K performance vs. the Sox yesterday).
Next, Runs Batted In (RBI). This one's a bit trickier as the offense has struggled mightily and Cruz can only knock himself in so many times. However, he's done alright:
AL RBI Leaderboard
1) 32 – Mike Trout, Jose Abreu
3) 29 – Nelson Cruz, Kyle Tucker, Anthony Santander
Having Trout at your heels is bad, but chasing him is even worse (only Trout's .268 batting average is keeping him out of the Triple Crown conversation). If Cruz continues to hit the bombas, the RBI will follow. It would, however, help if his teammates heated up a bit and gave Cruz more base runners to knock in. Cruz has done what he can to help the cause by hitting .524 with runners in scoring position.
Finally, we come to batting average. With a slugger like Cruz, hitting for average isn't exactly the first thing that comes to mind, as his .278 career batting average attests. However, he hit .311 last year and a hot streak in such a short season would quickly bring the average up.
AL Batting Average Leaderboard
1) .330 – Tim Anderson
2) .328 – Kyle Lewis
3) .321 – Hanser Alberto
4) .315 – Jose Abreu
5) .313 – David Fletcher
6) .311 – Nelson Cruz
With Tim Anderson winning the Batting Title last season (.335) and having such a large lead, he seems a sure bet to foil Cruz's chances. But not so fast. First off, although Anderson's combination of speed and improved ability to hit the ball hard (90.4 mph average exit velocity) make him a certified BABIP monster, his .387 BABIP is pushing the limits of what's possible. He's also only played 25 games and accumulated just 113 plate appearances, so a cold stretch would really bring the average down.
Next up is Kyle Lewis, who's .407 BABIP is even higher than Anderson. Plus, he's a rookie who is exceeding expectations, so some regression seems probable. Then there's Hanser Alberto, who is greatly outperforming his career average (.284), not hitting the ball hard at all (82.9 EV, 21.6 HardHit %), and has an expected batting average of .271.
Surprisingly, Chicago's Jose Abreu is also making a strong bid for the Triple Crown. Abreu did get 123 RBI last year, is in a stacked lineup, and has a career .293 batting average, but has topped 30 home runs just four times in his career and has never gotten above 36. In his age 33-season, he'll be one to keep an eye on.
Although the offense as a whole has ranked somewhere between uninspiring and execrable, and the odds of Cruz getting a Triple Crown are long, he's been an absolute joy to watch. I'm sure he'd take a World Series over the Triple Crown, but maybe the latter can lead to the former. After all, they're not mutually exclusive. I'm saying he has a chance.
MORE FROM TWINS DAILY
— Latest Twins coverage from our writers
— Recent Twins discussion in our forums