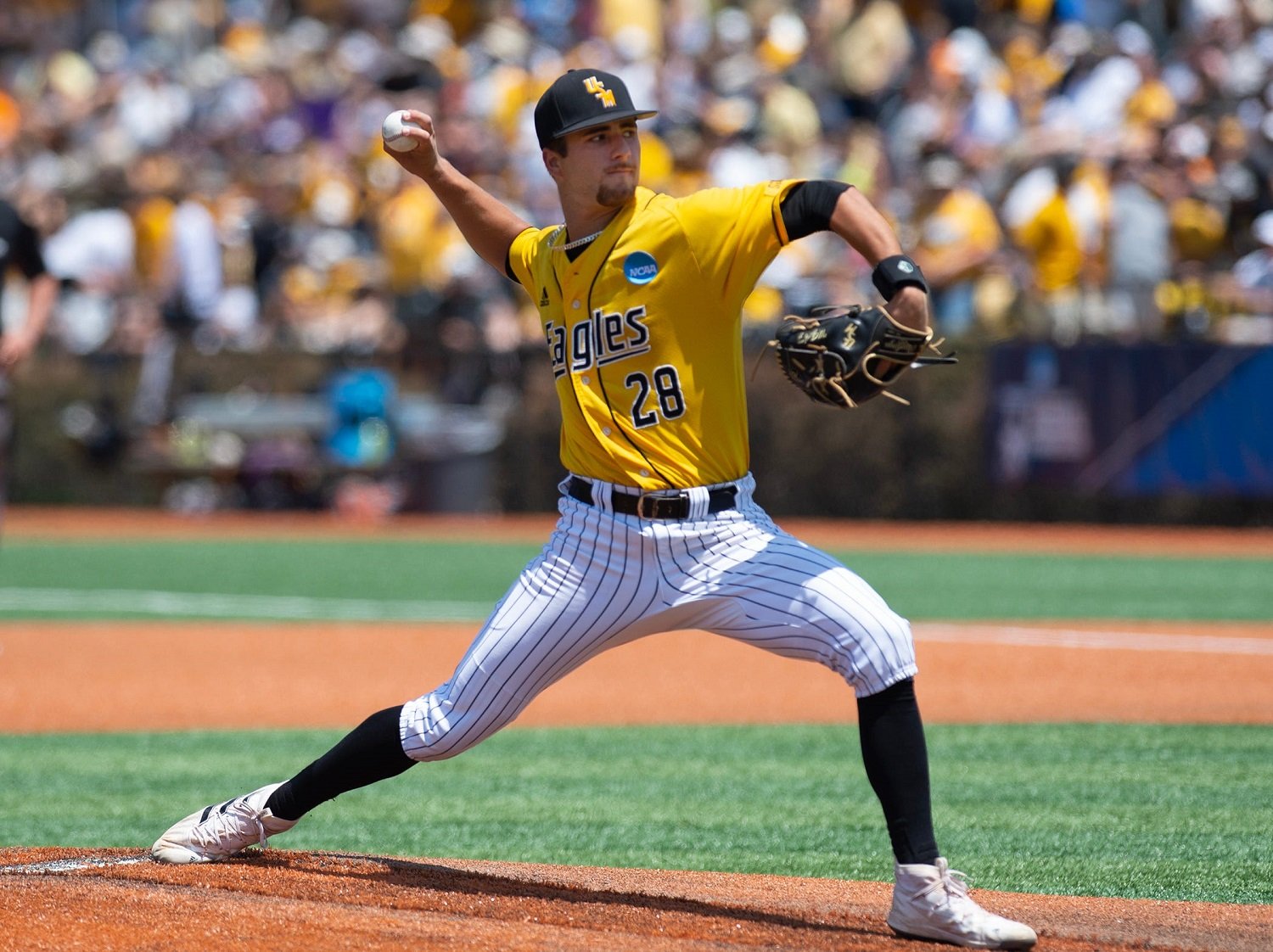 Image courtesy of Barbara Gauntt/Clarion Ledger / USA TODAY NETWORK
Not long after selecting Minnesota native Matt Wallner (2019), and then pitcher Ben Ethridge (2022), the Twins made Tanner Hall their fourth-round selection at 114th overall in the 2023 draft. Another arm that could win up being a strong contributor throughout the organization in years to come, Hall leaves school as decorated as they come.
Southern Miss is no stranger to strong college baseball teams, and this year Hall led Division 1 baseball with 12 wins. He posted a career-best 2.48 ERA and earned himself Sun Belt Pitcher of the Year honors having just moved to the new conference. Looking forward to a new challenge at the pro level, it's clear he's ready to get going.
Recently, I had the privilege of catching up with the Southern Miss star. Here's what he had to say:
Twins Daily: What about 2023 and the steps you took in what was a very impressive final season with the Golden Eagles set you up for professional baseball success?
Tanner Hall: I had a pretty good year, and Southern Miss was a school I was passionate about. It meant a lot to me throughout the whole season. I knew I wanted to work hard and have wanted to play professional baseball my whole life. It wasn't hard to convince myself to want to work for it. The level we played at, the competition we played, making regionals and hosting super regionals, it got me very prepared for that next level.
TD: Do you feel like there was a change going from Conference USA to the Sun Belt?
TH: I think the competition got a little bit better in the Sun Belt. I think there were a few better teams, but I didn't treat it any different. I was excited because I was facing a bunch of lineups that had never seen me before. The Sun Belt did have more talent, and it was tougher to get wins out of that conference. We did end up dominating and showing who we were.
TD: You've put up gaudy strikeout numbers and avoided walks. How do you attack hitters and what does your arsenal look like?
TH: Whenever I'm on the mound, I think to myself if I'm going to get beat, I'm going to make them beat me with their bats. I throw a sinker, a changeup, a slider, and I want to develop a cutter here soon. I want to add that to my arsenal as well. My go-to pitches have been my sinker and changeup. I use the sinker to get ahead and the changeup to finish them off.
TD: The changeup is a pitch the Twins have been notable in focusing on. Obviously Johan Santana was one of the best to ever use it. How do you feel like that pitch is such a strong out pitch for you in a game where velocity has been the focal point?
TH: I try to simplify the game itself, I'm just trying to get each guy out. It doesn't matter if you're getting them out with a 99 mph pitch or a 90 mph pitch. The changeup is a pitch I've had to use my whole life because I've never really thrown that hard. It's been a differentiator for me because I've been able to plus and minus. I always have that pitch in the back of a hitter's mind. You have guys getting late on fastballs, and I'm not throwing it hard enough to make them late, but it's because of the changeup that makes it tough on them.
TD: Stepping up to the next level of professional baseball, what are you most excited about developing both as a pitcher and an individual?
TH: I'm really excited to develop into a true professional and perfect my pitches. I want to gain a little velocity, and being with the Twins, that's something that is easily possible as they have a track record of doing so. I'm excited to get it started. I want all of my pitches to be elite pitches, and I want to make a name for myself with the Twins.
TD: Being from Louisiana, what do you know about the Twins, the organization, Minnesota, Target Field, that sort of thing?
TH: Honestly, I don't know that much. I didn't know much about any teams except for a couple around here like the Marlins or the Braves. At the end of the day, this is a dream come true for me. This is everything I have been working for my whole life. With the Twins wanting to give me a call, I'm going to show there's a reason they wanted me to go play. I feel like I've been kind of an underdog since I was young. It's going to be fun to go out and play for a team I don't know too much about. They have history of Southern Miss guys with Wallner and Ethridge. I'll have support behind me while I'm there, and I'll be supporting them as well. It's going to be fun, and it's going to be exciting to get to know what Minnesota is like and what the Twins are all about.
TD: Outside of baseball, off the diamond, what are you doing to get away or keep loose?
TH: I like to play golf. I like to watch movies, go to the mall, and play frisbee golf. Anything active outside I'll go do. Golf is probably the number one thing for me, that's something I really enjoy.
Welcome to Twins Territory, Tanner!