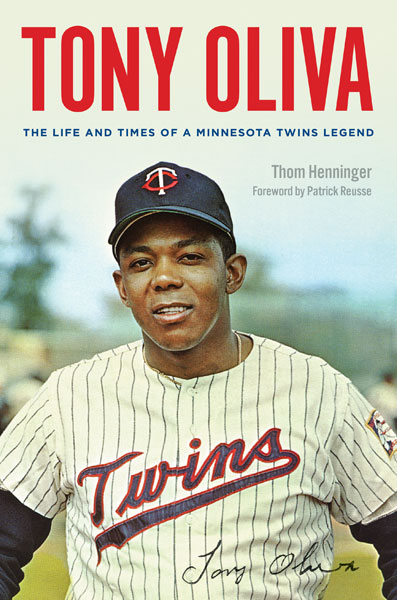 For baseball fans across the Upper Midwest, Tony Oliva has become one of the most well known personalities. His infectious smile and broken English endeared him to any smiling face with a hand to shake and a baseball to sign. Tony O has become a legend but it's amazing to think of how close he was to never having a baseball career.
These trials and tribulations form the backdrop of the recent book release, Tony Oliva: The Life and Times of a Minnesota Twins Legend by Thom Henninger. Oliva, a Cuban native, left behind family and friends to pursue his baseball dreams. Shortly after arriving in the United States the pipeline of native Cuban players would be cutoff following Fidel Castro seizing control of the island and the ill-fated Bay of Pig invasion.
Oliva found himself stuck. The Twins released him after his first spring training because he wasn't experienced enough to make the big league squad and it was often dangerous to have African American players on minor league affiliates in the South. Without the political turmoil in his homeland, Oliva likely would have returned to Cuba and worked on the family farm.
His path took him in a different direction and this sacrifice meant he wouldn't see his family members until years later. Tony O's choice meant Twins fans were blessed to see one of the best hitters in the history of the game. He won three batting titles including back-to-back titles in his first two seasons. His hit total led the league five times, four times he lead the league in doubles, and he was a member of eight straight All-Star teams from 1964-71.
Even with all of the accolades he earned throughout his career, it's hard to imagine the life he chose for himself. Starting a life in a foreign country with few English skills and a dream of playing professional baseball had to be a daunting task that few can comprehend especially in the midst of turmoil in his homeland and the Civil Rights Movement in the United States.
One of the most emotional moments in the book happens at what should have been one of the happiest times for Oliva. In 1965, Minnesota clinched their first trip to the World Series. Through the fog of champagne in the locker room, Oliva sat quietly in the corner away from the group as he began to cry. Getting to the World Series was the high point of his major league career but Oliva couldn't help but long for his family and the life he left behind.
That's the kind of portrait painted of Oliva through the course of the book. He's a man that would do anything for his friends and family and Twins fans are lucky enough to be included in his closest circle. Tony O treats everyone like family even after every obstacle that he has overcome.
Reflecting back on the career of Oliva inevitably comes back to his candidacy for enshrinement in Cooperstown. From 1964-71, Tony O was one of the best and most feared hitters in the game by combining power with average. Unfortunately, his career was sabotaged by a multitude of knee surgeries.
Some might argue that other players with less deserving resumes are already in the Hall of Fame and Oliva fell one vote short of enshrinement during the most recent Veteran's Committee vote. Is eight years of playing at the top of the game enough to earn a plaque?
That's a debate for another day but it's clear from the pages of this book that Oliva is already a Hall of Fame player to everyone in Twins Territory...
...even if he doesn't have a plaque to show for it.