The Twins are Bad At Baserunning - But Does It Matter?
---
I know I'm not alone in thinking that the Twins are bad at baserunning this year. It's easy to find that they are terrible at stealing bases, as they rank 30th in both total stolen bases (14) and stolen base percentage (58%).
After watching Nick Gordon turn errantly around first base only to get thrown out on this play, I decided to look up the numbers to see if there was a quantifiable baserunning metric beyond stolen base percentage that would prove my eyes correct.
And boy, did the numbers confirm the eye test. According to FanGraphs, the Twins rank 28th in MLB with a -9.7 BSR (baserunning metric). Only the Washington Nationals (-10.6) and the Detroit Tigers (-12.5) have a lower team BSR. 
The definition of BSR can be found here, but it essentially combines everything that does or doesn't happen on the base paths. These actions can include stolen bases, being caught stealing, grounding into double plays, getting thrown out, taking/not taking an extra base, and more. 
A BSR of zero is league average, and every ten runs is equal to one additional win. The fact that the Twins have a -9.7 BSR as a team indicates that their baserunning has nearly taken off a win from their record. That's beyond awful, according to this chart.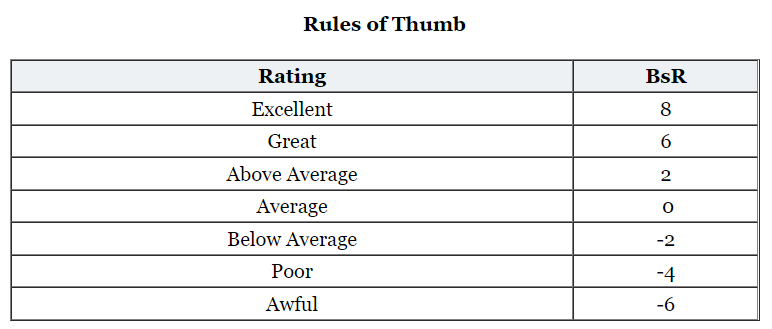 Baseball Reference also has another stat called Runs From Baserunning (Rbaser). The Twins rank 29th with -7, matching what FanGraphs is reporting with BSR. Multiple sources have confirmed the Twins have some work to do when it comes to running the bases this year, and that it is impacting their run scoring.
This raises the question: How long has baserunning been a problem, and will it hurt the Twins in the standings?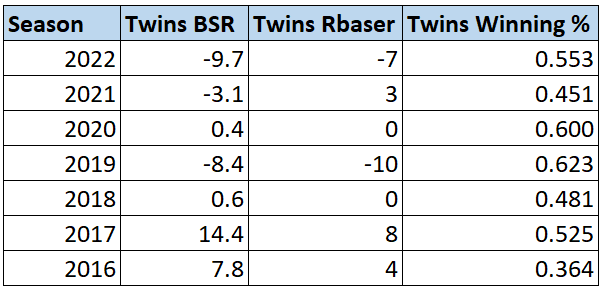 The answer is that the Twins' baserunning metrics have been completely random over the last few years.
Paul Molitor stressed baserunning excellence during his time as a manager, but that didn't reflect well in the standings. The Twins were also awful at baserunning in 2019, but that didn't stop them from recording 103 wins. The 2022 Twins have been absolutely frustrating on the basepaths, but it's not strongly correlated with overall winning percentage. 
I'm not saying you shouldn't pull your hair out when you see an out on the bases. Stolen bases are incredibly fun. But in the long grind of 162 games, there are many other factors that will contribute more heavily to the end result of a team having a successful season. Rocco and his coaching staff are going to keep rocking on instead of running on.