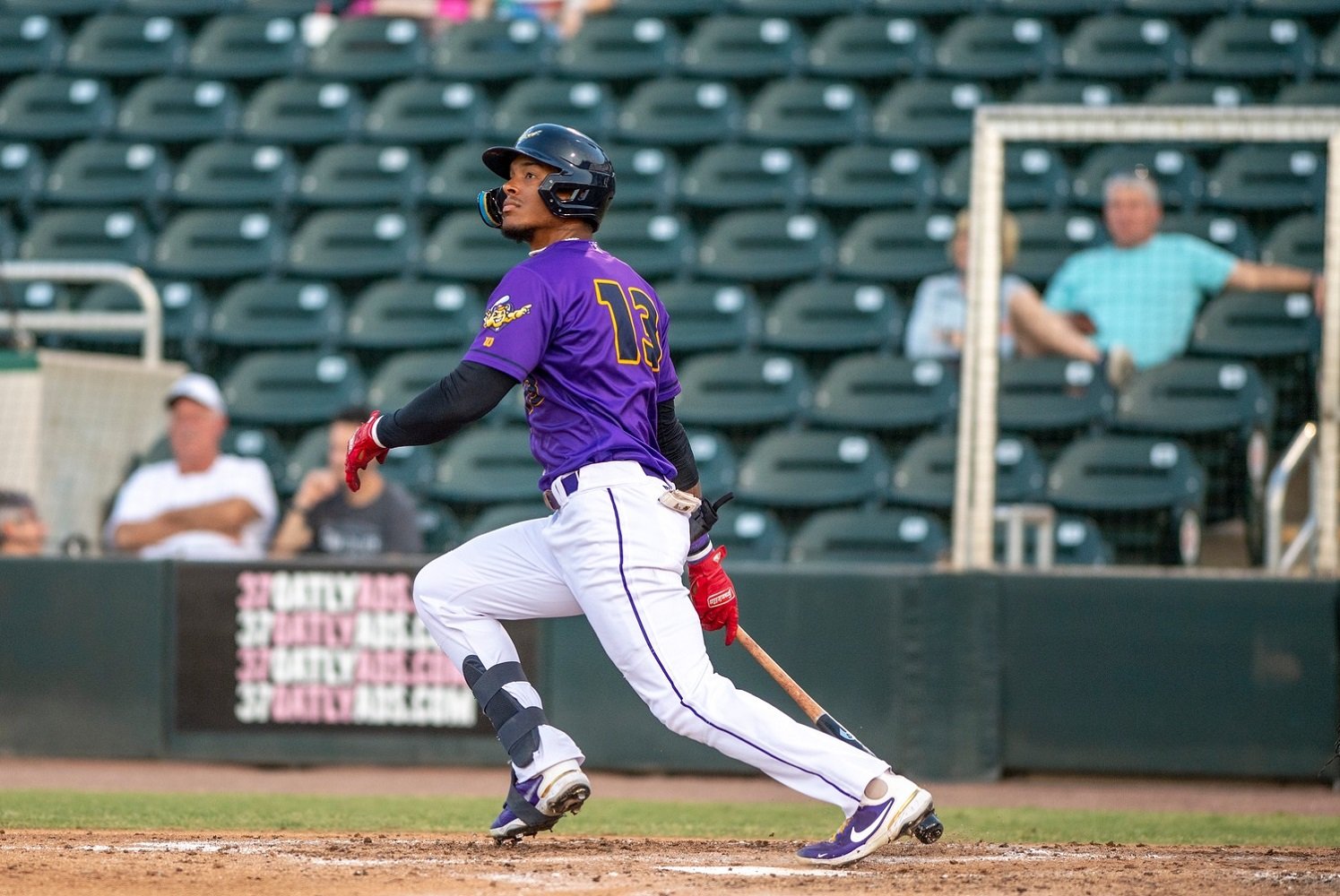 Image courtesy of William Parmeter (photo of Carlos Aguiar)
TRANSACTIONS
SAINTS SENTINEL
Omaha 6, St. Paul 1
Box Score
In a matinee affair at CHS Field in St. Paul, the Storm Chasers rode a pair of major league rehabbers to a 6-1 victory on Tuesday.
Omaha starting pitcher Daniel Lynch has made 42 starts for the Kansas City Royals over the last two years (including a 1-3 record against the Twins in seven starts) but has not appeared in the majors yet this season as he returns from injury. He took his Twins organization frustrations out on the Saints this afternoon, spinning six innings of shutout baseball, allowing just three hits and striking out five.
In opposition, St. Paul sent right-hander Simeon Woods Richardson to the hill, looking to get on track in his 2023 campaign. Unfortunately, he didn't come close to matching his fellow major leaguer. He pitched into the fifth inning, but finished his day with four-plus innings pitched, allowing five earned runs on eight hits and two walks, while striking out three. After the outing, his triple-A ERA sits at 7.12 and you have to hope his stuff takes over sooner rather than later.
On the offensive side, the rehabbing Drew Waters was also a menace to the Saints. He finished 4-for-5 with two doubles and three runs scored out of the leadoff spot, proving to be a catalyst for the Storm Chasers all game.
The home team didn't cross the plate until the ninth inning, when Matt Wallner led off with a single, moved to third on a Chris Williams double, and scored on a groundout off the bad of Andrew Bechtold. The Saints managed just six hits on the game, with Williams' double being the only extra-base-hit. Ryan LaMarre finished 2-for-4, but as a team, St. Paul went just 1-for-5 with runners in scoring position and left only seven men on base for the game.
After Woods Richardson's four-plus innings, Patrick Murphy (2 IP, BB, 4 K), Kody Funderburk (1 1/3 IP, BB, 3 K), and Austin Schulfer (1 2/3 IP, 2 H, ER, K) finished out the game for the Saints pitching staff.
In #OldFriend news, lefty Evan Sisk pitched two innings of relief for the Storm Chasers, allowing one hit, walking two, and striking out two of his former teammates.
WIND SURGE WISDOM
Wichita 3, Springfield 8
Box Score
The Wichita Wind Surge visit Springfield, Missouri, this week, a town I have spent quite a bit of time in, to face the Cardinals at the underrated Hammons Field downtown.
Unfortunately, they and starter Carlos Luna were greeted by the Texas League's home run leader, Chandler Redmond, and the rest of the Cardinal faithful. Redmond clubbed two home runs in the contest, driving in four, to take down Wichita.
Starter Carlos Luna went the first four innings, surrendering one of those homers and allowing four total earned runs on six hits, while striking out two. Hunter McMahon gave up one run on three hits in two innings. Lefty Michael Boyle was the next victim for Redmond, resulting in three earned runs on three hits and one walk in his lone inning. He struck out one. Osiris German finished off the game for the Wind Surge with a scoreless bottom of the eighth, striking out one.
All three of Wichita's runs came in the fourth inning as they closed the early Springfield lead to 4-3. Jake Rucker, Yunior Severino, and Alex Isola loaded the bases with singles to start the inning, and Anthony Prato drove in two with a single of his own before a sac fly from Alerick Soularie capped their scoring.
Rucker finished 3-for-4 with a run scored, and Isola 2-for-4 with a double and run scored to lead the lineup.
KERNELS NUGGETS
Wisconsin 8, Cedar Rapids 4
Box Score
In positive notes from this game, starter Pierson Ohl was able to finish 5 2/3 innings for the Kernels, though most of those came after he had already allowed five runs in the first two. From the third through the fifth, Ohl had seemed to settle in, taking advantage of the Timber Rattler's aggressive nature, but a pair of two-out walks in the sixth finally ended his night. Charlie Neuweiler came on from the bullpen and gave up a single, and both those runners then scored after a throwing error from outfielder Willie Joe Garry Jr. In all, Ohl was charged with seven runs (six earned) on nine hits and two walks, but did notch seven punch-outs.
Neuweiler went on to finish 2 1/3 innings, retiring seven in a row, and allowed just the one hit, while striking out three. Matthew Swain came on for the ninth and gave up an unearned run after a pair of singles and an error, striking out two.
Emmanuel Rodriguez tied the game at one in the bottom of the first with a solo home run, his fifth of the season. In the bottom of the sixth Noah Cardenas led off with a double and was driven in by Garry Jr. with a single. The Kernels added single runs in the seventh and ninth innings thanks to Kala'i Rosario, with an RBI single and solo home run, respectively.
Despite being outhit 12-8, the Kernels had 14 at-bats with runners in scoring position compared to the Timber Rattler's five, but the visiting team picked up four hits compared to their two in those situations.
Rosario (2-for-4, R, HR, 2 RBI, BB, 2 K) and Cardenas (2-for-4, R, 2B, BB) each had two hits in the game, while Tanner Schobel, Garry Jr. (2), Ben Ross, and Rosario picked up stolen bases.
MUSSEL MATTERS
Fort Myers 13, Dunedin 3
Box Score
The Fort Myers Mighty Mussels blew out the Dunedin Blue Jays on Tuesday night behind a big fifth inning in which 14 batters stepped to the plate, and five of them hit home runs.
Before we get to that, however, Dunedin had taken the lead against Fort Myers starter Develson Aria, who allowed three earned runs on two hits and a pair of walks, while striking out just one. The Mighty Mussels had two runs of their own to that point thanks to a solo home run from Carlos Aguiar to lead off the fourth, and a Dylan Neuse RBI single later in the frame.
Aguiar's first blast was a harbinger, both for his team, and himself. Because in the fifth inning, he and the squad flexed every mighty muscle they had.
Jorel Ortega led off with a solo home run, his third of the season. After a Danny De Andrade single, Ricardo Olivar and Aguiar went yard back-to-back. Two batters later, Rafael Cruz hit his first home run of the year, a two-run shot. Three singles, a walk, and wild pitch later, Aguiar clubbed his third home run of the game, and second of the inning, a three-run shot to make it 13-3 in the visiting team's favor.
After that outburst, the Fort Myers bullpen trio of Ricky Mineo (W, 2 IP, 2 BB, 2 K), Danny Moreno (2 IP, H, 2 K), and Jackson Hicks (1 IP, H, BB, K) shut out the Blue Jays the rest of the way.
Joining Aguiar (3-for-5, 3 R, 3 HR, 5 RBI) with multiple hits in the contest were Ortega (2-for-4, 2 R, HR, RBI, BB), Olivar (2-for-5, R, 2B, 2 RBI, 2 K), Cruz (2-for-4, R, HR, 2 RBI, BB, K) and Neuse (3-for-4, R, RBI, K). All hitters in the starting lineup except Rubel Cespedes reached base at least once and scored a run. Be sure to check out this one's box score to catch it all.
TWINS DAILY MINOR LEAGUE PLAYERS OF THE DAY
Pitcher of the Day - Patrick Murphy, St. Paul Saints (2 IP, BB, 4 K)
Hitter of the Day - Carlos Aguiar, Fort Myers Mighty Mussels (3-for-5, 3 R, 3 HR, 5 RBI, BB)
PROSPECT SUMMARY
#1 - Brooks Lee (Wichita) - 0-for-4, K
#2 - Royce Lewis (Rehab-St. Paul) - 0-for-4, K
#3 - Emmanuel Rodriguez (Cedar Rapids) - 1-for-4, R, HR, RBI, BB, K
#4 - Edouard Julien (Minnesota) - 0-for-4, 2 K
#7 - Simeon Woods Richardson (St. Paul) - 4+ IP, 8 H, 5 ER, 2 BB, 3 K
#9 - Matt Wallner (St. Paul / Minnesota) - 1-for-4, R, K / HBP (pinch-hit appearance)
#12 - Jose Salas (Cedar Rapids) - 0-for-4, 2 K
#13 - Noah Miller (Cedar Rapids) - 1-for-5, 2 K
#19 - Yunior Severino (Wichita) - 1-for-3, R, BB, K
WEDNESDAY'S PROBABLE STARTERS
Omaha @ St. Paul (7:07 PM CDT) - LHP Brent Headrick (1-1, 4.94 ERA)
Wichita @ Springfield (6:35 PM CDT) - RHP Blayne Enlow (1-1, 3.28 ERA)
Wisconsin @ Cedar Rapids  (12:05 PM CDT) - LHP Jaylen Nowlin (2-3, 4.06 ERA)
Fort Myers @ Dunedin (6:00 PM CDT) - TBD
Please feel free to ask questions and discuss Tuesday's games!