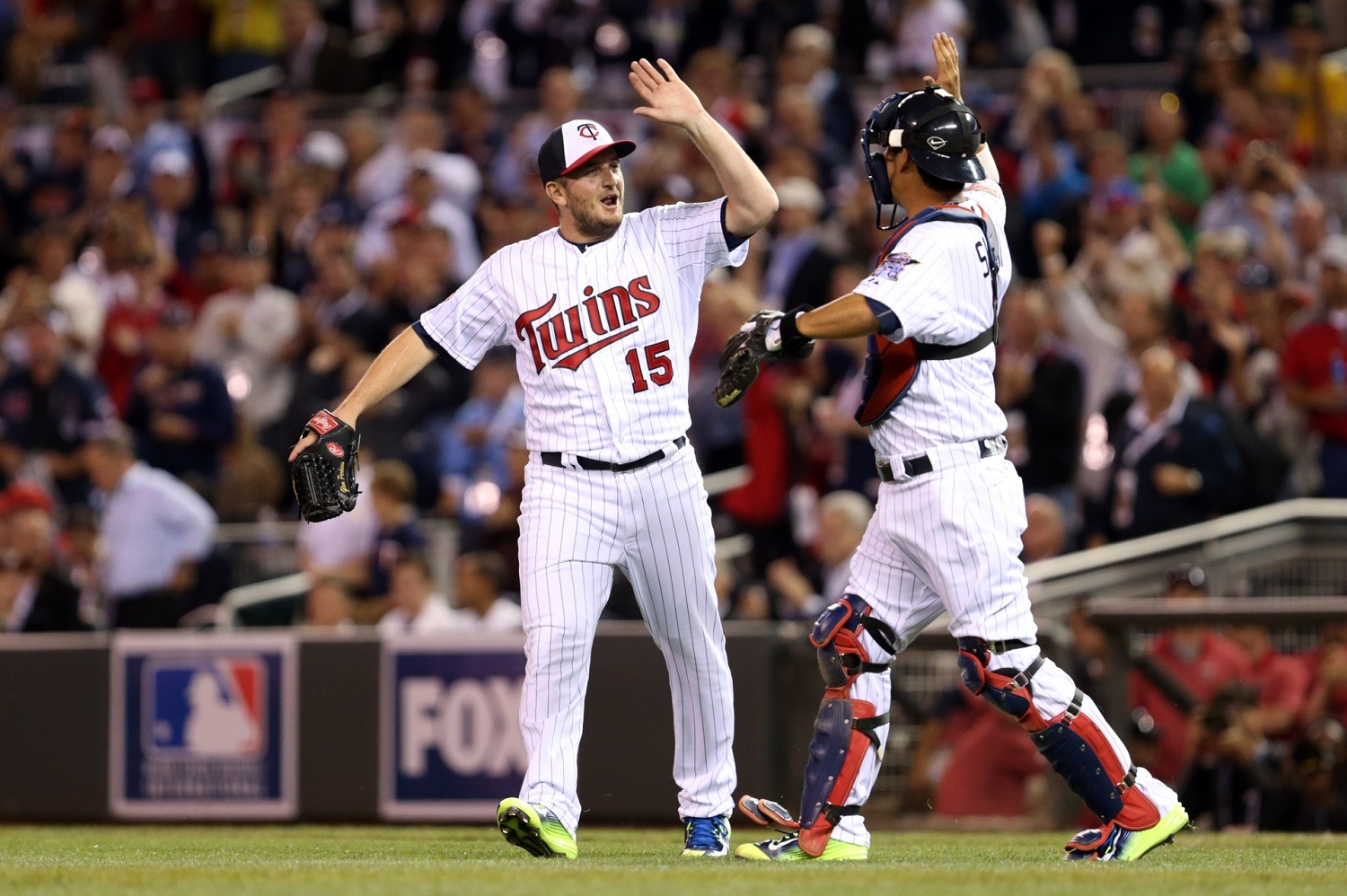 Image courtesy of © Jesse Johnson-USA TODAY Sports
We're SO excited to announce that this year's special Twins guest at Twins Daily's Winter Meltdown will be Glen Perkins, who needs absolutely no introduction. (But we'll do one anyways.)
If you grew up in a cave, Glen "Perk" Perkins pitched for the Twins for his whole MLB career, from 2006 through 2017. That included serving as the Twins dominant closer from 2011 through 2015. During that five-year stretch, he made the All-Star team three times and compiled 120 saves with a 2.84 ERA. (That is not a typo.)
But that isn't his only connection to Minnesota. He also attended and played for Stillwater High School and the University of Minnesota. And he still lives in the Twin Cities and is a television analyst for the Twins and Bally Sports North. And now, of course, he's coming to our party.
If you want to learn even more about him, just come to the Meltdown. He'll be on stage along with Patrick Reusse at the event, which takes place at The Pourhouse in Downtown Minneapolis on Saturday, January 28th from 5 – 8. It's just a couple blocks from Twins Fest, where you'll likely be anyway. You'll be joined by 300+ Twins fans, media members, Twins execs and many more to celebrate the upcoming season.
All week we've been unveiling the great stuff your $40 ticket gets you, including these goodies:
We'll only have 300 tickets available, with a base price of $40 apiece. The public has to wait until Monday to grab them, but our Twins Daily Caretakers can buy them TODAY through Sunday. If you're a Caretaker, you can see a story with the the instructions right now on our home page. Plus, Caretakers get other advantages:
Each caretaker gets a free ticket to the Meltdown.
Caretakers (who sign up by Thursday 12/15) can buy up to three additional tickets early, on Friday 12/16.
Those additional tickets will be available at a discount price of $20.
Caretakers get early access to the event, starting at 4:00 for a "thank you" happy hour with Twins Daily's writers and founders.
Finally, you can pat yourself on the back for supporting writers that bring you Twins stories every day, all year long, both during the season and the offseason. 
If there are still tickets available when the Caretakers are done getting tickets for themselves and their friends, we will release them to the general public on Monday, 12/19. Will there be any tickets left? We don't know. We hope so?
We know that our Caretakers take care of us, and we want to take care of them, so if you want to guarantee you get tickets, you need, join Twins Daily's Caretakers. You can do so for as low as $4/month and you get exclusive content and other benefits too, as well as support our hard-working writers, moderators, and tech guys. Plus, of course, you can go claim your free ticket and buy some discounted ones through Sunday. We would LOVE to have you join us.
Otherwise, reserve the date, cross your fingers, and check back on Monday. If we have tickets available, they'll be on sale at 8AM right here at TwinsDaily.com!