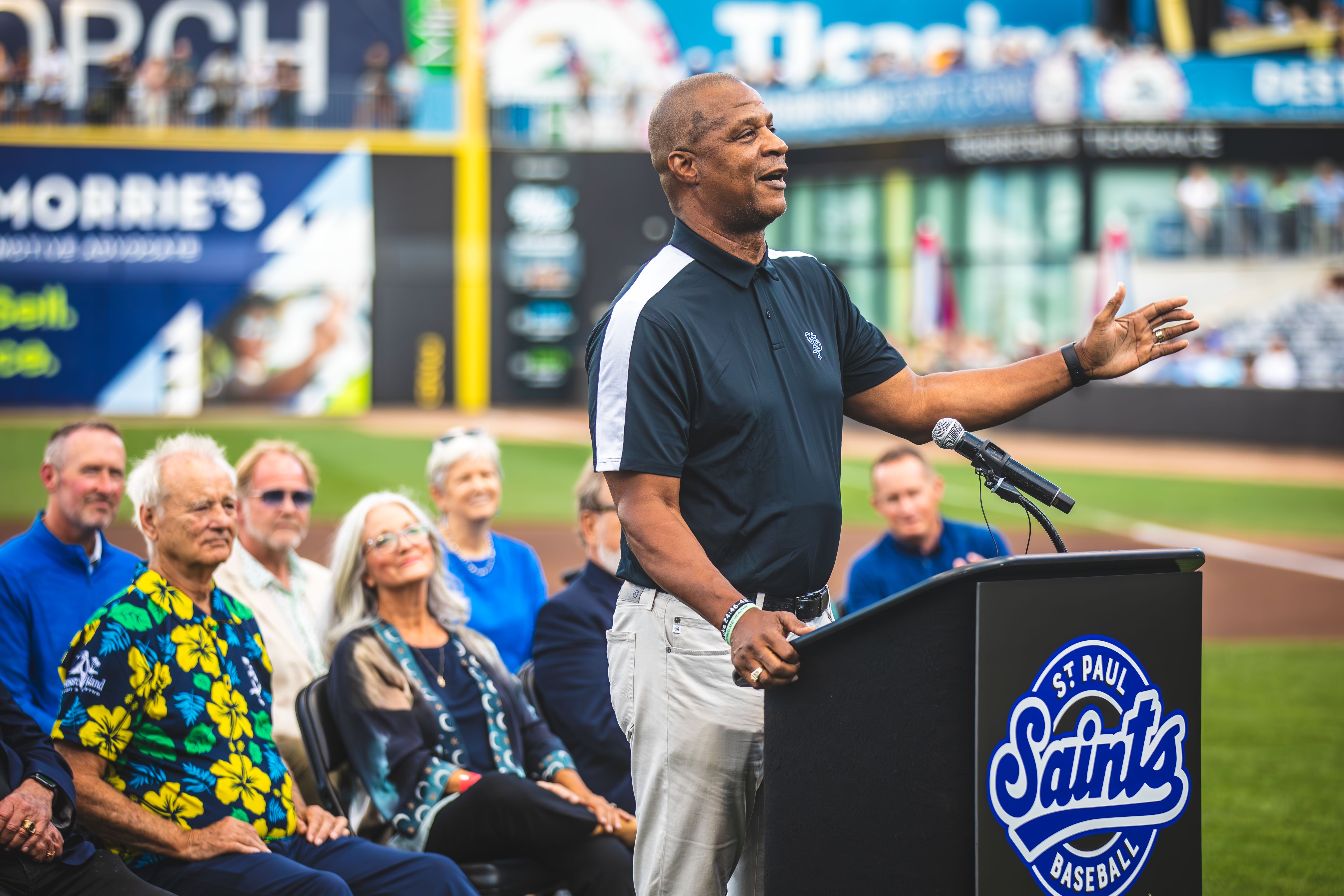 Image courtesy of Rob Thompson, St. Paul Saints
ST. PAUL – The St. Paul Saints honored five men this weekend that left a monumental impact on the franchise and the franchise has done the same for them in return.
Whether it was 29 years of the owner's share of the St. Paul Saints or a 29-game stint with them on the field in 1996. Mike Veeck, Marv Goldklang, Bill Murray, Van Schley, and Darryl Strawberry all have had a sense of pride and flourishment from their time with the St. Paul Saints. 
On Friday, Goldklang, Veeck, and Strawberry were available to the media to talk about their time and memories with the franchise. 
On the franchise's beginning, or revitalization as the Saints had previously existed as a minor league affiliate from 1901 to 1960, Veeck said the mission of the Saints to the local sports market was always about fun.
"Secretly, I had always wanted to operate a club in a territory of a Major League team because I knew we could market fun," said Veeck. "You know the Twins won in 1987, 91, we weren't going to go, 'Come see great baseball'. So we said come out and have fun. You can afford it."
From Day 1 of ticket sales, the people of St. Paul and greater Minnesota were drawn in with what Goldklang, Veeck, and Murray had to offer.
"There were 900 people the morning we put tickets on sale in 1992. It's unbelievable. 900 people! I know that because my wife made coffee for every one of them with a six or eight-cup burner. And we finished selling those tickets, hard tickets back in those days, at 11 o'clock at night, got there at 5:30 a.m. So they supported us," said Veeck.
Darryl Strawberry started his 1996 season with the Saints following no contract offers from MLB teams. While unexpected,
"I really had no idea I wanted to play baseball again," said Strawberry on when the Saints offered him a contract. "My life was in shambles. I knew that life is a journey, and you look at the importance of what other people play a role in your life. They [Saints ownership and fans] were a big part of my journey, and I think that's why I am standing here today and where I am today." 
Strawberry's numbers in his 29 career games with the Saints were off the charts. A .435 batting average, .538 on-base percentage, 1.000 slugging percentage, an OPS of 1.538. He hit 18 home runs and had 38 runs batted in. 
But to Strawberry, those numbers are just numbers. What mattered more were the people like Veeck, Goldklang, Murray, the fans, and the teammates, that he spent his time around with the Saints.
"You can't replace people. St. Paul, Minnesota is full of real people. I played baseball for a very long time and played in front of a lot of crowds. But I never played in front of crowds like I did in St. Paul at the old ballpark and the way people were, and you respect that," Strawberry said. 
As Saints crowds at Midway Stadium drew Strawberry's respect, they also drew his attention with the zany and things he'd never seen fans do before at a ballpark.
"Getting haircuts in the stands. Mike Veeck did a phenomenal job of getting people in and having them enjoy the game but also the fun off the field. Everybody's so tight with what's on the field, but they weren't. They had a pig running around. So it was a great atmosphere. It made it easier to play baseball," Strawberry chuckled. 
Two of the men who gave Strawberry that second chance, Goldklang and Veeck, know that what they did was not just about bringing alive a counter-culture franchise to independent baseball. But giving opportunities to countless people both on and off the field.
"You get to a certain age, and you start looking back a little more frequently than looking forward," said Goldklang. "I've been a lot of different things, but in terms of my heart, it's been about baseball. It's not just about baseball or sports. Anytime you can have a lasting and positive impact on someone's life, you've done something good."
"The fact that we survived [as a franchise], and that we became a part of the developmental chain in Major League Baseball," Veeck said. "Thirty-some players went on or went back to the Major Leagues, and countless numbers of careers were saved to give it one more shot. Those are the things you think about, I know people think it's the fun and games department, but that's not really what you think about. You think about the people and how they have affected your life." 
Veeck is a man who comes from a long baseball lineage. His grandfather was a Chicago baseball writer and the Cubs president from 1919 to 1933. His father, Bill Veeck, the man who brought the second black player into MLB in Larry Doby is known for so many other goofs and gags in baseball's golden age. When Mike Veeck looks back on his family's legacy on the game, it's his son who comes to his mind first.
"I think about my son, Night Train, and the great opportunity that he has. I had 10 years in the big leagues. I worked for four-and-a-half Major League teams, and I never got it right. Because you can take everything that's happened here in Saintsville and take it to the Major Leagues. And you know how I know that? Because my dad did it, and my grandfather did that before him," said Veeck. 
William 'Night Train' Veeck is carrying on his family's legacy in sports, but it's not baseball, Night Train Veeck spent two of the last three years as the COO of the Chicago NISA Soccer Club and Chairman of the board for TSL Holdings Inc., a sports sweepstakes app, per Night Train Veeck's LinkedIn page. 
As this chapter in their lives comes to a close. Goldklang, Strawberry, and Veeck will always have nothing but warm feelings toward the Saints and the city of St. Paul. They know there are many lives that they have touched directly and indirectly with the fun they've provided for the game.
For them, the fame and glory of an independent baseball franchise, and now Triple-A franchise are nice accolades. The impact the Saints ownership had on people from the ticket booth salesperson to a 22-year-old getting his shot and ending up on the Red Sox's curse-breaking team. They're proud of every person they've helped to make the St. Paul Saints who they are today.