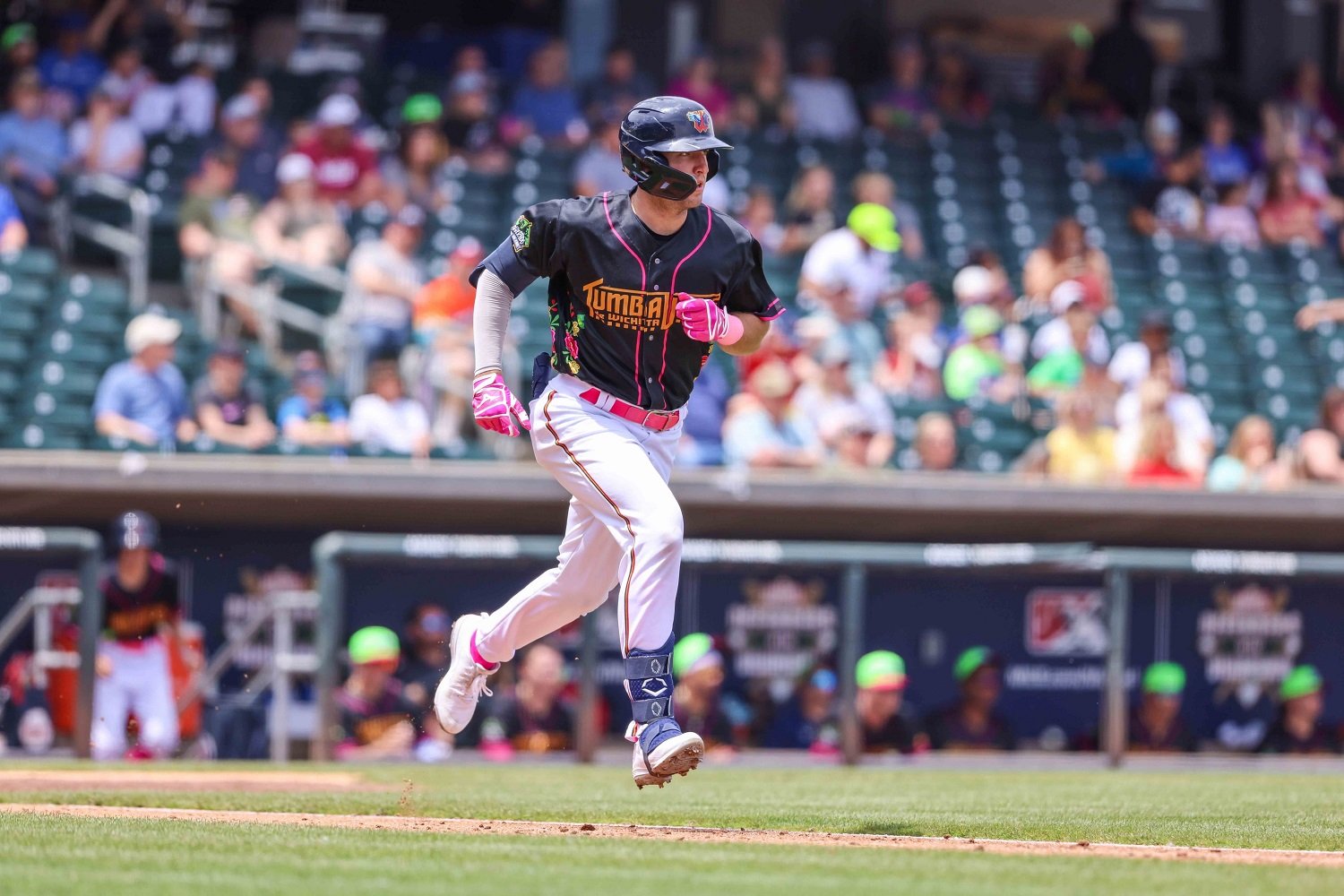 Image courtesy of Wichita Wind Surge
SAINTS SENTINEL 
Columbus 7, St. Paul 3
Box Score
It was Randy Dobnak's turn on the mound today to close out the series against the Columbus Clippers. Unfortunately the stuff wasn't there and while he didn't walk or strikeout anyone, Dobnak gave up five earned runs on five hits while only getting three outs. He was followed by Ronny Henriquez, and his two innings of work came with another two runs on a pair of walks and a base hit.
Jose Miranda did start the scoring with a first inning sacrifice fly that scored Andrew Stevenson, but that was the only lead the Saints had. After the five-run outburst in the bottom half, and two more in the second inning, the seven runs were more than enough to withstand St. Paul's two additional tallies.
Jair Camargo hit his fourth home run of the season on a solo shot in the third inning, and Chris Williams went deep for the fifth time on a seventh inning longball.
Royce Lewis did play third base and bat second in this one, but struck out three times in four at bats. Making his Twins organization debut, Austin Brice worked a scoreless inning of relief with a pair of strikeouts. Austin Schulfer continues to impress as well and lowered his ERA to 2.45 with a scoreless frame.
WIND SURGE WISDOM
Wichita 4, Arkansas 3
Box Score
Grabbing a series split with Arkansas, it was Travis Adams who made the start. Working four innings allowing just one run on a solo shot, it was a nice start with four strikeouts and just a single walk. Andrew Cabezas got his first win of the season in relief.
After a pair of Jonatan Clase home runs put Arkansas in the lead, the Wind Surge went to work in the fifth inning. DaShawn Keirsey Jr. singled in Anthony Prato before Brooks Lee plated Pat Winkel on a line drive. Winkel continued his good game with a sixth inning double that scored Pratop, and it gave the Wind Surge a 4-3 lead.
Arkansas attempted to claw back in the ninth inning but Riley Unroe's RBI single was the only run they could muster. Winkel's two-hit effort was the deciding factor on the day.                                                                                                                                                                                                   
KERNELS NUGGETS
Cedar Rapids 4, Peoria 2
Box Score
Alejandro Hidalgo looked to keep a strong season going but lost his command early. Working just 1 1/3 innings after allowing six base runners to reach via a walk, he did work around damage by allowing only two runs to cross. The Kernels bullpen responded with 7 2/3 innings of perfect baseball. They allowed no hits or walks while punching out eight.
Responding to the first inning runs, Kala'i Rosario put Cedar Rapids on the board despite grounding into a double play. Ben Ross scored and the good guys were on the board. Rosario was recently named the Twins minor league hitter of the week.
In the fifth inning Tanner Schobel crushed his fifth double of the season to drive in both Willie Joe Garry Jr. and Jeferson Morales. The Kernels had their first lead of the game. It was then Schobel again lifting a sacrifice fly in the seventh inning that scored Garry Jr. again and giving us the final tally of 4-2.
Schobel and Garry Jr. both grabbed a pair of hits in the contest for Cedar Rapids.
MUSSEL MATTERS
Lakeland 6, Fort Myers 5
Box Score
Zebby Matthews has been impressive this season for the Mighty Mussels and that followed suit today. Although he did give up four runs, only one was earned and he struck out nine while walking none. Matthews worked 4 2/3 innings before turning things over to the bullpen.
Fort Myers scored first when Carlos Aguiar sent a sacrifice fly deep enough into right field for Andrew Cossetti to race home. That lead was wiped out in the bottom half, but Danny De Andrade put the Mighty Mussels back up 3-2 in the fifth inning. His sixth double scored both Maddux Houghton and Jorel Ortega.
The back and forth continued with Lakeland retaking the lead 4-3 in the fifth inning, and extended it in the sixth winning with a solo shot. Aguiar then tripled for the sixth time this season in the seventh inning, which allowed both De Andrade and Cossetti to score and tie the game.
A ninth inning solo home run from Sergio Tapia walked things off, and Fort Myers had to go home empty.
De Andrade and Cossetti both recorded a pair of hits in the game. Cossetti picked up his first triple of the season.
TWINS DAILY MINOR LEAGUE PLAYERS OF THE DAY
Pitcher of the Day – Kernels Bullpen (Cedar Rapids) - 7.2 IP, 0 H, 0 R, 0 ER, 8 K
Hitter of the Day – Patrick Winkel (Wichita) - 2-3, 2B(5), R, RBI
PROSPECT SUMMARY
We will again keep tabs on the Twins top prospects. You'll probably read about them in the team sections, but if they aren't there, you'll see how they did here. 
Here's a look at how the current Twins Daily Top 20 performed:
#1 - Brooks Lee (Wichita) - 1-4, 2 R, K
#2 - Royce Lewis (St. Paul) - 0-4, 3 K
#9 - Matt Wallner (St. Paul) - 0-3, 3 K
#12 - Jose Salas (Cedar Rapids) - 0-3, K
#13 - Noah Miller (Cedar Rapids) - 0-3, BB
#19 - Yunior Severino (Wichita) - 0-4, K
TUESDAY'S PROBABLE STARTERS
Omaha @ St. Paul (11:07AM CST) - TBD
Wichita @ Springfield (6:355PM CST) - TBD
Wisconsin @ Cedar Rapids (6:35PM CST) - BTD
Fort Myers @ Dunedin (5:30PM CST) - TBD
Please feel free to ask questions and discuss Sunday's games!