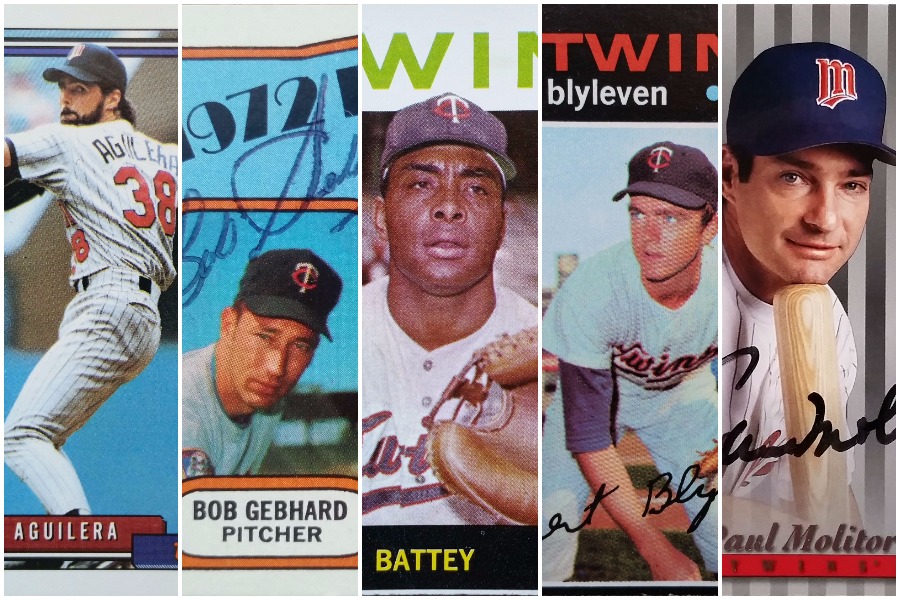 December 31
Happy 56th Birthday, Rick Aguilera
It's the birthday of longtime Twins closer Rick Aguilera, born in San Gabriel, CA in 1961.
Aggie saved 254 games for the Twins between 1989 and '99, second only to Joe Nathan's 260. He saved 42 regular season games for the 1991 World Series Champion Twins. Aggie, who hit three home runs with the Mets, pinch-hit in the 12th inning of Game 3 of the World Series, becoming the first pitcher to do so since Don Drysdale pinch-hit for Sandy Koufax vs. Jim Kaat in Game 2 of the '65 Series.
The Twins acquired Aguilera on July 31, 1989 in what was perhaps the greatest trade in team history. The Twins sent '87 World Series MVP and '88 Cy Young winner Frank Viola to the Mets for David West, Aggie, Kevin Tapani, Tim Drummond, and Jack Savage (as a player to be named later on October 16).
I was watching the Twins vs. Red Sox game at my grandparents' trailer near Cohasset on July 6, 1995 when Aggie was traded mid-game to Boston for pitching prospect Frankie Rodriguez and a player to be named later. Aggie re-signed with the Twins following the season. His Twins career ended for good on May 21, 1999 when he was traded along with Scott Downs to the Chicago Cubs for Kyle Lohse and Jason Ryan.
Aguilera was announced as the 19th member of the Twins Hall of Fame on January 25, 2008, and inducted the following June 21st before a 4-1 loss to Houston. Ironically, starting pitcher Glen Perkins took the loss. Perk, of course, would become a closer himself, finishing his career with 120 saves, third in Twins history behind Aguilera and Nathan.
Fun Fact: Aguilera, former Twins infielder Tim Teufel, and their Mets teammates Bobby Ojeda and Ron Darling were arrested after an altercation with off-duty cops working security at a Houston bar on July 19, 1986. The Mets went on to defeat the Astros in the NLCS that fall, and then beat Bill Buckner and the Red Sox in the infamous seven-game World Series.
January 1
Happy 34th Birthday, Neil Wagner
It's the birthday of 2002 Eden Prairie High School graduate Neil Wagner, born in Minneapolis in 1984. Wagner pitched for North Dakota State for three seasons before signing with Cleveland in 2005.
He made his major league debut pitching for the Oakland Athletics against Cleveland on August 30, 2011. He pitched five innings over six games with the Athletics that season. He made it back to the majors with the Toronto Blue Jays, getting into 36 games in 2013, and 10 in 2014.
Wagner pitched three scoreless innings over four appearances against the Twins, holding them to 1-for-11 (.091). Chris Colabello hit a seventh-inning double for the Twins' only hit off Wagner in the second game of a doubleheader at Target Field on April 14, 2014. The next inning, Blue Jays pitchers combined to give up six runs on EIGHT walks and just one hit.
January 3
Happy 75th Birthday, Bob Gebhard
It's the birthday of former Twins pitcher and front office exec. Bob Gebhard, born in Lamberton, Minnesota in 1943. The Twins drafted Gebhard out of the University of Iowa in the 44th round of the very first amateur draft in 1965. That summer he went 11-2 with a 1.91 ERA for the St. Cloud Rox.
Gebhard pitched professionally for 11 years, including 30 relief appearances for the '70-'71 Twins, and two innings with the '74 Expos. He was a player/coach with the Expos' Triple-A club in '74 and '75, Minor League Field Director and pitching coach from '76-'81, part of the major league coaching staff in '82, and Director of Minor League Operations through 1986.
Andy MacPhail brought Gebhard home to Minnesota in 1987, hiring him as Director of Major League Personnel. Here's a fun remembrance MacPhail shared of Gebhard's first season back in Minnesota: "Literally we had just won the world championship and Bob Gebhard turns to me and goes 'Damn, Andy, we won this thing. We were just trying to get organized!'"
He assumed the title of Vice President of Player Personnel in '88. Following the 1991 World Series, Gebhard became General Manager of the expansion Colorado Rockies, who began play in 1993. He hired '87 Twins World Series hero Don Baylor as manager, signed first baseman Andres Galarraga the day before the '92 Expansion Draft, and pulled off a trade for slugger Dante Bichette immediately following the draft. He signed Larry Walker in the spring of '95, and that year, just the team's third in existence, the Rockies won the NL West. The following season the Rockies won the NL's first-ever Wild Card spot. Gebhard resigned from the Rockies on August 20, 1999 amid speculation that he was about to be fired.
Gebhard served in the St. Louis Cardinals front office from 2000-2004, and as Vice President, Special Assistant to the General Manager of the Diamondbacks from 2005-2016. Gebhard received the Roland Hemond Award from the Society of American Baseball Research (SABR) in 2012 in recognition of his contributions to the community of professional baseball scouts.
Gebhard makes his home in Centennial, Colorado.
January 3
Happy 39th Birthday, Michael Restovich
It's the birthday of former major league outfielder Michael Restovich, born in Rochester, MN in 1979. Restovich was named Minnesota High School Baseball Player of the Year in 1997, his senior season at Rochester Mayo. That June he was selected by the Twins in the second round of the amateur draft. The Twins' first-round draft choice that year was a Virginia high schooler named Michael Cuddyer.
Restovich hit .369 in 76 games between the Rookie League Elizabethton Twins and Class-A Fort Wayne Wizards in 1998. In 1999 he hit .312 with 19 HR and 107 RBI for the Class-A Quad City River Bandits. He made his major league debut on September 18, 2002.
Restovich's first major league hit was a ninth-inning pinch-hit home run in a 14-4 Twins loss at Comiskey Park on September 21. Future-Twins closer Jon Rauch started the game and earned the victory for Chicago despite giving up lead-off home runs to David Ortiz and Corey Koskie in the second and fourth innings. Koskie hit a second lead-off homer in the sixth off of reliever Mike Porzio. Brad Radke had an uncharacteristically bad day, allowing six earned runs on nine hits in just three innings.
Restovich went on to play parts of six major league seasons with the Twins ('02-'04), Rockies ('05), Pirates ('05), Cubs ('06), and Nationals ('07). He made 297 plate appearances over 152 games, hitting .239 with 28 walks, six home runs, and 21 RBI.
January 4, 2002
Gardenhire Named Manager
The Twins announce former third base coach Ron Gardenhire as the 12th manager in team history, succeeding Tom Kelly, who, after the team's first winning season in nine years, announced his retirement on October 12, 2001. TK was the longest tenured manager or head coach in all of professional sports at the time of his retirement.
The Twins won the AL Central in each of Gardy's first three seasons, and in six of his first nine. They only advanced past the divisional round, however, in Gardy's first season of 2002. After five runner-up finishes, he was named AL Manager of the Year in 2010. He managed the Twins for 13 seasons before being fired on September 29, 2014, having amassed 1,068 wins, just 72 shy of TK's team record of 1,140.
After serving as Arizona Diamondbacks bench coach in 2017, Gardy will manage the dumb Detroit Tigers in 2018.
January 5, 1935
Birthdate of Earl Battey
It's the birthdate of five-time All-Star, and three-time Gold Glove catcher Earl Battey, born in Los Angeles in 1935 (83 years ago).
Battey saw limited playing time with the Chicago White Sox from 1955-'59. Then, on April 4, 1960, the White Sox traded Battey and Don Mincher to the Washington Senators for 1957 AL home run leader Roy Sievers. Battey broke out that season, winning his first of three consecutive Gold Glove Awards, and even garnering some AL MVP votes.
Battey scored the first walk-off run in Twins history on April 22, 1961, scoring on a Zoilo Versalles sac fly.
He retired after the '67 season having caught 831 games in a Twins uniform. That stood as the club record until Joe Mauer surpassed him on August 27, 2012.
In 1980 Battey enrolled at Bethune-Cookman University in Daytona Beach, FL, graduating summa cum laude in just 2½ years. After graduation he became a high school teacher and baseball coach in Ocala, FL.
Earl Battey passed away on November 15, 2003. He was just 68 years old. He was inducted as the 13th member of the Twins Hall of Fame in 2004.
January 5, 2009
Pohlad Passes Away
Longtime Twins owner Carl Pohlad passes away at home in Edina. He was 93 years old.
Pohlad grew up dirt-poor in West Des Moines, Iowa. After high school he played football at Compton Junior College in southern California. The entertainer Bing Crosby saw Pohlad play and recruited him to his alma mater, Gonzaga University in Spokane, WA. While in school, Pohlad earned a little extra money boxing in clubs along the West Coast. He dropped out of school his senior year to focus on his lucrative side job of selling repossessed cars.
Pohlad was drafted into the Army in 1942 and served as an infantryman man during World War II in France, Germany and Austria. He was wounded in battle and awarded two Bronze Stars, an Oak Leaf Cluster, and three Purple Hearts. After the war Pohlad partnered with his brother-in-law, taking control of Marquette Bank in Minneapolis in 1949, just three years out of the Army. Pohlad took sole control of the bank after his brother-in-law's death several years later. He branched out from there, establishing a web of banking, bottling, real estate and other companies.
In 1984 the billionaire financier bought the Twins from original owner Calvin Griffith for a cool $38 million, almost certainly preventing the team from leaving Minnesota. Ever the shrewd businessman, Pohlad was a frugal owner, always looking to maximize value. Rather than spending big money on acquiring -- or even retaining -- marquee talent, Pohlad emphasized building a team from the ground up through a farm system that is still regarded as one of the best in the game. His prudent approach paid dividends with World Series championships in 1987 and 1991.
You can say a lot about Carl Pohlad. Here's one thing: Carl Pohlad, the son of a dirt-poor Slovak immigrant who grew up to be the second wealthiest man in Minnesota, never retired.
January 5, 2011
Blyleven Elected to Hall of Fame
On his 14th ballot, Twins all-time strikeout leader (2,035) Bert Blyleven is elected to the Hall of Fame with the support of 79.7% of voters. He was inducted on July 24 alongside Roberto Alomar and 27-year GM Pat Gillick.
The Twins selected the Dutch-born, SoCal-raised Blyleven out of high school in the third round of the '69 draft. Bert made his major league debut on June 2, 1970 at age 19. He would pitch for 22 seasons, 11 in Minnesota ('70-'76, '85-'88), amassing 149 wins in a Twins uniform, second only to Jim Kaat's 190 (including one as a Senator). In addition to the '87 Twins, Bert was a member of the 1979 World Series Champion Pirates. He was an All-Star in 1973 and '85.
Bert pitched three one-hitters with the Twins, two in 1973 and another in 1974 (only one of those, incidentally, was a shutout). He pitched a no-hitter in his final game as a Texas Ranger on September 22, 1977. His 3,701 career strikeouts rank fifth in major league history behind Nolan Ryan, Randy Johnson, Roger Clemens, and Steve Carlton.
Blyleven was inducted into the Twins Hall of Fame on June 1, 2002, and his number 28 was retired on July 16, 2011.
January 6, 1923
Birthdate of Red Hardy
It's the birth date of Minneapolis South High School graduate Red Hardy, born in Marmarth, ND in 1923 (95 years ago). He began his professional career in 1942 with Eau Claire of the Class C Northern League before enlisting in the US Navy. After pilot training at Camp Croft in South Carolina, he saw active duty during World War II.
After receiving his discharge, Hardy enrolled at the University of St. Thomas for whom he pitched in the spring of '46, once losing a 13-inning complete game 3-2 to the University of Minnesota. After the college season, he resumed his pro career briefly with the Minneapolis Millers, and then the St. Cloud Rox, for whom he went 7-0 with a 1.70 ERA.
Hardy eventually made it to the majors in 1951, pitching 1 1/3 innings over two appearances with the New York Giants. He passed away on August 15, 2003 at age 80.
For a more thorough picture, read Terry Bohn's SABR BioProject article on Red Hardy.
January 6, 2004
Molitor Elected to Hall of Fame
1974 Cretin High School grad and Golden Gophers all-time great Paul Molitor is elected to the Hall of Fame alongside legendary closer Dennis Eckersley, both on their first ballots. Molitor appeared on 85.2% of ballots, meaning a staggering 75 members of the BBWAA were complete ignoramuses.
The two-time All-American Molitor was selected by the Milwaukee Brewers with the third overall pick in the 1977 draft behind Harold Baines and Bill Gullickson, who, incidentally, was born in Marshall, MN, but attended high school in Joliet, IL. In 1978 Molitor was runner-up to Detroit's Lou Whitaker for American League Rookie of the Year.
Molitor set a World Series record with five hits in Game 1 of the '82 Series, which the St. Louis Cardinals won in seven games. The Cards' Albert Pujols tied that record, going 5-for-6 with six RBI, three home runs, and four runs scored in Game 3 of the 2011 World Series.
Molitor stole second, third, and home consecutively in the first inning vs. Oakland on July 26, 1987. Forty-one players have pulled that off a total of 51 times in MLB history, 12 since 1940. The feat was accomplished four times in the '80s, twice in the '90s, once in the '00s, and, most recently, by Dee Gordon in 2011 and Wil Myers in 2017. The Twins' Rod Carew did so on May 18, 1969.
Molitor hit for the cycle vs. the Twins at the Metrodome on May 15, 1991, tripling on Kevin Tapani's first pitch of the game, and homering off Tapani to complete the cycle. Despite the 4-2 loss to Milwaukee, the Twins would salvage their '91 season.
In total he played 15 seasons for Milwaukee before signing with the Toronto Blue Jays following the '92 season. In '93, at age 37, Molitor had his first 100-RBI season, collecting 111. He was the Most Valuable Player of the 1993 World Series, hitting .500 (12-for-24) with two home runs and 10 runs scored, tying the record set by Reggie Jackson in 1977.
Molitor signed with the Twins for the 1996 season, when, at age 39, he hit .341, drove in 113 runs, and led the league with a career-high 225 hits. He tied Rod Carew and Tim Teufel's team record with five runs scored on April 24, 1996 (later matched by Luis Rivas on June 4, 2002). Molitor tripled for his 3,000th hit on September 16, 1996, exactly three years to the date after 1969 St. Paul Central grad Dave Winfield collected his 3,000th off Molitor's Hall of Fame classmate Dennis Eckersley.
The 40-year-old DH went 3-for-4 with two home runs, a double, three RBI, and three runs scored on July 25, 1997. On September 3-4, now 41 years old, he homered in back-to-back games.
He stole his 500th base on August 8, 1998, joining Ty Cobb, Honus Wagner, Eddie Collins, Lou Brock, and Rickey Henderson in the 3,000 Hit/500 Stolen Base Club. Ichiro joined the club in 2016. Molly retired following the '98 season.
Molitor was introduced as the 13th manager in Twins history on November 4, 2014. On November 14, 2017, just one year removed from the worst season in club history, Molitor became just the second Hall of Fame player to be named Manager of the Year. Baltimore's Frank Robinson received the award in 1989.
Molitor was the second of three St. Paul natives elected to the Hall of Fame. 1969 St. Paul Central grad Dave Winfield was inducted in 2001 alongside Kirby Puckett. 1973 Highland Park grad Jack Morris will be inducted this coming July.
Fun Fact: Paul Molitor went 33-for-103 (.320) vs. Jack Morris, including a home run on September 20, 1987.
Keep in touch with @TwinsAlmanac on Twitter & Facebook.