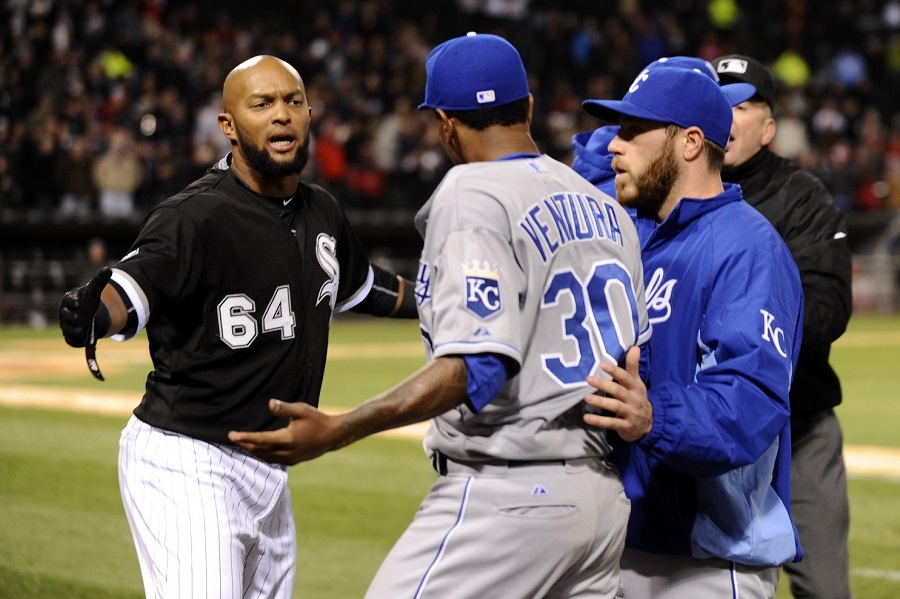 Image courtesy of Matt Marton-USA TODAY Sports
Watching him might be fun for pitching connoisseurs, but likely won't be for Twins fans. Sale has a career 2.37 ERA versus the Twins, which includes nine starts and eight relief appearances. Not that the suspension would have pushed him back more than a single game anyway, but he's appealing it, which is why the Twins get to see him this homestand.
Winner: Thursday, unless the Twins can find a way to get Sale suspended some more. Hmmm…
Best Game To Watch the White Sox Lose Their Minds
We all know by now that the way to make the White Sox go Defcon 6 and pile up a bunch of suspensions is to yell at one of them after a comebacker. But that takes a special kind of crazy, as demonstrated by Royals pitcher Yordano Ventura. Unless the Twins plan on putting Oswaldo Arcia on the mound, I don't think we have a player who can generate those kind of fireworks.
But hitting a few Sox with pitches might do the trick. Only one pitcher on the Twins staff has hit more than one guy with a pitch this year: Mike Pelfrey. He's also known as one of the nicest guys in the game, unfortunately. But that won't necessarily stop the White Sox.
Winner: Sunday, because Pelfrey pitches that day. Unless the Twins decide to let Oswaldo Arcia pitch, in which case you do whatever it takes to make it to the ballpark Like miss the birth of your only child. Trust me on this. .
Best Weather
The baseball gods might not like Twins fans, but we're in good standing with the weather gods this year. We have four straight days of 70s and 80s coming up and May is just starting. It doesn't look like rain during game time for any of the matchups right now, with the possible exception of Sunday. So let's go with:
Winner: Saturday, because it's an afternoon game and 81 degrees. #SuckItWinter
Least Likely To Interfere With Binge Watching The NFL Draft
Winner: Sunday, which is also the day there is a chance for rain. The weather gods apparently hate the football gods.
Best Game For Getting A Free Beer And Celebrating The Wild In The Playoffs
Friday night the Twins play at 7:00 and whenever you lose interest in the game, you can stroll two block over to Mason's (6th and Hennepin) and join the MinnCentric guys, including yours truly, at our Wild Support Group Game One Party. It's free and includes a free beer and "Lucky Lemon Bar". It does not get better than this.
Winner: Friday
Best Game For A Sneaky Twins Victory
The White Sox this year only have a 541 OPS as a team against left-handers. That includes a loss against Tommy Milone, who takes the hill for the Twins on Saturday afternoon. The White Sox just haven't faced many southpaws so far this year – but that's a good thing too.
Winner: Saturday
Best Game At Which To Catch A Home Run Ball
White Sox first baseman Jose Abreu has started 2015 right where he ended 2014 – by slugging the snot out of defenseless baseballs. He already has five home runs on the year and most have been pulled to left field, which is the easiest place to hit home runs in Target Field. By the way, I see a pair or tickets in the second row of section 128, right next to the left field foul pole, for just $11 apiece on Ticket King.
Winner: Four way tie.
Best Game At Which To Meet The Love Of Your Life
Twenty-five years ago tonight I was mocked for my exceptional volleyball skills by a cute Philadelphia blonde. Four years to the day later, I married her. We have spent most April 30ths since then, and several other key moments, at baseball games and Thursday night will be no exception.
If you're looking for magic in this world, I highly recommend a baseball park. It has worked for me.
Winner: Me.