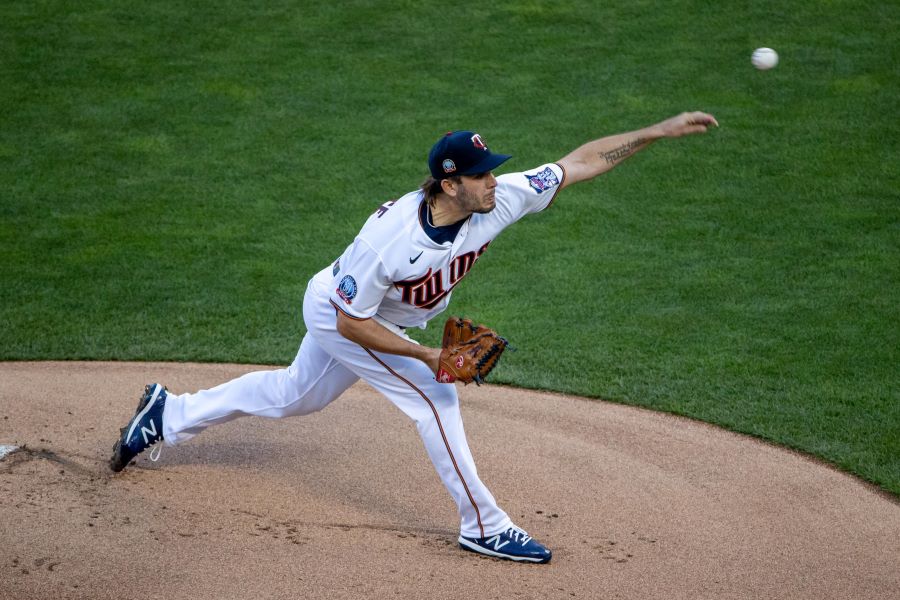 Image courtesy of © Jesse Johnson - USA TODAY Sports
Generally speaking a left-handed pitcher can get away with not throwing quite as hard as their right-handed counterparts, but there's a point where even a lefty can lose too much. Here's a list of Thorpe and some more accomplished veteran southpaws who have had similar velocity drops this year:

Having Thorpe's name tied in with accomplished starters like Bumgarner, Minor, and Corbin would normally be a good thing, but in this case it most certainly isn't. All four pitchers have lost significant fastball velocity, and with it, the ability to miss bats. And as a result they're getting rocked.
As with any attempt at statistical analysis in 2020, the small sample size warning applies, but when taken as a whole the results look pretty damning. So far Bumgarner is 0-and-2 with a 7.04 ERA and gave up seven earned runs in his last outing against Houston. Minor, who was an All-Star in 2019 and finished eighth in Cy Young voting, is now 0-and-3 with a 6.89 ERA.
Corbin is the outlier of the group as thus far his numbers have been really good (3.00 ERA, 12 K/9). He actually throws a two-seamer more frequently than his four-seamer, so he's not as great a comp, and with Corbin it's all about the slider. His slider has accounted for 40.1% of the pitches he's thrown this season, making it his most used pitch, and for good reason. It's one of the best in all of baseball and hitters are whiffing at a rate of 51.3%. He's a one-trick pony, but the superb nature of his slider allows him to thrive with less velocity.
Although Thorpe also features a changeup and curve ball, they haven't fared well, and like Corbin his best pitch is his slider. He's been throwing it more than ever in 2020 (29.5% vs. 19.7% last year) and it's gotten good results (33.3% whiff rate). However, like the fastball, the slider too has lost velocity. It's down to 81.3 mph from 84.6 in 2019 and his whiff rate has also dropped from 44.6% to 33.3%. It's still a really good pitch, and if Thorpe is going to succeed he'll probably need to throw it at an even greater frequency.
While having someone like Thorpe around to fill in a swingman role is nice to have and has already proved to be invaluable with Jake Odorizzi, Homer Bailey, and Rich Hill hitting the IL, Thorpe is clearly behind Randy Dobnak, who himself will be hard to fit into the rotation when/if the rest of the rotation becomes healthy. Factor in the return of Michael Pineda, and Thorpe's future as a starter looks murky this season and beyond (there's also Jhoan Duran and Jordan Balazovic who lead an impressive group of pitching prospects that are near MLB-ready).
The velocity loss certainly further dampens Thorpe's future as a starter (as has his spotty control – he's already walked six, while striking out only 4 in 2020), but the good news is that the slider could make him a decent relief piece in the long run. The Twins and Wes Johnson have shown a preference for sliders as is evident by relievers like Sergio Romo (74.2 % slider usage), new-come relief sensation Matt Wisler (76.2 %!), and Tyler Duffey (51.8%), who is emerging as one of the best relievers in all of baseball.
After years of following Thorpe as a prospect and seeing him annually included in Twins top prospect lists, fans may be hesitant to give up hope of Thorpe becoming a useful rotation piece, but it's hard to thrive with an 89 mph heater and only one truly good pitch. However, having another Duffey or Rogers to fill out the 'pen for years to come would be a welcome consolation prize.
What do you think? How much does the drop in velo concern you? Is it too early to give up on Thorpe as a starter? Please leave your comments below!
MORE FROM TWINS DAILY
— Latest Twins coverage from our writers
— Recent Twins discussion in our forums