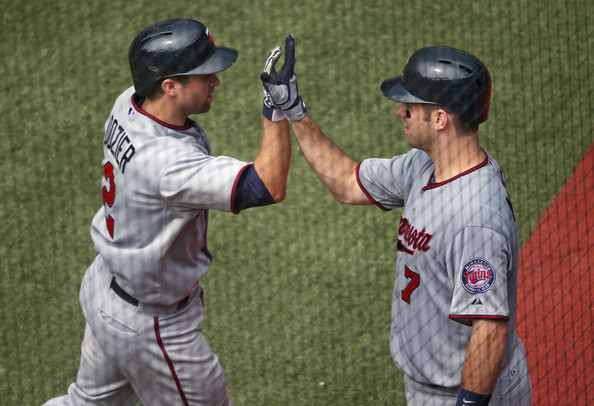 It has been a year of good and bad performances in Minnesota. Unfortunately, there has probably been more bad than good.
On the positive side of things, Phil Hughes has put together the best season of his professional career, Danny Santana has done some good things as a rookie, and the duo of Kennys Vargas and Oswaldo Arcia seem to be able to mash the ball out of any park.
There have been some players that haven't lived up to expectations for various parts of the year. Those players are trying to right the ship over the next couple weeks before 2014 comes to a close. Ending this year on a good note could help each of the following players to rebound in 2015.
Ricky Nolasco: When the Twins signed Nolasco this off-season to the biggest free agent deal in franchise history, there was a smattering of the fan base that said, "Who?" He had been a workhorse pitcher in the National League for multiple seasons but the transition to the American League has been anything but easy. There can be a variety of excuses thrown out in relation to his play this season. He could have been pitching through some injuries and he might have had a tough time adjusting to the new league. He'll be in the rotation next year and one has to hope that his performance will improve.
Joe Mauer: He's not playing catcher any more so there is supposed to be less wear and tear on his body. Even with the switch to a new position, it has been one of the worst offensive seasons on record for Mr. Mauer. His second half performance has been better than his first half performance (.695 OPS improving to .812 OPS), but it has come in half as many games. Fans will always focus on Mauer's performance because of his large contract and that's something he'll live with for the rest of his career. For 2015, the focus should be on getting back to the Mauer of old.
Aaron Hicks: There's a chance Hicks could end up winning the starting center field job for the third straight season coming out of spring training next year. The Twins would obviously need to see something from him in the coming weeks. Since becoming a September call-up, he hasn't exactly blown the cover off the ball. There haven't been a ton of signs pointing towards a rebound for Hicks but there have been flashes of good things in the minors and his first round pedigree always helps. Next year could be his last chance to make a mark with the Twins.
Trevor May: May's only seven starts into his MLB career so it's not too much of a stretch of the imagination to think he can improve. His outings in September have been better and that might be enough of a confidence boost to put him on a improve path moving forward. Kyle Gibson struggled last year in his first taste of the big leagues and he's turned into a much more serviceable pitcher this year. May's mission should be to follow in Gibson's footsteps for 2015. If he can fit into the middle of the rotation for the next handful of years, Twins fans would have to be happy with the result.
Brian Dozier: For fans that haven't been paying attention in recent weeks, Dozier's name might be a surprise on this list. After a tremendous first half of the season where there was a chance he would make the AL All-Star squad, Dozier has fizzled in the second half. His slugging percentage has dropped almost 100 points and this can be attributed to his lack of second half home runs. He hit 18 long balls in the first half and he's only hit one since July 23rd. There are younger players coming through the Twins system in the coming years that will want a middle infield job so Dozier needs to get back to the player he was in the first half.