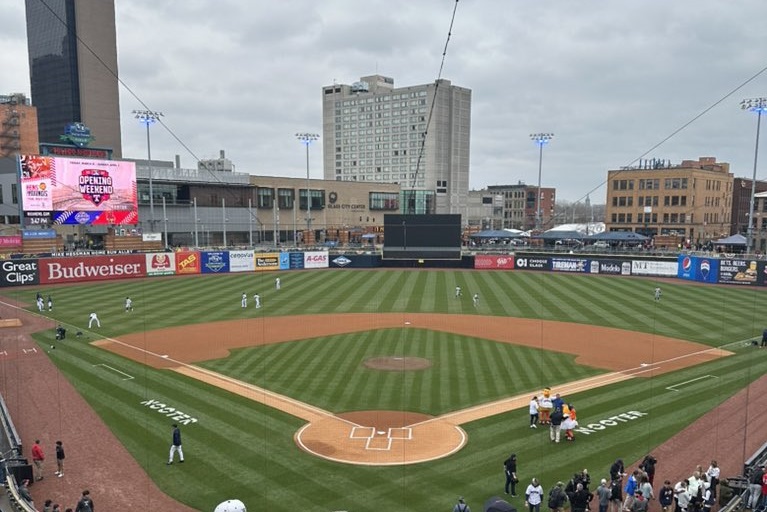 Image courtesy of Sean Aronson
Happy Triple-A Opening Day! The Twins have the day off on Friday. The Saints are playing their opener in Toledo, a three-game series. They will return to CHS Field to start their home schedule on Tuesday when Louie Varland takes on the Iowa Cubs. Next Thursday, the Wichita Wind Surge, Cedar Rapids Kernels, and Fort Myers Mighty Mussels will start their seasons. 
Let's get to the report. As always, please feel free to discuss and ask questions. 
TRANSACTIONS
The Saints officially announced their Opening Day roster on Friday morning. Check it out here. 
Utilitymen Michael Helman and Austin Martin are beginning the season on the Saints Injured List. Pitcher Patrick Murphy and catcher David Banuelos are on the Development List. 
Saints Sentinal
St. Paul 4, Toledo 7
Box Score 
Bailey Ober started the game and the season for the Saints on the road against Toledo. Ober struggled early, giving up a run on two hits in the first inning. His day ended after just three innings pitched. He worked out of a jam in the 2nd inning but then gave up two more runs in the third inning. More importantly, he needed 32 pitches to get through that inning. The right-hander gave up three runs (2 earned) on five hits and a walk. He also struck out four batters. 
WBC hero Jose De Leon came on in relief of Ober to start the fourth inning. He was efficient and kept the Mudhens at three runs through the sixth inning. In the bottom of the seventh frame, he gave up a bloop single, got a strikeout and issued a walk. 
Cody Laweryson came in for his first Triple-A appearance, a tough spot with two runners on base and trying to keep the Saints within striking distance. He started well, getting Tigers prospect Parker Meadows to strike out for the second out. Unfortunately, Andy Ibanez came to the plate and launched a three-run homer, expanding the Mudhens lead to 6-1. Four batters later, Toledo had two more hits, a walk and another run. 
So De Leon's final line doesn't necessarily tell the story of how he pitched. He was ultimately charged with two runs on three hits and a walk in 3 1/3 innings. 27 of his 46 pitches were strikes (59%). Laweryson's line? He recorded two outs, both on strikeouts. However, two of two inherited runners scored, and he then gave up two more runs on three hits and a walk. 
The Saints offense struggled. Toledo kept the Saints from earning not only runs early in the game, but only allowed four hits through the seventh inning. Their first base runner came in the second inning when newly-acquired outfielder Andrew Stevenson walked. An inning later, Matt Wallner blooped a single to left, just beyond the reach of #OldFriend Akil Baddoo for the Saints' first hit of the season. In the fifth inning, veteran Hernan Perez had an infield single that could (maybe should) have been ruled an error. 
In his third at-bat, Edouard Julien got the Saints on the board. He hit a solo home run into left center, getting the Saints on the board.
Along with some pitching struggles, and hitting struggles, the Saints also committed three errors on defense. However, there was a highlight-reel throw from center fielder Mark Contreras. With speedy veteran Jonathan Davis on second base, Akil Baddoo hit a fly ball to center field, just shy of the warning track. Contreras played it perfectly, got behind the ball, caught it, and made a strong throw to Andrew Bechtold at third base to get Davis on a close play. 
Kyle Garlick  and the Saints came into the top of the ninth inning battling back. Garlick hit a solo home run to get the Saints another run on the board. Contreras followed suit with a single and getting more runners in scoring position.  Jair Carmago doubled on a sharp fly ball to score Contreras with only one out. The Saints continued to stay alive bringing home Andrew Stevenson on a ground out from Hernan Perez getting three more runs before Bechtold struck out to end the game. The Saint's battled hard at the end, but it wasn't enough.
Tomorrow is another day...
TWINS DAILY MINOR LEAGUE PLAYERS OF THE DAY
Pitcher of the Day – Jose De Leon (St. Paul) - 3.1 IP, 3 H, 2 R, 1 BB, 2 K
Hitter of the Day – Edouard Julien (St. Paul) - 1-for-4, 1 R, 1 RBI, HR (1), K 
PROSPECT SUMMARY
Check out the Prospect Tracker for much more on the new Twins Top 20 prospects after seeing how they did on Sunday. 
#5 - Edouard Julien (St. Paul) - 1-for-4, 1 R, 1 RBI, HR (1), K 
#11 - Matt Wallner (St. Paul) - 1-for-4, 3 K

UPCOMING SCHEDULE 
Saturday: 
St. Paul @ Toledo (3:10 PM CST) - RHP Aaron Sanchez (0-0, 0.00 ERA) 
Sunday:
St. Paul @ Toledo (1:10 PM CST) -  RHP Simeon Woods-Richardson (0-0, 0.00 ERA)
Please feel free to ask questions and discuss today's game!