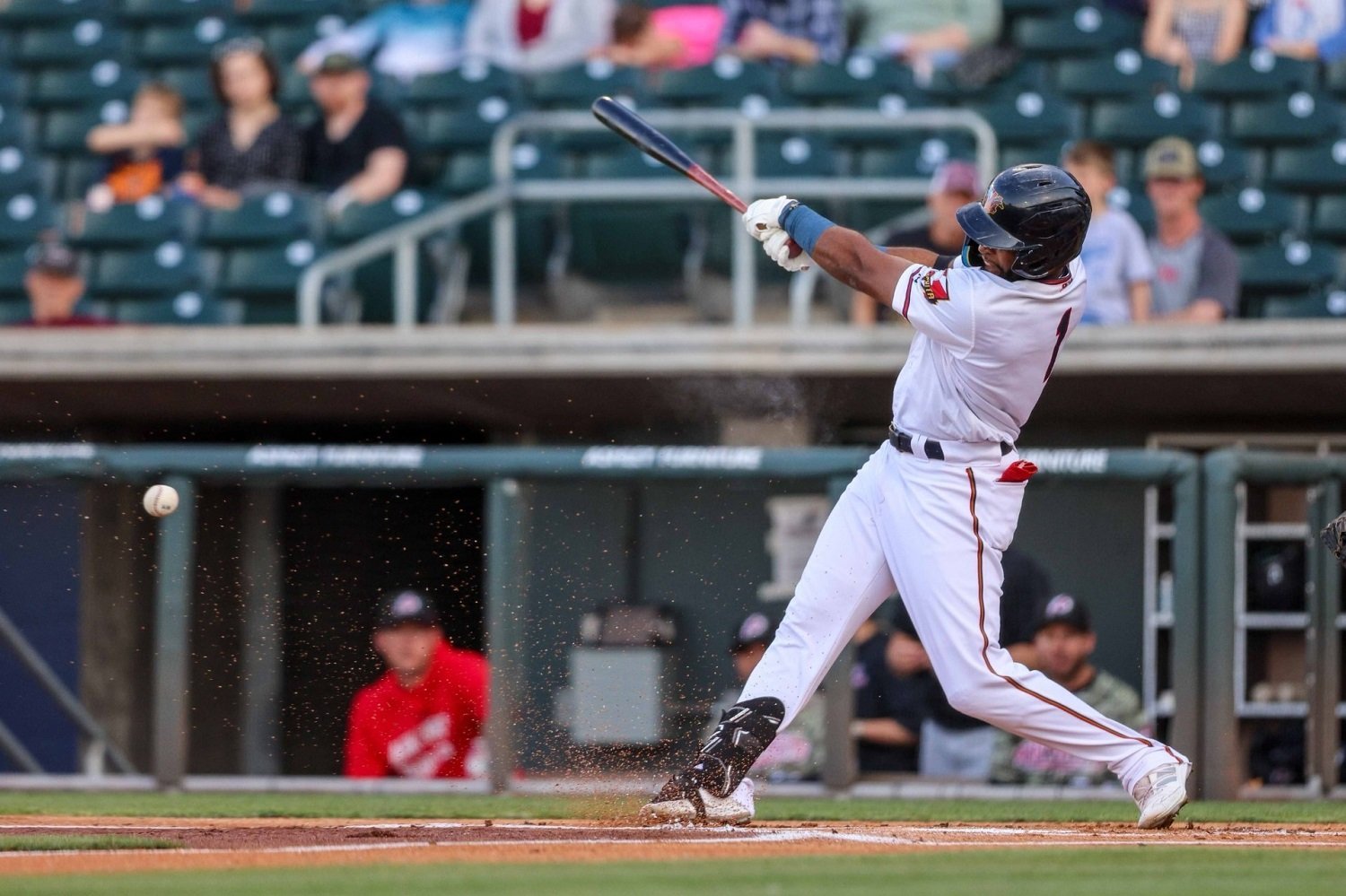 Image courtesy of Ed Bailey, Wichita Wind Surge (photo of Yoyner Fajardo)
TRANSACTIONS
SAINTS SENTINEL 
Iowa 7, St. Paul 6
Box Score
Former Twins pitcher Stephen Gonsalves was on the bump Friday night for Iowa against St. Paul. The Saints gave the ball to Blayne Enlow looking to bounce back from the defeat on Thursday. Enlow worked an abbreviated three inning outing allowing two runs on five hits. He didn't surrender a walk and struck out one.
After Matt Mervis drove in the game's first run for Iowa, the Saints responded as Kyle Garlick doubled home Trevor Larnach in the top of the second inning. St. Paul then loaded the bases against Gonsalves, still with no outs, and added a second run with Anthony Prato taking a walk to drive in Garlick. Austin Martin also drew a walk to drive in DaShawn Keirsey Jr. making it a 3-1 game headed to the bottom of the second.
With Iowa grabbing a run back in the third inning, St. Paul looked to find some extra breathing room again. Entering in the fourth inning, Twins reliever Brock Stewart made his first game appearance since June 25. Picking up where he left off, he struck out two of the three hitters he saw.
Ronny Henriquez came on and worked a scoreless fifth inning of relief, but going back out for the sixth inning proved to be a disaster. He allowed five runs and recorded just two outs before Jordan Balazovic came on to take over. Continuing to run out former Twins prospects, the Cubs sent Nick Burdi to the mound in the eighth inning, and the 2014 second round pick worked a scoreless frame against his former organization. Closing out the game for Iowa was former Minnesota reliever Tyler Duffey .
St. Paul tried to put together a rally in the ninth inning with Michael Helman grabbing a one-out single before Martin walked for the third time in the game. He got Lee to strike out on a ball in the dirt and it was on Trevor Larnach to extend the game. He blasted a pitch on the outside edge over the wall to bring St. Paul back within one. Garlick went down swinging to end the game.
Nick Gordon was 0-for-3 in his appearances at the dish Friday night. With just seven hits to their credit, only Gilberto Celestino and Larnach recorded two on Friday night.
WIND SURGE WISDOM
Wichita 7, Midland 0
Box Score
Marco Raya was on the bump Friday night for the Wind Surge. He worked four innings of scoreless baseball allowing just a single hit and walk. Raya struck out four, and has now allowed just two earned runs over his past 17 innings pitched.
It took a few innings for a run to come across the board, but Yoyner Fajardo plated a pair when he blasted his ninth home run, scoring Will Holland, in the third inning. A couple innings later, Jake Rucker took a ball over the fence for his ninth home run, and the solo shot made it a 3-0 game. Getting in the box score again, Fajardo tripled for the eighth time and drove in Alerick Soularie making it a 4-0 lead by the end of the fifth inning.
Patrick Winkel joined the home run pair by blasting his tenth, a solo home run, in the sixth inning to make it a 5-0 game. The Wind Surge kept adding in the seventh inning, and it was again Fajardo at the center of it. His single drove in Holland before Winkel used a sacrifice fly to make it 7-0.
Rehabbing Twins reliever Jorge Alcala worked 1 1/3 innings and struck out four batters. He did allow a hit and a walk. Taylor Floyd closed out the game with 1 2/3 innings of work. Fajardo was the highlight reel Friday with three hits. Both Winkel and Holland had two of their own.
KERNELS NUGGETS
Cedar Rapids 9, Peoria 3
Box Score
Looking to win two in a row and utilize the home field advantage, Cedar Rapids sent C.J. Culpepper to the mound on Friday night. He was nearly flawless going five innings and allowing just a single earned run on four hits and a walk. Culpepper also struck out eight.
The Kernels jumped out to an early lead, scoring four runs in the first inning. Andrew Cossetti singled home Emmanuel Rodriguez before Jorel Ortega drove in Kala'i Rosario with a single of his own. Luke Keaschall then singled in Cossetti and Jose Salas brought Ortega home on a ground out.
Chasing the four-spot, Peoria did grab a run of their own in the top of the second inning. The Kernels answered that in the fifth inning when Noah Cardenas singled home Ortega and put the good guys back up by a grand slam.
The two sides stretched and then the Kernels flexed their muscle again. In the bottom of the the seventh inning Cardenas singled home Cossetti before Jose Salas tripled in Keaschall and Cardenas to make it an 8-1 game. With time running out, the Kernels were inching their way towards a Midwest League Western Division championship. Piling on for good measure, Keaschall drove in Rodriguez before Peoria stepped in for their final at-bats, trailing 9-1.
Kyle Jones remained on the mound and closed the game out working two innings, allowing just a pair of meaningless ninth inning runs. Both Keaschall and Cardenas grabbed three hits while Ortega had a pair of his own. Cedar Rapids will take on the Dodgers affiliate, the Great Lakes Loons, in the Midwest League Championship series.
TWINS DAILY MINOR LEAGUE PLAYERS OF THE DAY
Pitcher of the Day – C.J. Culpepper (Cedar Rapids) - 5.0 IP, 4 H, 1 R, 1 ER, 1 BB, 8 K
Hitter of the Day – Yoyner Fajardo (Wichita) - 3-5, R, 4 RBI, 3B, HR(9)
PROSPECT SUMMARY
We will again keep tabs on the Twins top prospects. You'll probably read about them in the team sections, but if they aren't there, you'll see how they did here. Here's a look at how the current Twins Daily Top 20 performed:
#1 - Brooks Lee (St. Paul) - 0-4, 2 K
#3 - Emmanuel Rodriguez (Cedar Rapids) - 0-3, 2 R, 2 BB, 2 K
#4 - Marco Raya (Wichita) - 4.0 IP, 1 H, 0 R, 0 ER, 1 BB 4 K
#7 - Austin Martin (St. Paul) - 0-2, RBI, 3 BB, 2 K
#8 - Tanner Schobel (Wichita) - 1-4, K
#10 - Luke Keaschall (Cedar Rapids) - 3-5, R, 2 RBI, K
#13 - Kala'i Rosario (Cedar Rapids) - 1-4, R, BB, 2 K
#16 - Jordan Balazovic (St. Paul) - 1.1 IP, 1 H, 0 R, 0 ER, 1 K
SATURDAY'S PROBABLE STARTERS
St. Paul @ Iowa (6:08PM CST) - RHP Patrick Murphy
Midland @ Wichita (7:05PM CST) - RHP Jaylen Nowlin
Please feel free to ask questions and discuss Friday's games!