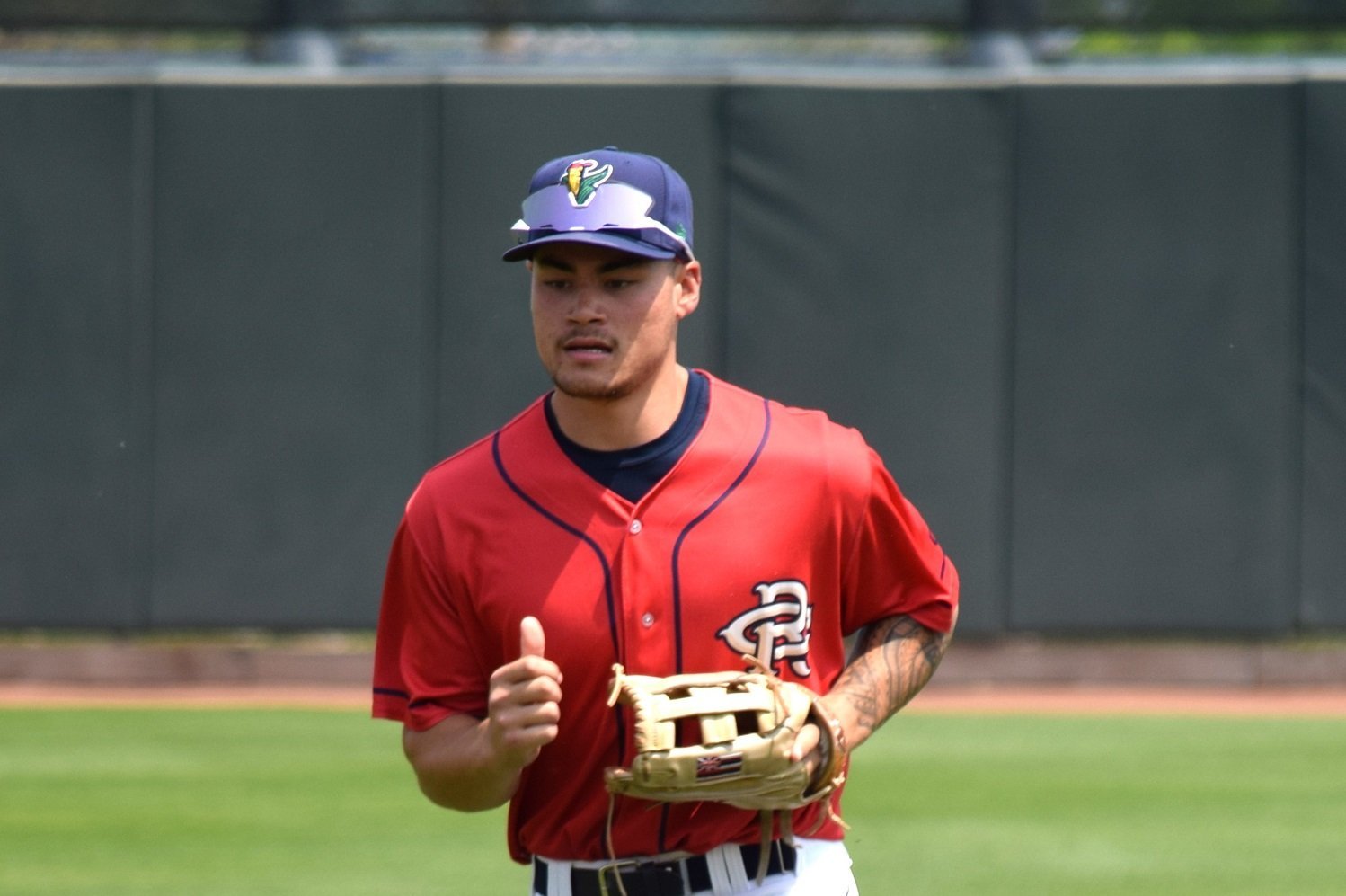 Image courtesy of Steve Buhr, Twins Daily (photo of Kala'i Rosario)
Game Results:
Tuesday, 11/7 | Surprise 8, Glendale 5
Wednesday, 11/8 | Glendale 1, Peoria 2 (10 innings)
Thursday, 11/9 | Glendale 4, Surprise 6
Saturday, 11/11 | AFL Championship: Peoria 5, Surprise 6
Glendale wasn't able to take advantage of that unfortunate final schedule, going 0-3 to finish at the bottom of the AFL standings at 12-18. They did put up some fight however, losing these final three games by an average of just two runs, including one that went into the tenth inning. To find out how all of your Minnesota Twins prospects finished their #AFL23 campaigns, keep reading! 
C Andrew Cossetti
Week: 1-for-4, R, HR (2), 3 RBI, 2 K (1 game)
Overall: .103/.278/.310 (.588 OPS)
Cossetti got the start at catcher in Thursday's 6-4 loss to Surprise, and batted seventh in the lineup. Down 6-1 in the final inning, Glendale got back-to-back singles to start a late comeback attempt, and Cossetti cashed them in with his second home run of the AFL season to make it 6-4. The Desert Dogs were able to load the bases after his blast, but were unable to finish it off the rally and fell short in their final game of the season.
Cossetti ended his AFL campaign in a state of "wanting more" like me, I'm sure. But it is hard to ignore his 2023 season as a whole where he hit .287/.426/.534 (.960 OPS) with 15 home runs and strong BB to K ratios across two levels as a catcher. If you were wondering, this was a similar (but also, better) hitting line than World Series Champion Mitch Garver posted across an entire season with Cedar Rapids (low-A at the time) when he won Twins Daily's MiLB Hitter of the Year award in 2014 (Garver also won that award in 2017 while with the Rochester Red Wings).
OF Kala'i Rosario
Week: 2-for-10, 2 R, RBI, 4 BB, 5 K (3 games)
Overall: .213/.333/.483 (.816 OPS)
Rosario's improvement as the AFL season went along led to him earning the third spot in the Desert Dogs lineup for their last two games of the season. Although he didn't send any balls into the stands over his final three games, he did still finish the season tied with teammate Aaron Sabato as the AFL Home Run King with seven, and also won the home run derby.
So if you had any doubts about the power being real with Rosario, I think you can put them to bed and toss a nice 60 grade into his scouting report and expect to see him with Wichita to start next year. While the K's were an issue in the AFL (he led the Desert Dogs in this category), the power played and he also led the team in walks and finished fourth in OPS for the lineup as a result.
In the final week he picked up a single in both Tuesday and Wednesday's games, with his knock against Peoria coming in the seventh inning to tie it one in a game they would end up losing in extra innings.
1B Aaron Sabato
Week: Did not play.
Overall: .215/.320/.585 (.905 OPS)
After leaving last Wednesday's game after the third inning, Sabato did not appear in another AFL game to end his season. As mentioned, he tied with Rosario for the AFL lead in homers, so there was plenty to like with his bat. There however, were the same things that have followed him his entire career thus far, which is an abundance of K's and mendoza-line batting averages. Those seven home runs were exactly half of his 14 hits across 18 games, and 27 K's came along with just nine walks. Despite that, his .905 OPS ranked first among qualified players in the Desert Dogs lineup and tied with Kyle Manzardo in AFL play, who is a top prospect in the Cleveland Guardians organization as a first baseman and is in the middle of top 100 lists.
I wouldn't say Sabato's AFL campaign showed us anything new, but the home runs were fun and maybe it did for the Twins or another team when it comes to the Rule 5 draft as alluded to by our own Cody Christie.
LHP Jordan Carr
Week: L, 3 IP, 5 H, 3 ER, 0 BB, 5 K (1 start)
Overall: 1-1, 2.57 ERA, 1.00 WHIP, .237 BAA, 3 BB, 14 K (21 IP)
Carr was definitely a surprise for Minnesota Twins prospects competing in the AFL this season, though perhaps he shouldn't have been. Signed as a free agent during the 2021 season from College of Charleston, Carr was solid in 61 innings with Fort Myers in 2022, and even better across that many innings with Cedar Rapids in 2023, ending his season with four appearances with Wichita. While there's not a ton of strikeouts in his arm, he is left-handed and keeps runners off the bases with low-walk rates and WHIP numbers, and efficient pitch counts.
He led the Desert Dogs in innings pitched (21), WHIP (1.00), and fewest walks (3), and in AFL play he ranked second in innings, top 10 in ERA (2.57), and fourth in WHIP.
In his start this week, he was finally tagged for some home runs, which led to his first loss during the AFL season, but he also unlocked some swing-and-miss stuff that may have been missing throughout the rest of his dominant efforts. He got the nod in Glendale's final game on Thursday, and exited with his team down 3-0 to Surprise, who would go on to win the AFL Championship. He worked around a double in the first inning by picking up the third out with a strikeout, but was greeted by a home run from the leadoff man in the second. He limited any more damage that inning by retiring the next three, including the final two on strikeouts. In the third he started with another strikeout, before a single was followed by another homer for the 3-0 Saguaros lead. He then worked around another double by picking up his fifth K to end his outing.
Of his 47 pitches in this one, 34 went for strikes (72%), including seven swinging while racking up those strikeouts and again walking nobody. 
Carr spent the 2023 season as a bit of a swing and long man, making 22 total appearances with 8 of them coming as starts, and that trend swung the other way in AFL play with four of his six appearances coming as starts. There is something to build on here, and with his time in the AFL he got himself over 90 innings on the year, which is a good foundation to come into 2024 as a full-time starter with Wichita.
RHP Malik Barrington
Week: 1 IP, 0 H, 1 R (0 ER), 1 BB, 2 K (1 appearance)
Overall: 0-0, 8.53 ERA, 1.58 WHIP, .130 BAA, 7 BB, 10 K (6 1/3 IP)
Barrington's time in the AFL was a bit uneven, but that's far from uncommon in the AFL environment for relief pitchers. He had strikeouts along with walks, and hitters took advantage at certain points. Of his seven appearances, four were of the scoreless variety and five of his six earned runs in AFL play came in one appearance where his team lost 17-4, so it wasn't just him on that day. He allowed just three hits over his six innings.
His final appearance in the AFL this week came in Wednesday's extra-inning loss to Peoria, in which the Desert Dogs put together a bullpen game, with nine pitchers each throwing a single inning. Barrington came in for the second inning, and got the first batter with a strikeout. He walked the next before a pop out for the second out, then an error by his shortstop led to an unearned run, and first of the game for Peoria. He struck out his final hitter of AFL play on a 3-2 pitch to end his season. 
RHP A.J. Labas
Week: Did not pitch
Overall: 0-0, 0.00 ERA, 1.75 WHIP, .214 BAA, 4 BB, 5 K (4 IP)
Labas' time in the AFL was short, as he did not make any appearances in the final three weeks, finishing with four total innings pitched. There has been no reporting on any injury or other status, and likely never will be, so we'll just have to wait until the spring. 
In his AFL play, Labas was perfect when it came to surrendering runs, in that he did not allow any. At points he gave up a few walks, but he also made consecutive appearances with none and three strikeouts.
Labas split his time during the 2023 season with Fort Myers and Cedar Rapids, picking up seven saves in 17 games finished along the way, and I'd expect him to pitch out of the Kernels bullpen again to start 2024.
RHP Ben Ethridge
Week: 1 IP, 0 H, 0 R, 1 BB, 2 K (1 appearance)
Overall: 1-0, 8.10 ERA, 1.35 WHIP, .250 BAA, 2 BB, 4 K (6 2/3 IP)
The righty served as the opener in the bullpen game against Peoria on Wednesday, working around a leadoff walk by getting a flyout and striking out Chase DeLauter and Kyle Manzardo, both of whom are top 100 prospects in the Cleveland Guardians organization.
Like Barrington, Ethridge made seven appearances with the Desert Dogs with varying levels of success. He didn't walk as many as his big teammate, but surrendered a couple of home runs leading to his own high ERA on the season.
Ethridge worked as both a starter and reliever for the Fort Myers Mighty Mussels during the 2023 season, compiling a sub-3.00 over 78 1/3 total innings. He started 13 games and came on as a reliever for 12, and should get a bump to Cedar Rapids to begin next year.
LHP Zach Veen
Week: 1 IP, 0 H, 0 R, 0 BB, 0 K (1 appearance)
Overall: 0-0, 4.50 ERA, 1.13 WHIP, .250 BAA, 1 BB, 5 K (8 IP)
The left-handed reliever among the Twins contingent had the best looking ERA of the three, working eight total innings over seven appearances of his own. He did however, give up the most runs out of them all, but only four of those eight allowed were of the earned variety. He was bit the hardest of anyone in that 17-4 blowout game. A dropped fly ball led to a three run homer and those four total unearned runs, in an inning he could have gotten out of without allowing any. In four of his six other appearances, he did not allow any runs.
Veen spent all of his first full professional season with Fort Myers, and made 41 appearances out of their bullpen, totalling 58 1/3 innings. He finished the game 23 times, picking up five saves and going multiple innings several times. He should bump up a level to Cedar Rapids for the 2024 season as well.
Please feel free to ask questions and discuss the prospects who finished their AFL seasons this week!